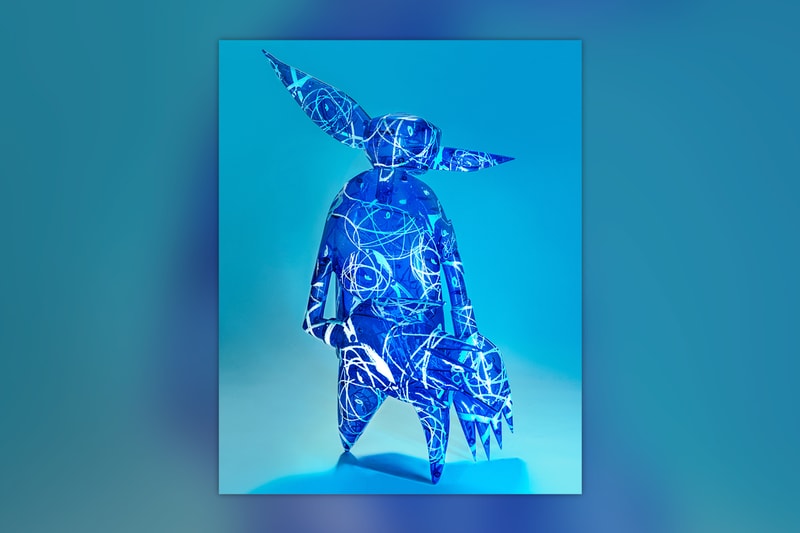 From graffiti to incense chambers, fashion shows to limited-edition posters — Futura's Pointman has orbited the far throes of culture over the past 50 years. Last year, AllRightsReserved partnered up with legendary New York street artist on a sculptural iteration of the character dubbed FL-006. The artwork quickly sold out and is currently priced on the secondary market for up to $4,800 USD.
FL-003 is the latest edition in the ever-evolving saga of Pointman. Draped in a translucent blue body made of ABS plastic, the character features the artist's emblematic etchings all across the figurine.
Largely inspired by science fiction films of the past century, Futura first tinkered with Pointman back in the 1970s and would debut the character through a commission by Mo'Wax for Unkle's 1998 album, Psyence Fiction. Since then, the character has shape-shifted from one medium to the next, appearing in collaborative prints with Takashi Murakami, along with numerous collaborations with Nike, Medicom Toy and more.
Limited to an edition of 250, FL-003 sizes in at 2.6 feet tall, 1.7 feet wide with a 1.3 foot depth. The sculpture comes certified with an NFC chip of authenticity and will only be available via raffle through the DDTStore for $1,949 USD. Each customer can enter the draw only once. Winners will be announced on June 13.
In related news, learn more about Futura's Pointman in Behind the HYPE.
Click here to view full gallery at HYPEBEAST