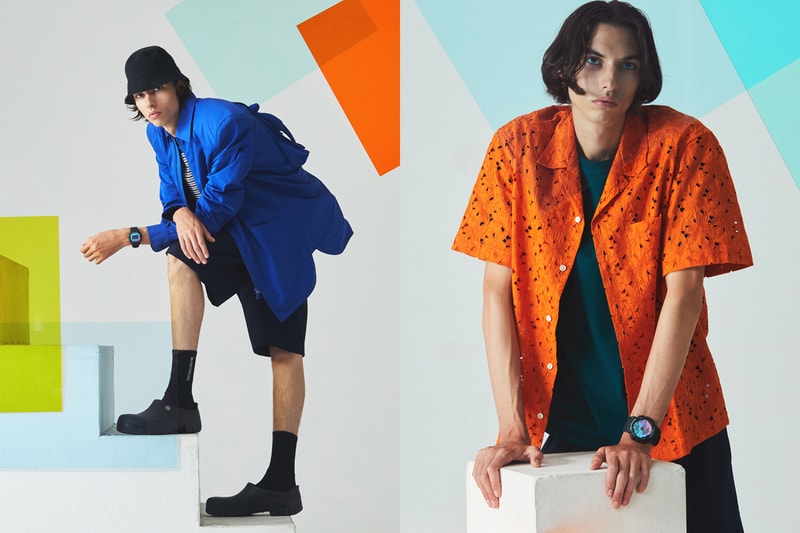 G-SHOCK hones its innovative approach to glass technology with the Iridescent Color collection, five timepieces awash with expressive rainbow hues in matte black and translucent offerings. The series remixes the DW-5600SR-1, DW-5600SRS-7, GA-110SR-1A, GA-2100SR-1A and GA-2100SRS-7A models with a gradient crystal finish that shifts in the light.
G-SHOCK's latest range adapts an iridescent sheen applied to the crystal mineral glass byway of vapor deposition, a high-temperature process where micro-glass particles undergo nucleation. The methodical coating technique produces a distinguished luster contrasted by a rugged face design and resin bezel and case. G-SHOCK prioritizes enhanced durability and utility with each new collection — incremental refinements sharpen the performance and wearability of the Iridescent Color lineup. The newest series remixes the brand's proprietary glass treatment in a soft-washed rainbow vapor while retaining an impact-resistance structure with resin parts.
The DW-5600SRS-7 and GA-2100SRS-7A models showcase thinner modules and a translucent resin case and strap. The DW-5600SR-1 and DW-5600SRS-7 watches feature a square face and streamlined band, equipped with Afterglow backlighting for a luminous digital display in low-light environments. Conversely, the GA-110SR-1A analog-digital combination showcases metallic hour markers, matte black hands and a Neobrite lume, offering world time in 29 zones, a 1/1000-second stopwatch and countdown timer. The GA-2100SR-1A and GA-2100SRS-7A incorporate a resin build with a Super Illuminator LED at the face and digital display and world time in 31 zones.
Each timepiece is shock-resistant and offers 200-meter water resistance. Due to the vapor finish, no two pieces are alike and the dial display may reflect different appearances in certain angles. Worn during extreme sports or as a casual accessory for on-the-go, the timepieces boast style and performance.
Learn more about each model on G-SHOCK's website and check out the lookbook above to see the range in action.
Disclaimer:
Actual product may differ from the color gradation pictured here. The Iridescent Color series features specially treated crystal mineral glass, and the dial may be easier to read at certain viewing angles.


Click here to view full gallery at HYPEBEAST