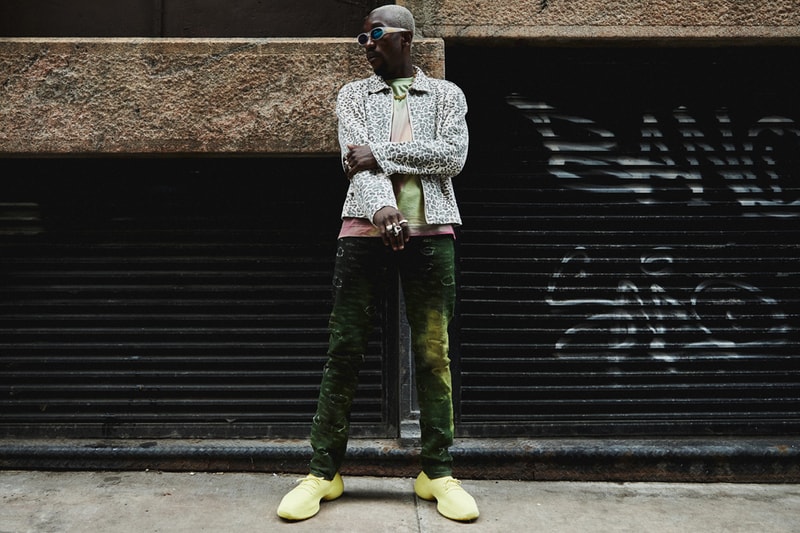 Hailing from the Bronx, Keith Hardy, a.k.a Shredmaster Keith, is a renowned skater with an affinity for shredding skateparks in New York's five boroughs. He's also known locally for his wild hairstyles, pinstripe suits and pattern-clashing ensembles. When the mood fits, Hardy dons leopard prints, hot pink hair and a single huggie in his ear. Remnants of New York's No Wave and post-punk scene still reverberate in the LES and draw parallels with contemporary counterculture. If skaters navigate a grungy subculture in fashion, Hardy is unaffected by these rules of conduct. He weaves in and out of trend cycles as confidently as he lands tricks, and his mischievous approach to style mirrors his love for his native city. In line with Givenchy's evolving fashion ethos, the luxury house tapped Hardy for an exclusive campaign showcasing its edgy Fall 2022 styles and new TK-360 sneakers.
Hardy navigates fashion like he does the seasons — there are no rules and comfort is paramount. "Whether skating or chilling, I mix it up and dibble and dabble with it all. I didn't always have swag, but a lot of my fashion sense comes from my friends; we influence each other. I look up to Jimi Hendrix a lot. It goes in a flow. One day I feel like Jimi Hendrix — one day I feel like a punk dude. My style will never be this one thing. It always changes up — always doing what I want at the end of the day." As a reflection of this devil-may-care attitude towards dressing, Hardy needs a shoe that's fit for his varying style identity. He looks to Givenchy's newest sneaker - the TK-360 - which boasts comfort and versatility, for a multitude of outfits.
Taking to the bustling streets of New York's LES, Hardy dons various colorways of the TK-360, pairing them with textured denim and accessories from Givenchy's most recent collections. First seen on the Spring/Summer 2022 runway the TK-360 knit sneaker launched officially for the Fall 2022 Pre-Collection, becoming a style standout.
Dominated by an extreme arch and bulbous profile, the ergonomic TK-360 is named for its "Total Knit" construction. The shoe's technical mesh upper is fully integrated with the cushioned insole, lending to the disruptive look and feel. "I'm used to flat-footed footwear like Converse, Chuck Taylors and slip-ons," says Hardy. "It's definitely one of the craziest shoes I've worn. It doesn't feel like I'm wearing a shoe. It feels like a sock on a cloud."
With the rise of thrifting and upcycling, New York street style has become a case study in artfully mixing high and low garments and tactfully blending different style sensibilities. With Matthew M. Williams at the helm of Givenchy as Creative Director, the Pre-Fall collection caters to this fusion of expressions, drawing inspiration from Japanese boro, a method of reworking and repairing textiles, rendering garments entirely new. Givenchy's take on destroyed denim captures the city's rule-bending spirit and pays homage to Japanese-style patchwork — a radical explosion of color, texture and graffiti-style graphics overwhelm and tease the eye. A personal favorite of Hardy's is the denim decorated with crackly strokes of white paint, resembling fragile layers of papier-mâché lifting from a canvas.
In his day-to-day life, the skater rotates through all-black Wrangler and Dickies denim, lovingly worn-in as he zips through street traffic, bar hops and lands gravity-defying ollies on the way to the train. Hardy gravitated to the collection's sun-bleached garments and painted denim, flexing his personal influence by incorporating a marbleized leather moto jacket from his own wardrobe into the shoot. Though he's drawn to pieces that prioritize comfort, Hardy showcases an appreciation for vivid color and textured prints, wearing patterned zebra and leopard outerwear with color-blocked apparel.
The native New Yorker has witnessed the phase-out of a trend or two in the skate scene and elements of streetwear trickle into mainstream fashion discourse. Creative agency over his fashion persona is paramount, and he is selective when working in collaborative capacities. "I like to have some say-so in my shoots. Shoots can be complicated, but the Givenchy shoot was cool because I was a bit more hands-on." Hardy is big on thrifting and channels an eclectic, free-spirited approach to his closet. "It depends on the piece, the color scheme and how it feels on my body. Sometimes I put things on randomly, and if it fits my body well, I don't really mind the color or pattern. Your mindset changes over time. You definitely grow with fashion," explains Hardy.
It's apparent that Hardy approaches fashion as an attitude; he displays an intuitive understanding of his mood and lifestyle with an air of cool and distinctive skate style. The effortless skater is an ever-evolving image in fashion and pop culture, but Hardy seems unfazed with building his persona in the luxury space.
His travels to Berlin and Paris continue to inspire him, locations he remembers as the most extreme displays of non-conformist fashion and self-expression outside of New York. In terms of skate footwear, Hardy mentions that he doesn't skate in the TK-360, but he reps how comfortable the shoe is in less grueling environments. The eye-catching silhouette presents an avant-garde look and feel and lends itself to experimental styling. "I'd have all the colorways if I could, but it's too nice of a shoe to rock regularly. I've been wearing the black [pair] — one of the most comfortable shoes I've worn. It's nice to switch it up and have a comfy shoe I can walk outside in. It definitely molds to the foot."
Watch the video above for a look at Shredmaster Keith in Givenchy's TK-360. Visit Givenchy's website to shop the latest TK-360 colorways.
[shoppable brand="Givenchy" product="TK-360 Sneakers in Black" link="https://www.givenchy.com/us/en-US/tk-360-sneakers-in-knit/BH006KH1AV-001.html/?utm_source=hypebeast&utm_medium=referral&utm_campaign=hypebeast_tk360_bc_us_0622_all&cmpid" store="Givenchy" price="$895 USD"]


[/shoppable]
[shoppable brand="Givenchy" product="TK-360 Sneakers in Acid Wash" link="https://www.givenchy.com/us/en-US/tk-360-sneakers-in-knit/BH006KH1AV-725.html/?utm_source=hypebeast&utm_medium=referral&utm_campaign=hypebeast_tk360_bc_us_0622_all&cmpid" store="Givenchy" price="$895 USD"]


[/shoppable]
[shoppable brand="Givenchy" product="TK-360 Sneakers in Graphite" link="https://www.givenchy.com/us/en-US/tk-360-sneakers-in-knit/BH006KH1AV-026.html/?utm_source=hypebeast&utm_medium=referral&utm_campaign=hypebeast_tk360_bc_us_0622_all&cmpid" store="Givenchy" price="$895 USD"]


[/shoppable]
[shoppable brand="Givenchy" product="TK-360 Sneakers in Beige Camel" link="https://www.givenchy.com/us/en-US/tk-360-sneakers-in-knit/BH006KH1AV-280.html/?utm_source=hypebeast&utm_medium=referral&utm_campaign=hypebeast_tk360_bc_us_0622_all&cmpid" store="Givenchy" price="$895 USD"]


[/shoppable]
[shoppable brand="Givenchy" product="TK-360 Sneakers in White" link="https://www.givenchy.com/us/en-US/tk-360-sneakers-in-knit/BH006KH1AV-100.html/?utm_source=hypebeast&utm_medium=referral&utm_campaign=hypebeast_tk360_bc_us_0622_all&cmpid" store="Givenchy" price="$895 USD"]


[/shoppable]
[shoppable brand="Givenchy" product="TK-360 Sneakers in Navy" link="https://www.givenchy.com/us/en-US/tk-360-sneakers-in-knit/BH006KH1AV-410.html/?utm_source=hypebeast&utm_medium=referral&utm_campaign=hypebeast_tk360_bc_us_0622_all&cmpid" store="Givenchy" price="$895 USD"]


[/shoppable]
[shoppable brand="Givenchy" product="Jeans in Crackled Coated Denim" link="https://www.givenchy.com/us/en-US/jeans-with-zips-in-crackled-coated-denim-/BM50SU50M6-100.html/?utm_source=hypebeast&utm_medium=referral&utm_campaign=hypebeast_tk360_bc_us_0622_all&cmpid" store="Givenchy" price="$1,270 USD"]


[/shoppable]
[shoppable brand="Givenchy" product="Jeans in Painted Destroyed Denim" link="https://www.givenchy.com/us/en-US/jeans-in-painted-destroyed-denim/BM50ST5Y2H-990.html/?utm_source=hypebeast&utm_medium=referral&utm_campaign=hypebeast_tk360_bc_us_0622_all&cmpid" store="Givenchy" price="$1,990 USD"]


[/shoppable]
[shoppable brand="Givenchy" product="Jeans in Painted Crackled Denim" link="https://www.givenchy.com/us/en-US/jeans-in-painted-crackled-denim/BM50UY5Y2B-960.html/?utm_source=hypebeast&utm_medium=referral&utm_campaign=hypebeast_tk360_bc_us_0622_all&cmpid" store="Givenchy" price="$1,990 USD"]


[/shoppable]
[shoppable brand="Givenchy" product="Shirt in 4G Bleached Denim" link="https://www.givenchy.com/us/en-US/shirt-in-4g-bleached-denim/BM60U25Y31-490.html/?utm_source=hypebeast&utm_medium=referral&utm_campaign=hypebeast_tk360_bc_us_0622_all&cmpid" store="Givenchy" price="$920 USD"]


[/shoppable]
[shoppable brand="Givenchy" product="Oversized T-shirt in Tie & Dye Jersey" link="https://www.givenchy.com/us/en-US/oversized-t-shirt-in-tie-dye-jersey/BM71CG3Y6B-928.html/?utm_source=hypebeast&utm_medium=referral&utm_campaign=hypebeast_tk360_bc_us_0622_all&cmpid" store="Givenchy" price="$590 USD"]


[/shoppable]
[shoppable brand="Givenchy" product="Slim Fit Tank Top with Square Collar" link="https://www.givenchy.com/us/en-US/slim-fit-tank-top-with-square-collar/BM71273Y6B-100.html/?utm_source=hypebeast&utm_medium=referral&utm_campaign=hypebeast_tk360_bc_us_0622_all&cmpid" store="Givenchy" price="$400 USD"]


[/shoppable]
[shoppable brand="Givenchy" product="G Tri-fold Sunglasses in Metal" link="https://www.givenchy.com/us/en-US/g-tri-fold-unisex-sunglasses-in-metal/BR0053R03A-040.html/?utm_source=hypebeast&utm_medium=referral&utm_campaign=hypebeast_tk360_bc_us_0622_all&cmpid" store="Givenchy" price="$540 USD"]


[/shoppable]
[shoppable brand="Givenchy" product="G Cube Necklace" link="https://www.givenchy.com/us/en-US/g-cube-necklace-in-metal/BF00GMF003-710.html/?utm_source=hypebeast&utm_medium=referral&utm_campaign=hypebeast_tk360_bc_us_0622_all&cmpid" store="Givenchy" price="$1,150 USD"]


[/shoppable]
[shoppable brand="Givenchy" product="4G Pearl Necklace" link="https://www.givenchy.com/us/en-US/4g-pearl-necklace/BF00H4F03U-040.html/?utm_source=hypebeast&utm_medium=referral&utm_campaign=hypebeast_tk360_bc_us_0622_all&cmpid" store="Givenchy" price="$1,150 USD"]


[/shoppable]