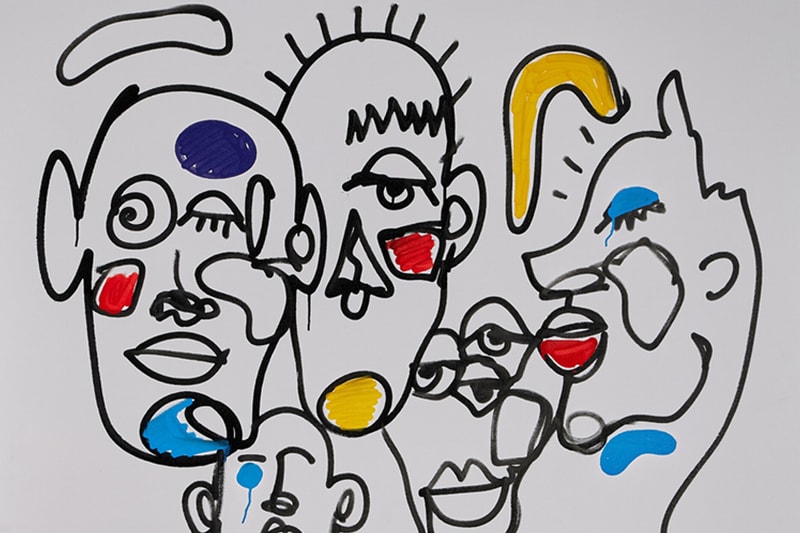 Halsey is set to auction a series of paintings they created during their "Love and Power Tour" with all proceeds benefiting abortion rights.
The five artworks will be a part of Sotheby's ongoing Contemporary Discoveries auction with an estimated price of around $5,000 to $7,000 USD. The pop star first began painting live on stage back in 2019, when they performed "Eastside" with Benny Blanco and Khalid. The latest series of works feature androgynous faces laid down in black marker with flashes of color seen throughout. Halsey created the untitled pieces while performing a different untitled track in front of thousands of fans at recent shows in Gulf Shores, Alabama, Nashville, Detroit, Boston, and Portland.
The pop star has been vocal about their frustration since the U.S. Supreme Court overturned Roe v. Wade, telling Vogue in a heartfelt essay that she suffered three miscarriages before their 24th birthday.
"How funny that while my own heart would amount to nothing more than a series of involuntary movements on an operating table, a beating heart in my womb could mean I couldn't consent to saving my own life," said the musician.
"This is what some people who wish to see the end of abortion rights believe is right. Many people have asked me if, since carrying a child to term after years of struggling to do so, I have reconsidered my stance on abortion. The answer is firmly no. In fact, I have never felt more strongly about it. My abortion saved my life and gave way for my son to have his. Every person deserves the right to choose when, if, and how they have this dangerous and life-altering experience. I will hold my son in one arm, and fight with all my might with the other," they added.
Halsey's artworks will be on auction at Sotheby's Contemporary Discoveries sale until July 19, where you can also view them at the auctioneers New York outpost.
Click here to view full gallery at HYPEBEAST