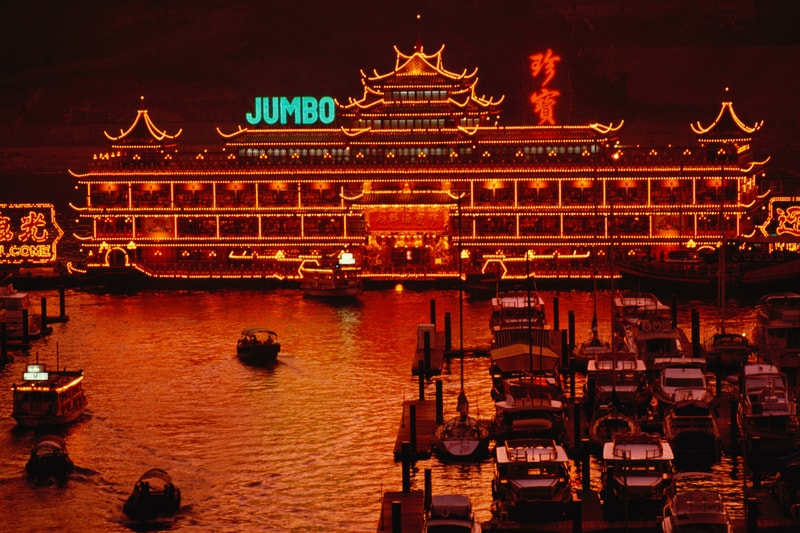 Hong Kong's Jumbo Floating Restaurant is no more. One of the most unique restaurants in the city with a long-standing history, the Jumbo Floating Restaurant was part of the ambitious Jumbo Kingdom dining experience located in Aberdeen. Constructed in 1976 -- the adjacent Tai Pak Floating Restaurant was established many years earlier in 1952 -- the 45,000 sq ft Jumbo Floating Restaurant could seat up to 2,300 guests and was featured in classic HK films The Protector and The God of Cookery.
In its heyday, during peak tourism in Hong Kong, the restaurant was often paid a visit by high-profile guests like the Queen and Tom Cruise. Suffering huge operating costs over the last few years (the restaurant has not been profitable since 2013) and a permanent closure in 2020 due to the COVID-19 pandemic, the restaurant was to be towed to mainland China where it would undergo renovations by a new operator.
Sadly, while being towed in the South China Sea, a storm hit which sunk the barge-like restaurant near the Paracel Islands where recovery is near impossible. The symbol of Hong Kong dining now rests at a depth of 3,300 feet.
Hong Kong's Jumbo Restaurant has sunk in the South China Sea. pic.twitter.com/ns1WmViFoV

— Timothy McLaughlin (@TMclaughlin3) June 20, 2022
Hong Kong's iconic Jumbo Floating Restaurant has capsized in the South China Sea less than a week after it was towed away from the city https://t.co/SsqE7dhe6L via @citylab

— Bloomberg (@business) June 21, 2022
Jumbo Floating Seafood Restaurant may be moved out of #HongKong tomorrow, after its owner decided to stop its operations and not to renew its shipping license weeks ago. Its kitchen barge has already sank into the sea last week, symbolizing the death of #HongKong's good old days. pic.twitter.com/cT3rIolHoD

— HongKonger (@hongkongersin) June 13, 2022
In other news, Hong Kong is the most expensive city for the third straight year.
Click here to view full gallery at HYPEBEAST