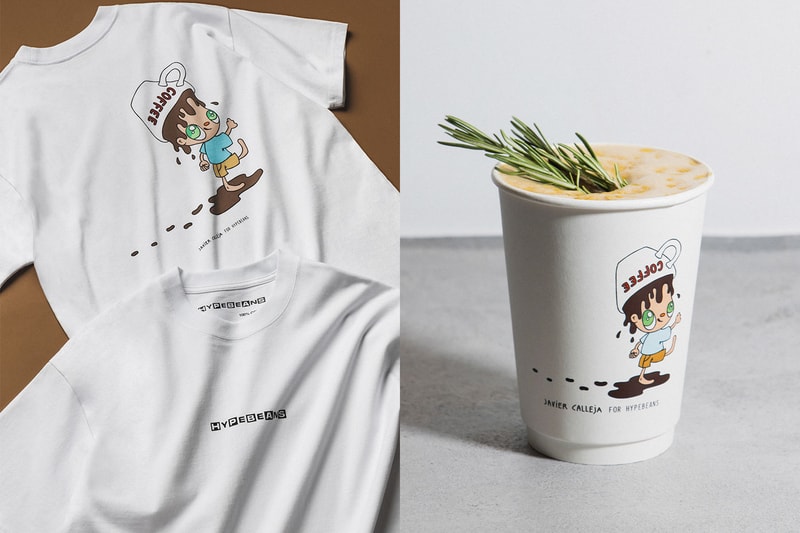 Hypebeans has joined forces with Spanish artist Javier Calleja to release an exclusive capsule collection to bring together the world of fashion, art and coffee.
The Javier Calleja for Hypebeans collection sees the artist create a completely new iteration of his iconic character for this capsule. The character, named Cafeto - is a wide-eyed boy with green eyes and a coffee cup on his head. Cafeto continues to be exuberate positive energy and a youthful soul in a broad range of merchandise. Bouncing off of the idea of a "coffee kick" that jumpstarts the day for many caffeine lovers worldwide, the watery-eyed boy appears re-energized for the day.
For the first time, Calleja's Cafeto will appear on the artist's first-ever official poster, a t-shirt and a keychain. In celebration of the launch, both Hypebeans spaces in Hong Kong and Seoul have been redesigned with installations featuring the new Cafeto character. Calleja talks about his collaboration with Hypebeans in a statement,
"I always like my work to reach a new and wider audience, and this is why I enjoy doing these collaborations. They allow me and my work to become a little part of their lives, and I enjoy that idea."
As an extension of the Javier Calleja for Hypebeans collaboration, Hypebeans has curated a special drink named Golden Black, which has citrus notes highlighted by a creamy frothed mixture of americano and yuzu puree. The foam is garnished with lemon zest, making it the perfect blend for a hot summer's day.
The Javier Calleja for Hypbeans arrives in stores at Hypebeans Hong Kong and Seoul and online at HBX starting June 9 at 9 a.m ET. Take a look at the capsule above.
HYPEBEANS Hong Kong
Shop B30, LANDMARK MEN, LANDMARK ATRIUM
15 Queen's Road Central
Central, Hong Kong
HYPEBEANS Seoul
Centerfield EAST B1 Floor,
231, Teheran-ro, Gangnam-gu,
Seoul, South Korea
Click here to view full gallery at HYPEBEAST