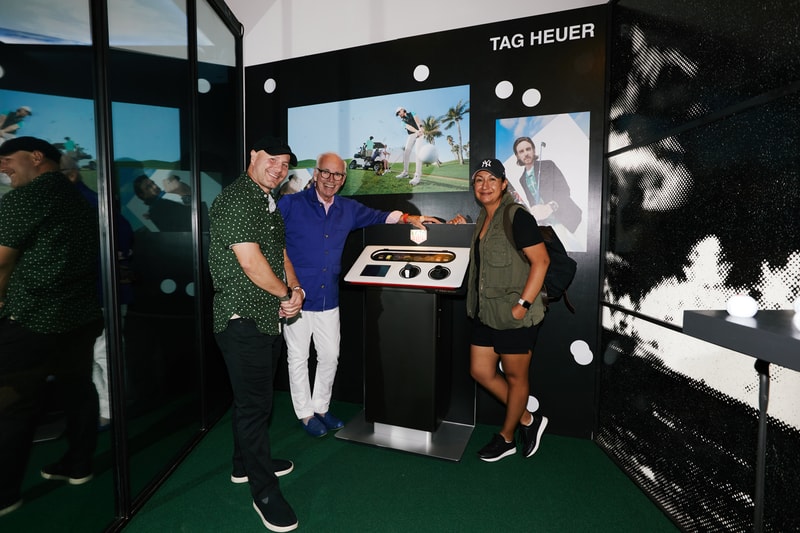 HYPEGOLF Clubhouse hosted a panel discussion with professional golfer and Tag Heuer ambassador Tommy Fleetwood as part of a celebratory evening for the brand's new Connected watch collection. The five-time European Tour champion and PGA competitor sat down with HODINKEE founder and panel host Ben Clymer to discuss his golf season, thoughts on the competing LIV Tour and Tag Heuer watches.
The pop-up event transformed into a lively party with appearances from LA Golf Creative Director, Paris Hilinski and Random Golf Club founder, Erik Anders Lang. Clymer and Fleetwood wore Tag Heuer's Calibre E4 from the Connected range for the evening and Hilinski paired the timepiece with an Off-White top and an all-black asymmetrical skirt. HYPEGOLF installed a temporary golf turf and branded display of Tag Heuer's Connected collection near the store's entryway, providing an up-close look at the digital timepieces and assorted rubber straps.
The Connected series merges a digital interface with the structured elegance of a traditional chronograph. The Calibre E4 42mm is equipped with a stainless steel case and hardware and features sleek sapphire glass, a high-definition display, Bluetooth 5.0 and an all-day battery life. The Swiss watchmaker developed custom dial skins and three high-fidelity layouts to display NFT artworks and animated GIFs. A streamlined and stylish accessory for the modern athlete, the Connected series introduces tech-driven functionality and performance expressed through Tag Heuer's sophisticated design language.
A bold step into Web3 commerce, Tag Heuer timepieces can now be purchased using cryptocurrency and users can securely connect to crypto wallets like MetaMask and Ledger Live. With the intersection of tech and fashion and the acceptance of digital art in the golf world, exciting prospects are on the horizon for NFT collectors looking to secure bespoke digital artifacts.
HYPEGOLF invited creatives with various backgrounds in tech, fashion and sports to join in celebration, including founder of Clubhouse Archives James Costa. Faisal Mohammed, aka DJ Revive, kicked the night off, remixing dance tracks from Disclosure, Kaytranada and Pharrell throughout the evening. Guests were offered various hors d'oeuvres to pair with refreshing, spring-inspired cocktails. Glenmorangie's onsite bar served premium aged whiskeys and specialty cocktails; the crowd favorite "Albatross," paired X by Glenmorangie with lemon, blackcurrant cordial and agave syrup.
Attendees gathered around the artificial turf as HODINKEE's Ben Clymer led a panel discussion with Tommy Fleetwood. Clymer touched on Matt Fitzpatrick's recent win at the 2022 U.S. Open in Brookline, Massachusetts and the onset of the competing LIV Golf Tour.
"The majors should always be the toughest test," explained Fleetwood. "When you get to these events, they challenge every aspect of your game that you've worked on for so long. It's great to see this one. I believe the best player won. I think Mark is in the form of his life, and I think it was great to see those moments on the last run — that's when the sport becomes inspiring." When asked about the LIV Tour, Fleetwood expressed, "It's put golf on front-page news, which is good for the sport. It's a massive talking point as more people go into the sport. I think anything allowing audiences to read about the game and hear about it is important. I particularly would like to see competitive tours work together, but who knows where the game goes from here."
Shifting the discussion to watches and Tag Heuer, Clymer asked how Fleetwood integrates Tag timepieces into his training and performance as a competitor. "I can look at the time," Fleetwood joked. "I feel unbalanced without it these days. It's the norm for me now, and I enjoy wearing them during tournament play. It's part of my normal life, and I think about going into the biggest moments of my career with a watch on ... it becomes the one normality before I step out to the first tee."
As the panel discussion wrapped up, guests were invited to enjoy a curated whiskey tasting, a crash course on Glenmorangie's 10 to 18-year-old whiskeys aged in oak bourbon casks. The event featured a table dedicated to Martinez Cigars — one of the oldest cigar factories in New York — gifting branded cigars rolled with premium Dominican tobacco as last-minute Father's Day gifts. The whiskey tasting coincided with a long drive and closest to the pin challenge where Fleetwood and guests interacted with the store's designated Trackman simulator, provided in partnership with Five Iron Golf.
Bystanders watching the competition sat near the projection screen with Tag Heuer golf gloves and issues of Golfer's Journal sprawled across the tables for their viewing pleasure. The virtual game tracked players' best scores, including ball speed, carry and total yards. After multiple rounds, Director of Sales & Business Development for USA Today and Golfweek Billy Condon and golf writer Julius Oppenheimer faced off in a tiebreaker, with Condon taking home a gift bag of branded accessories courtesy of Tag Heuer.
The crowd drew notable appearances, including former pro golfer Miko Page, former Fashion Director of Golf Digest Marty Hackel and co-founder of Eastside Golf Earl Cooper. As the event came to a close, guests were gifted Tag Heuer water flasks, towels and branded golf balls.
Learn more about the Connected collection at Tag Heuer's website. Stay in the know with HYPEGOLF for golf-related news and events.
HYPEGOLF Clubhouse Pop-Up
Location: 27 Mercer Street
Store Hours:
Monday to Thursday from 11AM to 7PM ET
Friday to Saturday from 11AM to 8PM ET
Sunday from 11AM to 6PM ET
Click here to view full gallery at HYPEBEAST