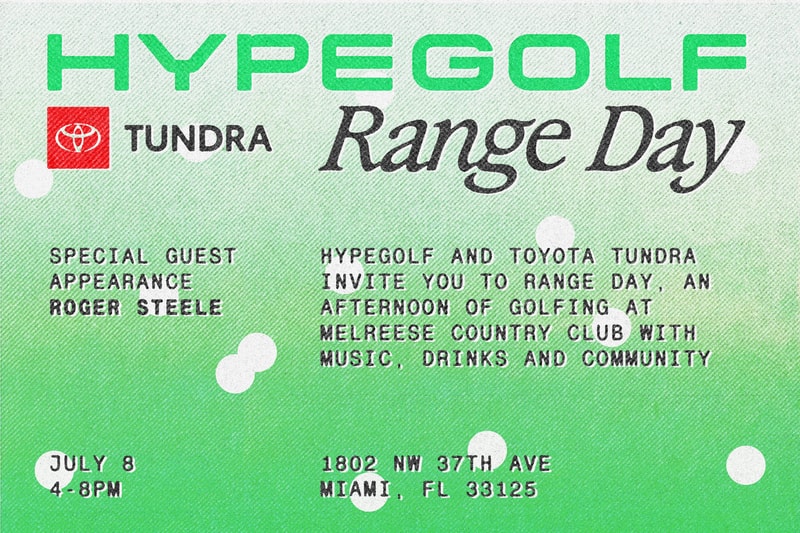 HYPEGOLF and Toyota Tundra join forces once more to bring an immersive experience to Miami, Florida. Taking place on July 8, Range Day is an experiential tailgate and day of golfing at Melreese Country Club. In anticipation, HYPEGOLF is gearing up for appearances from Roger Steele, Caribbean-inspired catering by Vybe 305 and live DJ sets by Silent Addy.
Kicking off at Melreese Country Club in South Florida's tropical climate, the event will remix the traditional country club environment with music, entertainment and onsite activations. The driving range will transform into a stylish tailgate, with culinary offerings, live music and opportunities to interact with the 2022 Toyota Tundra. Unlimited access to golf balls and clubs will round out the experience as guests take to the club's expansive ranges.
As for music, DJ Silent Addy will keep spirits high in the Florida heat. Silent Addy is known for working with some of the biggest names in dancehall and is a prominent force in Miami's thriving underground EDM scene. The producer/DJ has collaborated with Ape Drums and Disco Neil, often credited for discovering dancehall artist Projexx.
Super Bowl winner Kayvon Webster's Vybe 305 food truck proudly represents Miami's area code. The former Denver Broncos' talent is now cooking up Caribbean-inspired dishes with a healthy twist. The food truck will set up around the driving range, serving delicious bites on the go. Roger Steele, who appeared at the first Range Day held at Onion Creek Country Club in Austin, Texas, will be joined by Juice, the official barber of the Miami Marlins and owner of Headz Up Barbershop in Miami.
Mark your calendars for Range Day on July 8, from 4:00 p.m. to 8:00 p.m. RSVP here to secure a day of golfing, Caribbean-inspired cuisine, live DJ sets and a close-up look at the 2022 Toyota Tundra. Read more about the Toyota Capstone here.
Click here to view full gallery at HYPEBEAST