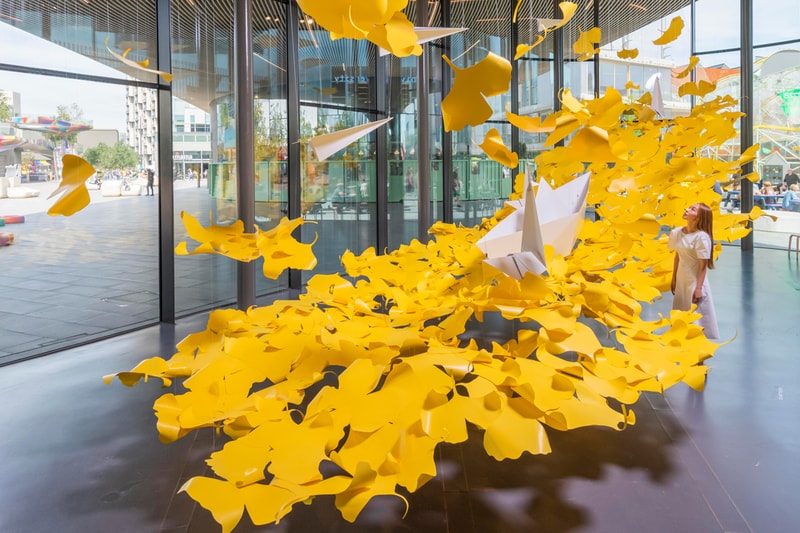 JeeYoung Lee is a South Korean artist well-known for creating immersive installations that are reconstructions of her psychological landscape. Inspired be her memories and the Korean folklore of her childhood, Lee builds her environments through various disparate materials, such as LEGO blocks, eggs and paperclips. She is a rising star to watch in the art community, having already been commissioned to create work for a global client list, including Hermès, Samsung and Tiger Beer.
For her latest installation, Lee ventures to London to unveil Maiden Voyage at NOW Gallery. Comprised of a forest of hanging ginkgo leaves, a series of paper airplanes and a paper boat is seen floating through the ethereal presentation. The scenescape draws on her childhood observing the autumn ginkgo leaves in the streets of Korea. Also known as "living fossils," ginkgo leaves date back over 200 million years and was a way for Lee to convey the passage of time.
"I compare life to a voyage," Lee tells HYPEBEAST. "It's about continuing to navigate to different and new destinations goals while creating new memories and experiences. This work is also about where our lives will go and how they will change. In our lives, sometimes we come across a calm sea and sometimes we encounter storms. Keep moving forward in your life - this is the story I want to tell through this piece," she added.
More than just an artwork to observe, Lee invites the audience to sit with the exhibition and write down their first memory that comes to mind. Visitors will be encouraged to jot these thoughts on a piece of origami paper shaped like a swan, which will be added to the installation as the show progresses.
Maiden Voyage will open tomorrow June 23 and will be on view at NOW Gallery until September 25.
Elsewhere, Vic Mensa spoke to HYPEBEAST about his first curatorial exhibition.
NOW Gallery
The Gateway Pavilions
Peninsula Square
Greenwich Peninsula
London SE10 0SQ
Click here to view full gallery at HYPEBEAST