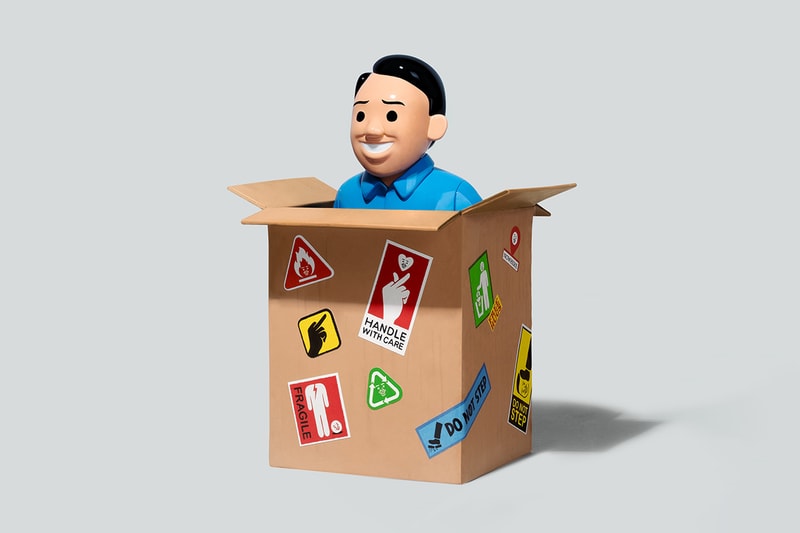 As a toast to his major upcoming art event in Tokyo, Joan Cornellà and AllRightsReserved are launching a limited-edition vinyl figure collectible to commemorate the sculpture first seen in "SEND YOURSELF NOWHERE BUT SHANGHAI." "SEND YOURSELF NOWHERE BUT TOKYO" circles around the concept of traveling while digging deeper into the meaning of human connection and interaction during a time of restriction.
The figure at hand calls forth an appreciation of being able to travel which has been evidently cutback due to the pandemic. While borders across the globe continue to open up, we now hold an affinity for treasuring the opportunity to reunite with loved ones as well as constant exploration.
The figure sits at 6.5-inches tall in a crouched position to fit in the accompanying box which comes with a set of travel stickers for collectors to personalize however they like; similar to packaging an actual parcel. Cornellà and AllRightsReserved stamped the figure's hindquarters with their joint effort imprint.
Retailing at $230 USD, the "SEND YOURSELF NOWHERE" vinyl figure will be available on a first-come, first-served basis starting August 24 at 11 PM EDT via the DDT Store with shipping to roll out by September 2022.
In case you missed it, Mark Whalen is presenting his new "Close My Eyes" exhibition at Over the Influence Bangkok.
Click here to view full gallery at HYPEBEAST