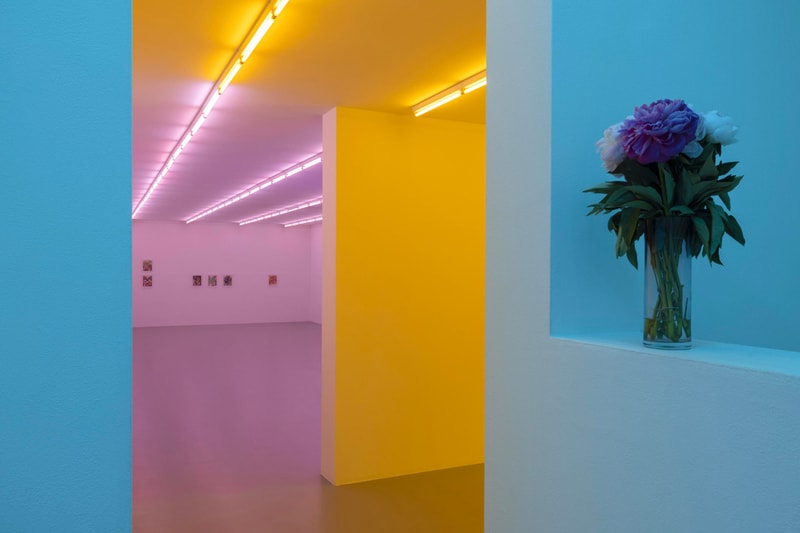 Kerstin Brätsch is a German artist best known for her vibrant and sometimes disorienting compositions that explore the role of painting in the digital age. For her latest solo exhibition, the Hamburg-born artist takes to Milan to present a luminescent show titled Die Sein: Para Psychics II at Gió Marconi.
What is immediately apparent is the light that surrounds the gallery. Harking to the work of Dan Flavin and James Turrell, visitors enter a neon and pastel-filled space that is complemented by a series of carefully positioned color pencil drawings arranged against the wall and floor. Emblematic of her career, each artwork sits somewhere between abstraction and figuration and was made during a period of confinement, in which Brätsch underwent a diaristic routine of visualizing her own psychic realm.
"Figures occasionally appear in various states of becoming or disintegrate into their surroundings," said curator and writer Saim Demircan. "Depictions of human anatomy are repeatedly splayed apart, dissected, sprouting and vegetative, or drained and ghostly. Some manifest as spectral, bodiless bodies reduced to what look like floating arteries and organs," he added.
Die Sein: Para Psychics II is approaching its final week on view and will conclude at Gió Marconi on July 29.
For more on art, there is a new immersive exhibition coming to New York this September.
Gió Marconi
Via Alessandro Tadino,
20, Via Alessandro Tadino,
15, 20124 Milano MI, Italy
Click here to view full gallery at HYPEBEAST