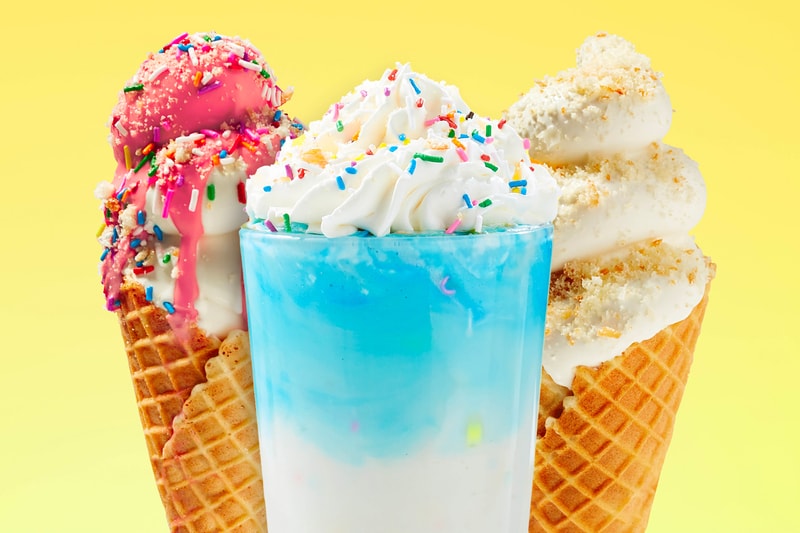 Shortly after debuting its Cinnamon Milk Glazed Doughnuts, Krispy Kreme ventures into the retail ice cream category with a new Original Glazed Soft Serve for the summer ⁠— available in shakes, cones and cups. The new lineup carries over the beloved taste of Krispy Kreme's iconic glazed doughnuts into seven rich and creamy shakes found in Original Glazed, Strawberry Iced Sprinkled, Chocolate Iced, Lemon Filled®, Cookies & KREME™, Birthday Batter, and Coffee & KREME™.
Fans can also enjoy the Original Glazed Soft Serve in three flavors: Original Glazed, Strawberry Iced Sprinkled and Chocolate Iced. The ice cream can be enjoyed in either cups or flavored waffle cones with a range of original toppings, some of which include Original Glazed doughnut pieces.
"The introduction of Original Glazed Soft Serve Ice Cream is a big day for Krispy Kreme and our fans," said Dave Skena, Krispy Kreme Chief Marketing Officer. "Our fans love Krispy Kreme doughnuts, and they also love rich, creamy, ice cream. We're confident their love of ice cream and for Krispy Kreme is going to go to an entirely new level after they experience these deliciously unique shakes, cones and cups. We're thrilled to begin our rollout on the first day of summer."
The Original Glazed Soft Serve is now offered in select shops in North Carolina, South Carolina, Virginia, Tennessee, Texas, Florida, New Orleans, Minnesota and Kansas. Head over to the Krispy Kreme website to locate your nearest store.
Elsewhere, Hong Kong's iconic jumbo floating restaurant sinks in the South China Sea.
Click here to view full gallery at HYPEBEAST