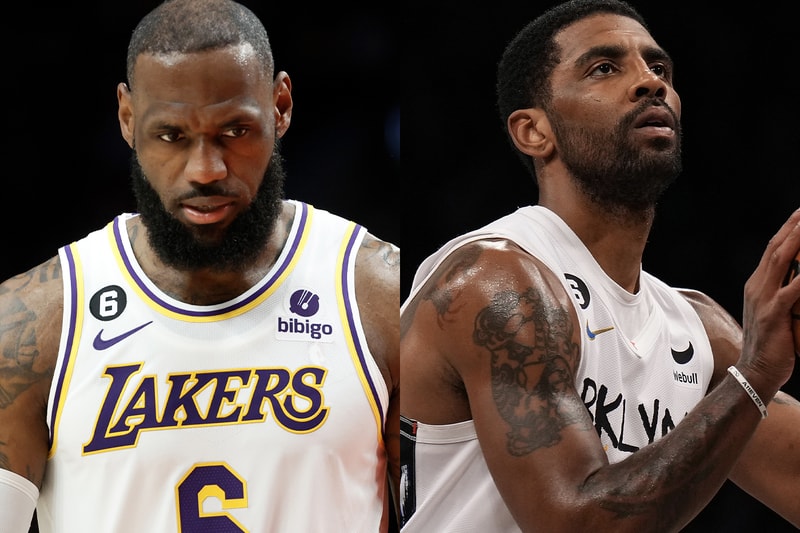 News of Kyrie Irving's trade from the Brooklyn Nets to the Dallas Mavericks shook the NBA world this week. Prior to the trade, rumors were quickly escalating regarding a LeBron James and Kyrie reunion. To many fans' dismay, the reunion is no longer on the table and it appears that James feels the same disappointment.
In a recent interview on ESPN, James speaks out about how he truly feels about the Los Angeles Lakers' inability to sign Irving. He admits that he is "definitely disappointed. I can't say I'm not disappointed on not being able to land such a talent, someone I know I have great chemistry with that can help you win championships, in my mind. My focus shifted back to where it should be and that's this club and what we have in the locker room."
When interviewer Michael Wilbon commented on how quickly James' mentality shifted, the Laker explained that while he does "envision" what it would be like to have the deal go through, he does not let himself get too invested before it solidifies. James says that once the announcement that Irving will not be joining the Lakers, he was "back, locked in, on the job at hand." According to Bleacher Report, the Lakers offered Russell Westbrook and first-round draft picks in 2027 and 2029, but the Nets were not interested as they asked for Austin Reaves and Max Christie to be included in the deal before making a decision with the Mavs.
Watch LeBron's full message below.
LeBron sat down with @RealMikeWilbon to share his thoughts on the Lakers not being able to trade for his former teammate Kyrie Irving:

"I can't sit here and say I'm not disappointed on not being able to land such a talent." pic.twitter.com/2smRTk3Y0c

— ESPN (@espn) February 6, 2023
In other sports news, Tom Brady reveals major post-retirement career plans.
Click here to view full gallery at Hypebeast