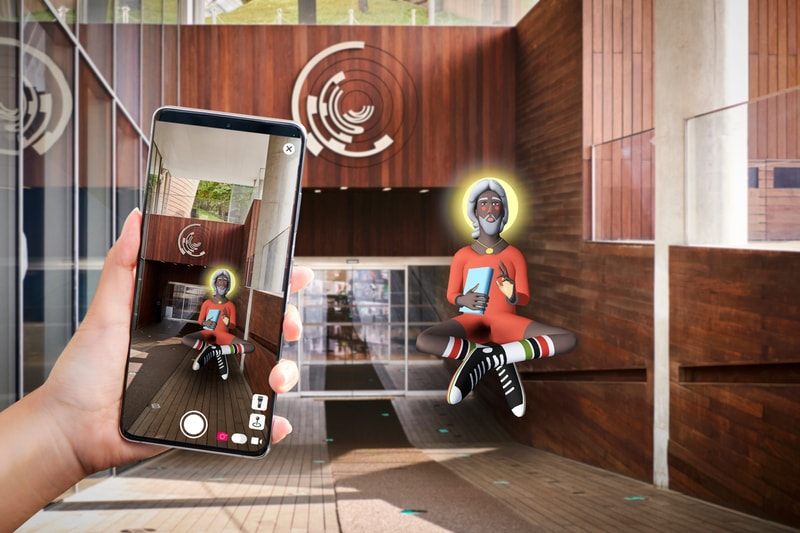 Leeum Museum of Art, in partnership with Daniel Birnbaum, Artistic Director of Acute Art, will soon launch their Kaleidoscope Eyes exhibition to the public. Taking over the museum's indoor and outdoor spaces, the augmented reality presentation will feature AR works conceived by internationally acclaimed contemporary artists against a backdrop of structures and gardens created by world-renown architects and masters of traditional Korean landscape design.
"The emergence of a new medium always gives rise to new possibilities for art, and each epoch seems to have its key artists in whose work an encounter between technology and artistic creativity crystalizes. Today's immersive media create entirely new possibilities for the production and distribution of art and the arrival of Augmented Reality can even be said to give rise to a new immaterial art form," said Birnbaum in a statement.
Cao Fei "RMB City" 2021
Acute Art is a digital platform that has been producing and showcasing artworks that employ cutting-edge technologies, the exhibition presents a total of 38 AR works by 16 artists, including Koo Jeong A, Nina Chanel Abney, Darren Bader, Marco Brambilla, Julie Curtiss, Olafur Eliasson, Lee Bul, Cao Fei, Alicja Kwade, KAWS, Lu Yang, Bjarne Melgaard, Ho Tzu Nyen, Precious Okoyomon, David Shrigley as well as Tomás Saraceno.
"Inspiring artists and visitors to traverse the borders between the real and virtual worlds, while interacting and communicating through the newest technological medium, the exhibition will provide an opportunity to imagine a future of infinite possibilities and challenge our preconceptions of engaging with art," the museum added.
Bjarne Melgaard "Light Bulb Man Dressed as Les Sapeurs" 2020
One of the highlighted works include Lee Bul's new AR work, Willing To Be Vulnerable – Metallized Balloon Ver. AR22 (2022), commissioned by Leeum Museum of Art on the occasion of the exhibition. With works that punctuate the tension between provocative and inventive, Lee Bul's practice encompasses performance, sculpture, painting, installation and video. Her work often portrays futuristic contemplations and utopian landscapes.
Kaleidoscope Eyes will run from September 2 through November 27. Head to Leeum Museum's website for more information and stay tuned for more updates on our media partnership with Leeum Museum of Art and Acute Art surrounding the exhibition.
Leeum Museum of Art
60-16 Itaewon-ro 55-gil
Yongsan-gu, Seoul
South Korea
Click here to view full gallery at HYPEBEAST