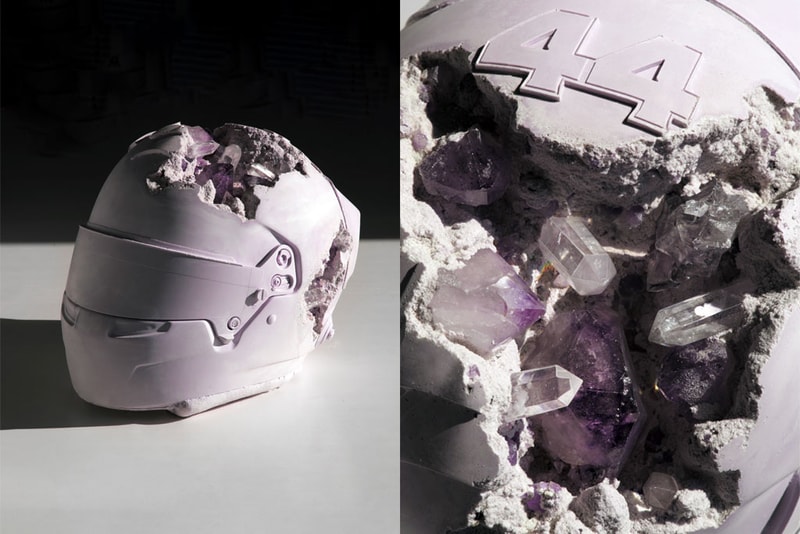 The seven-time Formula One World Champion, Lewis Hamilton, and American artist Daniel Arsham have announced their first-ever collaboration, serving up a dazzling crystal-eroded racing helmet sculpture inspired by Hamilton and the Monaco Grand Prix. Arsham's obsession with automobiles has been exhibited consistently throughout his career as seen through his Porsche 930A Turba custom, crystal-eroded 1968 Ford Mustang GT, and other sculptures. With this latest project, the artist forms a bridge between the pinnacle of motorsports, Formula One, and contemporary art.
"I've been a fan of Formula One since I was a teenager in Miami and I've always been fascinated by the teamwork that goes into each race and the technology," Arsham shares with HYPEBEAST. "There's also nothing like the thrill and excitement that comes from watching these cars race wheel-to-wheel on tracks around the world and at such incredible speeds too – it's exhilarating and is something that fed my obsession with cars, which have become such a big part of my world today."
"Looking back at my early memories of Formula One, I loved Senna, and later followed Schumacher closely," Arsham continued. "Fast forward to today, having the opportunity to work with Lewis — one of the most iconic drivers in the sport — is incredible, especially since I've watched him come up."
The artwork falls under Arsham's Fictional Archaeology series in which iconic figures and objects from pop culture are rendered as unearthed artifacts of the future. Taking inspiration from Hamilton's love and appreciation for crystals and their healing properties, Arsham casts the piece in selenite, quartz, and amethyst crystal erosions.
"Lewis is fond of purple and has a fascination with crystals and their healing properties, I also often use the Crystal Amethyst in my work, so it made sense to recreate Lewis' helmet in this material," shared Arsham.
All of the proceeds from the sale of the one-of-a-kind art piece will benefit Hamilton's foundation, Mission 44, which seeks to support, champion, and empower youth from underserved groups in the United Kingdom. In addition to the sculpture, Daniel has also designed a real race helmet that will be worn by Lewis Hamilton at the Monaco Grand Prix this weekend.
"Lewis and I have been talking about working together for a few years now, and decided to start our collaboration for the Monaco Grand Prix. We've had many conversations about how to bring our creative visions to life, and we're both really pleased with how these works turned out," says Arsham. "This is the first time I've created a racing helmet, so it's really special to have Lewis be part of it."
Elsewhere in design, HUMAN MADE readies a "HOUSEWARE" capsule collection.
Click here to view full gallery at HYPEBEAST