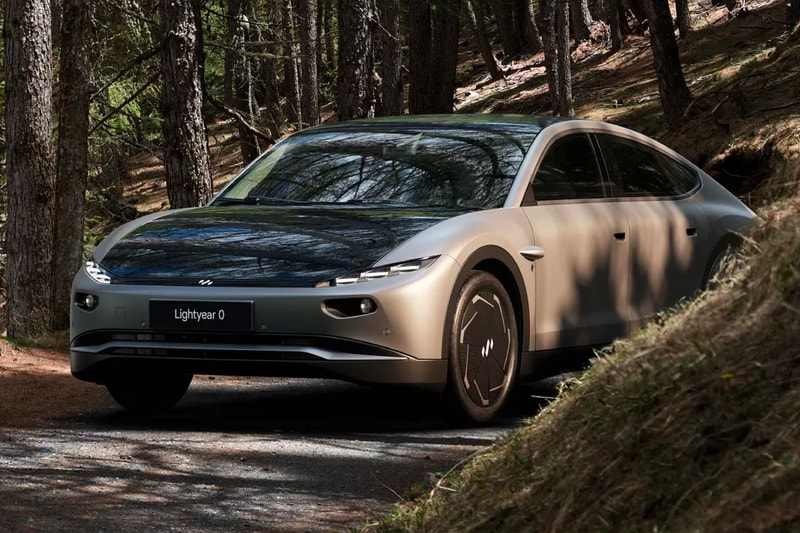 After six years of development, Netherland-based EV startup, Lightyear, has officially revealed its new "Lightyear 0" sedan, the world's first production-ready solar car. Setting the offering apart from other EVs in the market is five square meters (16.4 feet) of highly-efficient solar cells installed on the hood and roof which provide up to 43 additional miles of range every day. Lightyear claims that a driver with a short daily commute could potentially drive for up to seven months without plugging in to charge under optimal conditions.
Utilizing materials such as vegan leather and palm wood for the interior trim, and reclaimed carbon, aluminum, and residual carbon fiber materials for the chassis and frame, the Lightyear is able to be both sustainable and relatively lightweight. Additional highlights include four in-wheel motors and a record-breaking drag coefficient of less than 0.19, making it the world's most aerodynamic passenger car.
Despite the perks, compared to popular offerings from leading EV companies such as Tesla and Lucid, the passenger vehicle is by no means a speedster, reporting 170 horsepower and top speeds of 100mph. Instead, the EV startup chooses to optimize for efficiency, boasting a range of 388 miles without taking into account the extra boost from the integrated solar panels.
Lightyear's debut EV will make its first test drives in July, with production scheduled for this fall and deliveries promised by the end of the year. The initial run of 946 cars will be priced at roughly $263,000 USD followed by a more affordable offering in 2025. Head over to the Lightyear website to learn more.
Elsewhere in automotive news, BMW confirms its first-ever M3 Touring.
Click here to view full gallery at HYPEBEAST