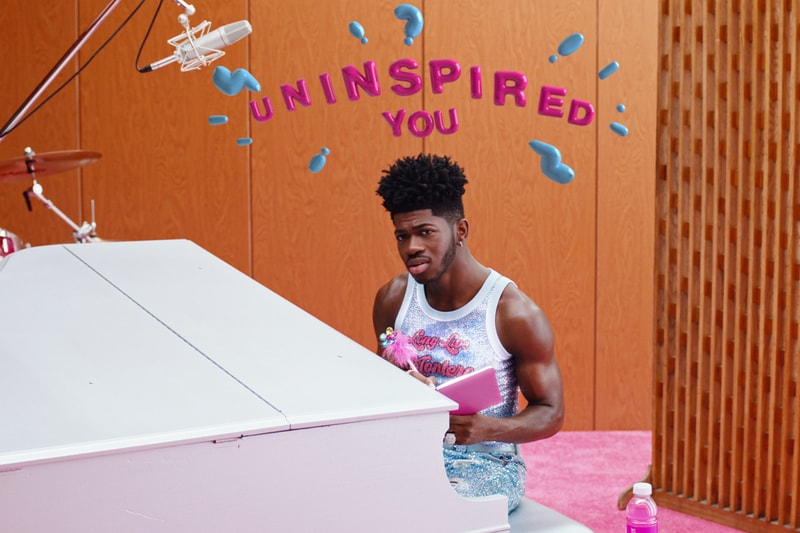 Lil Nas X is no stranger to change. In the last three years, his career evolved from writing songs in his closet to taking home two GRAMMYs and writing the first song in history to ever be certified 15x platinum. The Georgia artist entered this industry with wide eyes, a cowboy hat and a single that burned through TikTok, and transformed what many brushed off as a controversial one-hit wonder to a colorful, chart-topping pop-rap album — a young yet already illustrious career and high-profile collaborations that highlight his ethos of creativity and authenticity.
Just like the music he delivers, Lil Nas X ensures that his partnerships are a testament to his message of staying true to one's self. He believes that encouraging every part of a person — from their physical being to their emotions, complexities and more — is vital in the process of growth, so he teamed up with vitaminwater to highlight six flavors that solidify his career-defining mindset. Starting today, fans will be offered the flavors "Focus," "Shine," "Energy," "XXX Zero," "Gusty" and "Ice" every week, and they can look forward to a new video personally spearheaded by Lil Nas X and his creative team.
To celebrate the release of his new venture, Lil Nas X sat down with HYPEBEAST to touch base on his MONTERO followup, the role of authenticity in his growth and career and how he hopes his vitaminwater partnership will inspire his fans to nourish every side of themselves.
HYPEBEAST: The last time you spoke to HYPEBEAST was just after "Old Town Road" blew up. In between then, the release of 7 and MONTERO and the present-day, a lot has changed in both your life and the world. Looking back on it now, how would you say your new album is different, both in its creative process and finished product?
Lil Nas X: Before [MONTERO], I would kind of give people what I thought they wanted and in MONTERO, I gave so much of my life away. MONTERO is different from my other albums simply because it's 100% me. It's my actual life talking about actual things. But when I was writing this album, I was like, "What am I going to talk about?" So I had to pull from what was happening exactly right now. But this album right here — it's more fun and turnt up and party more than anything else. I'm leaving all this sadness behind.
You recently teased collabs with NBA YoungBoy and Saucy Santana for the new record. How do you choose who to collaborate with?
Ideally, I try to think about who would actually fit this song the best, instead of like, you know, who would be a big artist whatnot. I feel like certain people are great on certain beats, or can bring certain things to the table that I cannot, and that's why I like to bring them on board.
Being in this industry as a gay person of color requires you to have a tough character, and you've never faltered in being true to yourself. What piece of advice would you give the kids who want to follow in your footsteps?
I'd honestly say just go with what you feel. Try to just keep going along your own path. It's definitely gonna be hard. I mean, even to this day, it's sometimes difficult for me to stray away from trying to be like everyone else. But it's a journey and it's gonna keep changing because you're gonna keep growing. It's a matter of trying to find your place.
Touching on the topic of identity, you're known to team up with brands that promote authenticity to self, and fans heavily identify that ethos with you as an artist. How do you hope your latest partnership with vitaminwater, which focuses on "you," will inspire your listeners?
I think it'll inspire them simply because the entire thing is about nourishing "every you." Throughout my career, there have been so many different versions of myself, so I feel like this concept was really fun. And I feel like a lot of people want to be able to have fun with and relate to it.
The video for "Focus," which is the first to drop from the campaign, features a brand new track entitled "Give Me A Chance." How did you land on this cut when you were picking the soundtrack for this partnership?
Hilarious enough, I actually wrote this song about my ex-boyfriend. The hook is like, "Give me one chance," pretty much, but it's kind of repurposed. It was like "Give this vitaminwater one chance" because it's great and it tastes good.
I mean, even to this day, it's sometimes difficult for me to stray away from trying to be like everyone else. But it's a journey and it's gonna keep changing because you're gonna keep growing.
You were heavily involved in the creative process of this partnership. Where did you look for inspiration?
I just thought about something that I could bring to the table, which was the music, of course, and the creativity behind the projects and within the commercials themselves. My team with the styling and the sets, they helped me make everything pop. We always work really well together making these commercials.
If you could pick your one flavor from the partnership that will remain a permanent vitaminwater flavor, which would it be and why?
My favorite is the gutsy flavor. That one's just bomb, I can't — I actually got some of that right now upstairs in the studio. It just tastes incredible.
Click here to view full gallery at HYPEBEAST