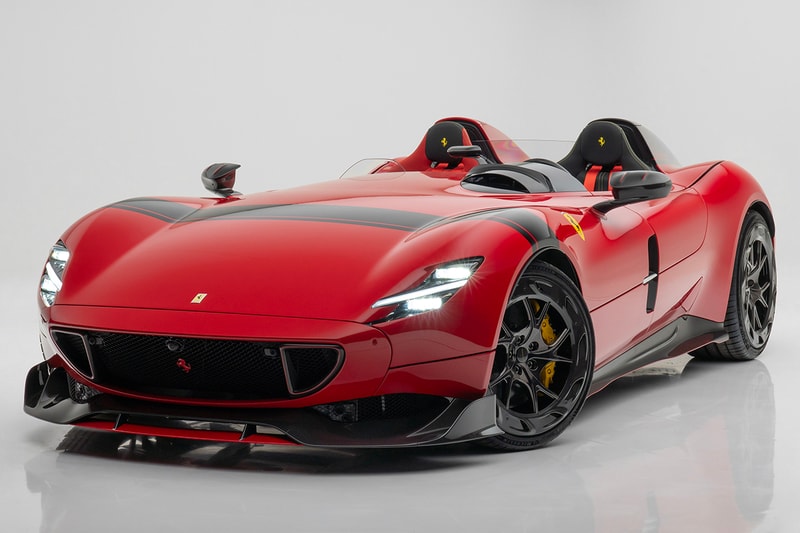 Only 500 units of the Ferrari Monza SP1 and SP2s will ever be built between the two specifications, and to get your hands on one, you have to be an incredibly discerning and respected Ferrari collector. Assuming you have one, Mansory has introduced a customization program that promises to make your super-rare hypercar even more spectacular, and it's not limited to just looks.
Starting with the 6.5-liter V12 engine, Mansory boosts power to 830 HP and 740 Nm of torque, courtesy of a reworking of the electronics, air intake system and a new exhaust system. The latter now produces an even more ferocious sound, and can be identified as a Mansory system thanks to the red and black paint scheme it's been given at the rear, complementing the "Mansory BESPOKE" exterior of the car.
Here, Mansory has painted the car in "Rosso Corsa" red before adding black detailing in the form of a bonnet-covering stripe and a black driver's cockpit. A set of lightweight "YT.5 Air" rims sit snug underneath the lowered suspension, while a revised front lip alongside the sills and a new rear diffuser add to the car's elongated and low stance.
To continue the contrasting theme, Mansory uses black to denote the driver's seat, red for the passenger, and brings them together with yellow stitching across both pods.
A Ferrari Monza SP1/SP2 costs upwards of $1.8M USD, assuming you can get your hands on one. Head over to Mansory to find out more about its upgrade program.
Elsewhere in the automotive world, HYPEBEAST recently got behind the wheel of another rare car: the Mercedes-Benz 300SL Gullwing.
Click here to view full gallery at HYPEBEAST