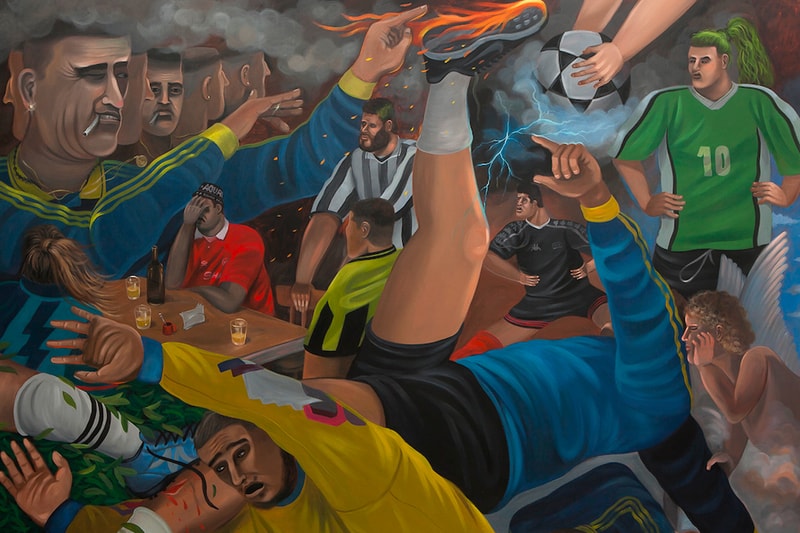 "Those who only know football know nothing about football. Those who only see twenty-two men chasing after a ball fail to understand its geometry, its ballet, its psychological depth, its true nature. It is the most faithful representation of human nature and its many faces. It is a tribe where the rationale of tactics, emotion, and the fun of the game all prevail."
- José Mourinho, The Soccer Tribe.
Martin Kazanietz has observed the intersection of sports and culture since he was a young child. Born in Buenos Aires and now based in Patagonia, the artist recreates the seemingly mundane moments he's experienced along five-a-side football matches and various basketball courts in his home nation.
Fresh off a multi-media exhibition by Nikkolos Mohammed, ALLCITY presents Martin's latest suite of paintings in a new solo show titled "Diario Derrota." Removing the focus off the spectacle of pro athletes, the artist pans the frame to examine the surrounding culture that manifests — beer guzzling ultras, Boca Juniors kits, swarms of people laughing and crying in unison. The latter of which seems to be a through line with much of the work on display.
"I couldn't help to think about this being my first solo show in the US, and my consumption of North America's urge to compete and win," Martin told Juxtapoz. "In Latin America and in my case, Argentina, we are more heavily related to loss and defeat. We've experienced political and economic domination by the North and West and their attempt at cultural dominance as well. I wonder if this is probably why we have thicker skin when it comes to crisis, and I also wonder if defeat could be thought of as something more human, since it's something we all experience regularly."
Vibrant and humorous on first glance, Martin's artwork reveals the complexity of emotion that is often felt in the world of sport. "Diario Derrota" is on view at ALLCITY in Brooklyn until June 30.
Elsewhere in New York, MoMA unearths the mysteries behind Matisse's The Red Studio.
ALLCITY
85 Metropolitan Ave.
Brooklyn NY, 11249
Click here to view full gallery at HYPEBEAST