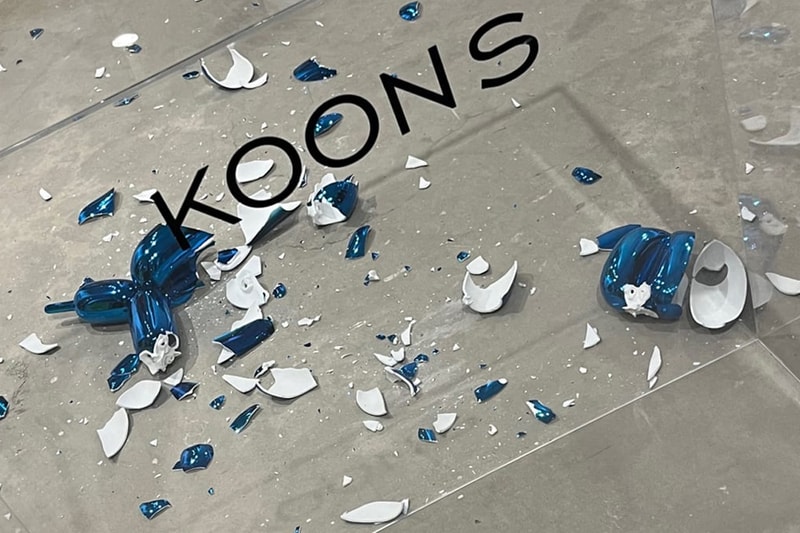 A mishap occurred last week at the Art Wynwood, an art fair in Miami, regarding one of the iconic balloon dog sculptures by Jeff Koons.
A visitor knocked over the $42,000 USD bright blue porcelain dog, shattering the sculpture into pieces. At 16 inches tall and 19 inches long, the dog was sat perched on a transparent pedestal on display at Art Wynwood. At the fair's VIP preview night, Stephen Gamson, an art collector and an artist told New York Times that "he saw an unidentified woman tap the sculpture with her finger, knocking it from its pedestal in a booth managed by Bel-Air Fine Art." At first, Gamson thought that it was part of a performance, however, he noticed the woman blushing and the art fair staff quickly rushing over.
The shattered shards of porcelain turned into a spectacle. Th woman who broke the piece has been left anonymous though sources have confirmed she is an art collector. Local artist Stephen Gamson wrote on his Instagram account that he wanted to buy the piece right away as he believed that "it has a really cool story."
Jeff Koons himself has not commented on the incident.
In case you missed it, Runsy presents Plato o Plomo at FRANCHISE.
Click here to view full gallery at Hypebeast