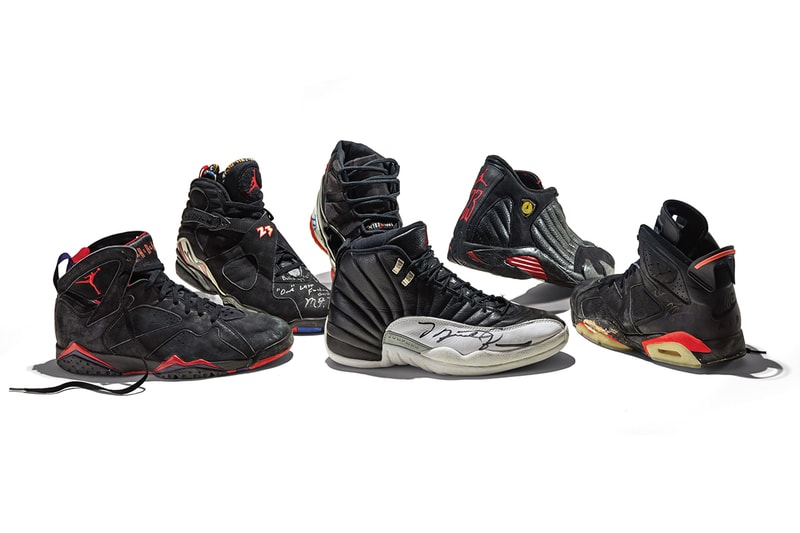 Though it has been decades since Michael Jordan last played on the NBA court, yet alone win his last championship, his name and presence is still very much felt around the game and culture. He continues to prevail as the GOAT of this generation, changing the game of sneakers, sportswear and more.
In honor of his legacy, Certified Sports Guaranty has obtained all six of Michael Jordan's championship-clinching sneakers and will be placing them on display for the first time ever as a part of its "Dynasty Collection" memorabilia series. CSG has confirmed that each of the shoes have been worn by Jordan in the final games of his NBA Championships in 1991, 1992, 1993, 1996, 1997 and 1998. Each of his shoes are an iconic and direct connection to Jordan. For his first title, the GOAT wore the Nike Air Jordan 6 that was modeled after his Porsche 911. In 1992, he wore a pair of Air Jordan 7, the first without hte Nike branding, and the 8s in 1993 with the "x-strap." In '96, Jordan wore the "Bred" with a transluscent sole and for his sixth and final championship, he wore an early prototype of the Air Jordan 14 known as the "Last Shot," emulating the lines of his Ferrari 550 Maranello.
Chairman Mark Salzberg of CSG said, "Even after examining the world's most important collectibles for four decades, the Dynasty Collection had the power to take my breath away. For the role these shoes play in our collective consciousness, how they relate to sports, fashion and celebrity, they are the contemporary Ruby Slippers, only rarer." Michael Jordan and sneaker fanatics alike will get a chance to take a look at these iconic pieces at the National Sports Collectors Convention in Atlantic City, New Jersey from July 27-31, 2022. Those interested can sign up on CSGcards to get a virtual look at the museum and receive exclusive content regarding the "Dynasty Collection."
In other footwear news, here is an official look at the Jordan Luka 1 "University Red."
Click here to view full gallery at HYPEBEAST