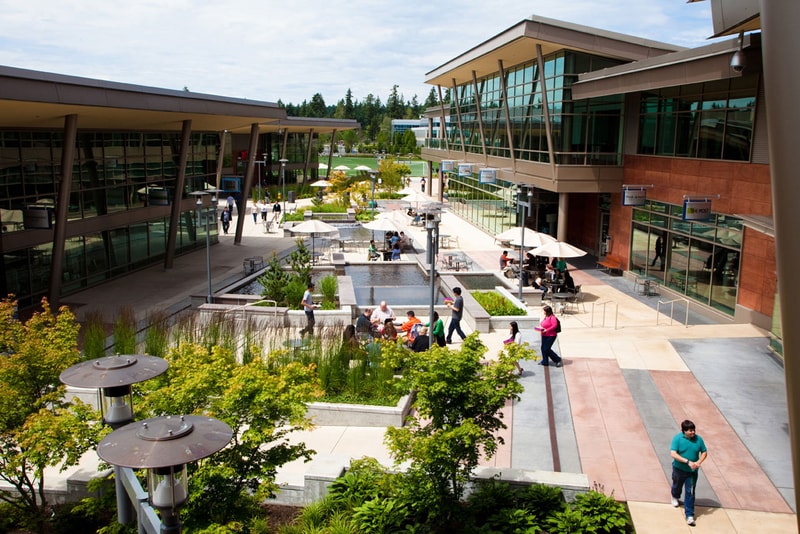 Microsoft is synonymous with innovation and quality, and its corporate campus in Redmond, Washington is the physical manifestation of those standards. HYPEBEAST was invited to take a tour of the headquarters, which included a glimpse into its innovation and testing labs, in celebration of the release of the all-new Surface Laptop Go 2.
The campus is tucked away in a tree-lined area just outside metropolitan Seattle. It has been operational since 1986 and has since expanded to include new restaurants, gift shops, workshops, and even a barbershop. According to the Redmond government website, more than 47,000 employees work across the 500-acre mixed-use campus.
Upon registering at the front desk of the visitor center, we began our tour at the Treehouses, which are wooden structures built up in the lush Pacific Northwest foliage that are available for employee use. After that, we made out way to The Garage, the company's experimentation, collaboration, and creation lab, which hosts the largest private hackathon in the world. "The Garage is a portal to hack culture at Microsoft," the company explains, noting that some of the most compelling projects for the company got their start in The Garage. The space was filled with prototyping tools like 3D printers, walls of whiteboards, and even craft supplies, to encourage creative problem-solving.
Next, we arrived at the Human Factors lab, a department dedicated to gathering data about the human body and mind to design its products for optimal use. Model thumbs, ears, and wrists of various sizes were on display, alongside EEG caps that monitor brain activity. The lab tests different lighting, sound, and typing conditions and sends that data to the product and design teams for further integration.
We then made our way to the Advanced Prototyping space, which creates the first iterations of different tech before it goes into production and manufacturing. Disassembled keyboards, laptops, headphones, controllers, and more were dispersed across the large space, with employees consulting with each other on different materials, fabrics, colors, and finishes to use on their unreleased products. Previous collaborations, including a Space Jam: A New Legacy Nike sneaker and Xbox controller, were also on display, showcasing the diversity of tasks accomplished in the Advanced Prototyping lab.
While there, we stepped into the Anechoic Chamber, a futuristic space that has been certified as the quietest room in the world. There, the Microsoft team is able to fully characterize the acoustic properties of different hardware, like a keyboard or a fan, to see how loud its functions are while in use. The room has slots of foam and mesh metal to trap sound, and when the door is sealed, creates an environment of absolute silence at -20dB.
We also explored the Inclusive Tech Lab, where the company is working with the disability community to create products and modification tools to make its tech lineup more accessible.
Finally, the team ushered us into a room where the new Surface Laptop Go 2 was on display. An update to its Surface Laptop Go released in 2020, the new lightweight device includes a fingerprint reader integrated into the power button, alongside a vibrant 12.4-inch PixelSense touch display. In addition, the portable device offers an improved HD camera and dual Studio mics for better video calls, and an elevated keyboard that rivals some of the other high-end portable laptops currently on the market.
Weighing only 2.48 pounds, the device features a
Quad-core 11th Gen Intel Core i5 processor and boasts all-day battery life. It comes in an array of sleek colors, including Ice Blue, Sandstone, Platinum, and an all-new Sage green, and is available now starting at $599 USD.
Overall, touring Microsoft's campus was a reminder of the tech company's humble beginnings and dedication to human-first products. Its campus is both sleek and homey, with touches of wood, glass, and greenery decorating the space filled with employees who consider it a home away from home.
Click here to view full gallery at HYPEBEAST