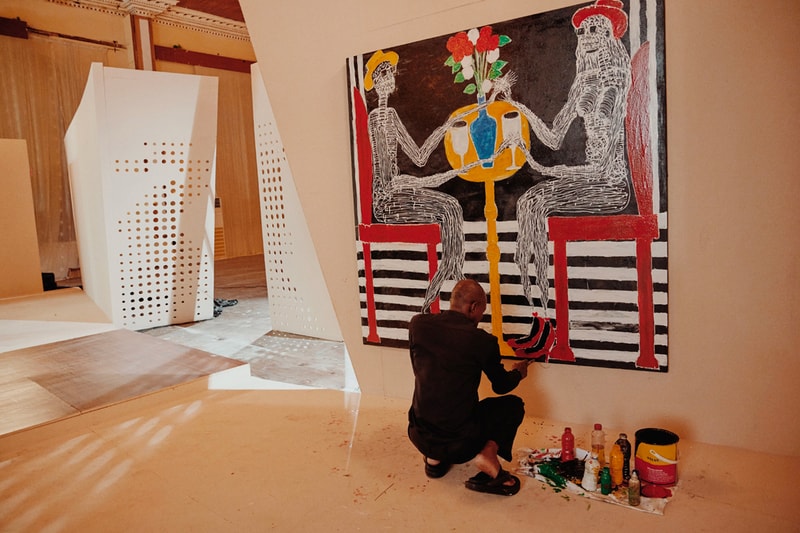 Mr Eazi is set to release his first single "Legalize" off his highly anticipated new album. Well-known for his pioneering 'Banku' sound, which draws from rhythmic Nigerian percussion and Ghanaian nightlife, Eazi had recently pushed the release of his next record till 2023, assuring fans that it will be special.
The Nigerian-born, Ghana-based producer has given us a first glimpse at how this project will unfold. As a constant traveler, Eazi has developed an affinity for art and culture and will collaborate with a range of prominent African artists to create bespoke work for each track.
"I started to see the similarities between the music space and the art space in terms of the business model my company emPawa does … [which] finds artists, musicians and works with them, nurtures them and their careers, and gives them the opportunities to break into the world," Eazi told ARTnews.
Releasing tomorrow, "Legalize" will feature the artwork of Beninese painter Patricorel. The whole partnership is quite unique — where the art is made while Eazi paints each track. Filmed at an invite-only reception in Lagos, "Legalize" is perhaps the most personal song Eazi has released — serving as a love letter to his fiancé, Nigerian actress Temi Otedola.
"I started to think … 'Why don't I work with artists to be able to co-create pieces that represent the music so that captures the essence of the music on a canvas?'" said Eazi. Check out the documentary above to see the making of his latest track.
Elsewhere in art, Javier Calleja presents This Is Your Lucky Day at Almine Rech.
Click here to view full gallery at HYPEBEAST