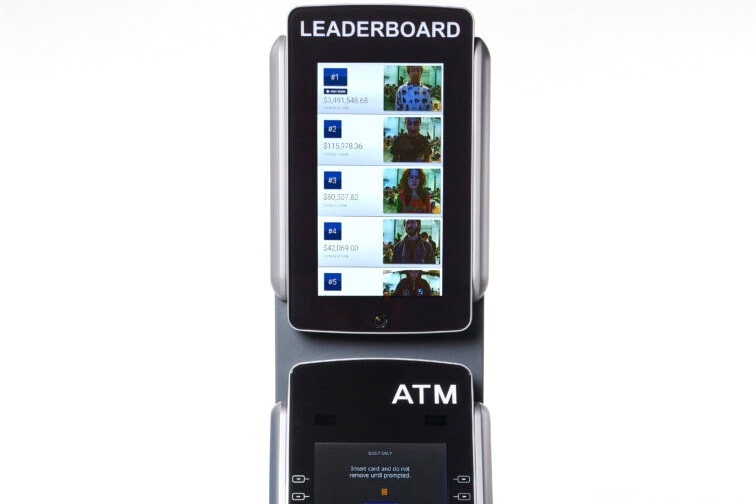 After revealing a second colorway of its Gobstomper sneakers and its first-ever handbag made in Italy, Texas, the Brooklyn art collective MSCHF is back with another unconventional object for Art Basel Miami, setting up an ATM that puts users' bank acccount balances on a ranked leaderboard for everyone to see.
"ATM Leaderboard is an extremely literal distillation of wealth-flaunting impulses," Daniel Greenberg, co-founder of MSCHF, told NPR. "From its conception, we had mentally earmarked this work for a location like Miami Basel, a place where there is a dense concentration of people renting Lamborghinis and wearing Rolexes."
Arriving as a collaboration with Perrotin, the ATM was used by a number of guests with balances ranging from zero to the No.1 spot of $3 million — registered by the DJ and music producer Diplo. "Mschfbank" visuals were teased on the bottom screen, and each time a user uses the machine, cartoon-like visual pops up on the top with high score animations. Despite the gimicks, the ATM is fully functional with real balance checks and withdrawals.
The ATM was ultimately sold for $75,000 USD, aand it's said that while the locations for the ATM's next appearances are decided by the buyer, the top scores will remain on the leaderboard after each showing.
Take a closer look at MSCHF's ATM Leaderboard below.
i just won art basel pic.twitter.com/2WVPtFwUHa

— diplo (@diplo) December 2, 2022
In other news, Louis Vuitton x Yayoi Kusama Animations Take Over Giant Billboard in Tokyo
Click here to view full gallery at Hypebeast