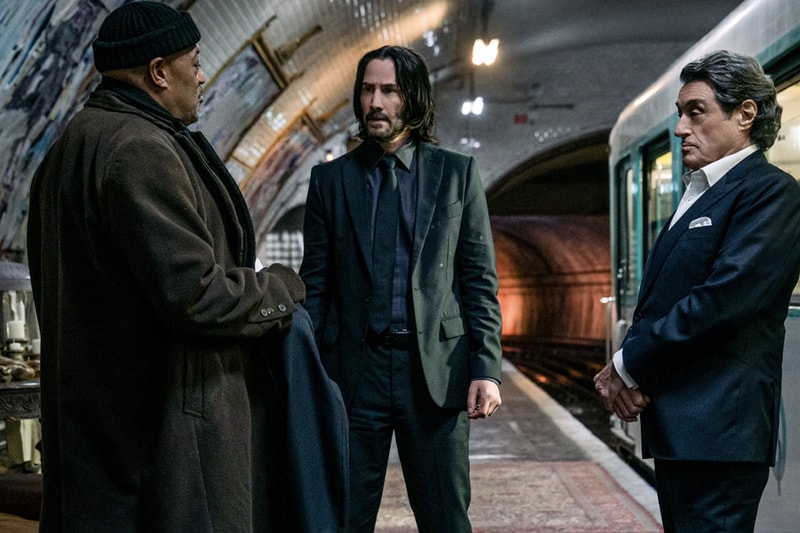 In anticipation for the release of the John Wick: Chapter 4, Lionsgate has released new imagery to tie fans over before the release.
Keanu Reeves returns as the titular legendary hitman, who can't seem to catch a break and retire in peace. Baba Yaga continues to globe trot, this time appearing in Paris, France. According to the new images, it appears that Ian McShane, who plays Winston, the mysterious manager of The Continental Hotel (also known as the safe have and gathering place to Manhattan's assassins) is to be heavily featured in the upcoming film.
The images show director Chad Stahelski behind the scenes with the cast, while also giving fans a glimpse of the interactions between Laurence Fishburne's Bowery King and John Wick himself. Other new comers like Bill Skarsgård, Hiroyuki Sanada, Shamier Anderson and Rina Sawayama are also teased giving fans at the plotting Marquis de Gramont, has to go through to bring down Wick. Donnie Yen also joins the cast as a new character called Caine, a former assassin and ally of Wick.
John Wick: Chapter 4 will release on March 24 in theaters worldwide.
In other entertainment news, Matthew McConaughey voices Elvis Presley in Netflix's new Agent Elvis teaser.
Click here to view full gallery at Hypebeast