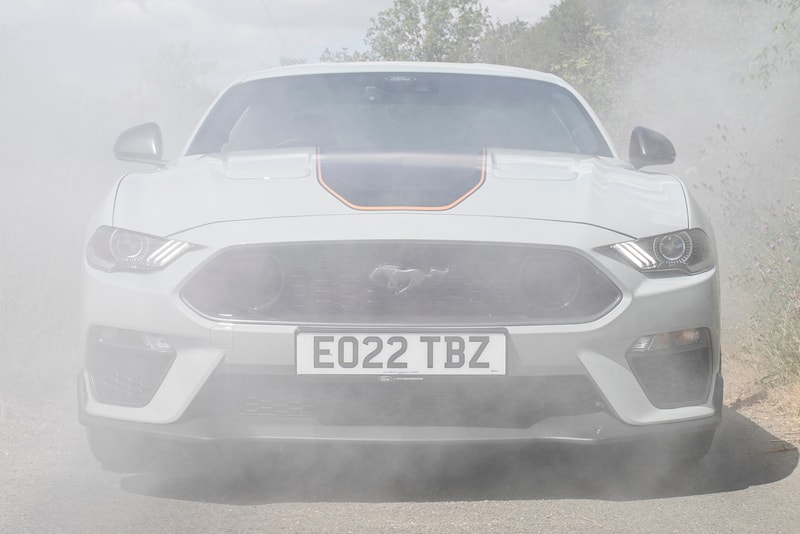 What do John Wick, Bullitt, and Gone in Sixty Seconds have in common? The Mustang. One of few cars to have the leading role in a film. A car synonymous with The American Dream. A blue-collar machine for petrolheads looking for the action of a European supercar with a more humble price tag. For Ford, catering to this became a recipe for success, and since its introduction in 1964, the Mustang has become the world's favorite sports car with over 10,000,000 being sold since.
The Mustang has lived many lives. Named after the P51 Mustang fighter plane from World War II, it was immediately loaded with connotations of success, intimidation, brutish force and something not to be reckoned with. But as the name grew, the Mustang image became diluted. The second, third, and fourth generations were – needless to say – not as successful, due to a lack of good looks and comparative quality or power. But in 2005, Ford found its mojo with the fifth generation, presenting a true American muscle car that explored retro-futurism with nods to the original car.
Now in its sixth iteration, and with some solid global expansion, the Mustang has become a household name around the world. Elsewhere, Ford has kept up with the increasing focus on electrification through the introduction of its Mustang Mach E, while also offering more traditional petrol-powered cars. Today in the U.K., prospective buyers can choose from the standard GT or the Mach 1, and it's the latter that we've tested for this issue of Open Road.
The name "Mach 1" denotes a rather big claim: to travel at the speed of sound. When the Mach 1 first launched in 1969, sitting between the original Mustang GT and high-output offerings from Shelby, the Mustang went from being a sunset boulevard cruiser in GT form to a proper performance machine, enabling Ford to set more than 300 speed records. 
However, today's Ford Mustang Mach 1 won't be setting any speed records. For a car that's famous for having a five-liter V8 engine, its 480 HP manages to send it to 62 MPH in a less-than-impressive 4.5 seconds, and that's assuming you've warmed the tires up on a nice bit of tarmac beforehand. 
We won't lie to you. The Ford Mustang Mach 1 didn't exactly win us over at first. From the 10-speed automatic transmission that seldom knew what it was doing, to the seating position that was better suited for a family wagon, there wasn't much going for the Mach 1. But it was the engine and nostalgia-packed experience that helped us to understand the car and its true purpose. 
We wanted the Mustang to live up to the numbers on paper, and were expecting a car that could compete with the best of its European rivals. But, in thinking that, we were looking for the wrong thing, as the Mustang comes into its own with something cars like this often lack: personality. 
You can't help but love the Mustang. Perhaps it's the car's heritage and legacy that's woven into every fiber – from the way it looks to how it drives. Its approach to cornering has the ability to put the fear of missing the bend into even the best of drivers, while stylistically, the Mach 1's abundance of art deco-font graphics, go-faster stripes, and land yacht dimensions ache of the 1960s. Inside, the retro dials looking right at you only add to this air of the past.
It's a car full of loveable flaws, and for that it is charming. It has character, and over time we grew to love the 'Stang, as it made us smile every time we heard its ridiculous roar or when the tires span and a plume of smoke engulfed its surroundings. 
The Mustang Mach 1 is an old soul built for a bygone time. It doesn't make much sense on British roads – the twists and undulations throwing the car's balance off-kilter – and a global fuel crisis might make it your next overpriced hobby. But none of this really matters when you're behind the wheel of a Mustang – a symbol of quintessential Americana that just feels cool. Ray-Bans, mustache waxed, wild west, Cuban cigar, analog cool.
Click here to view full gallery at HYPEBEAST