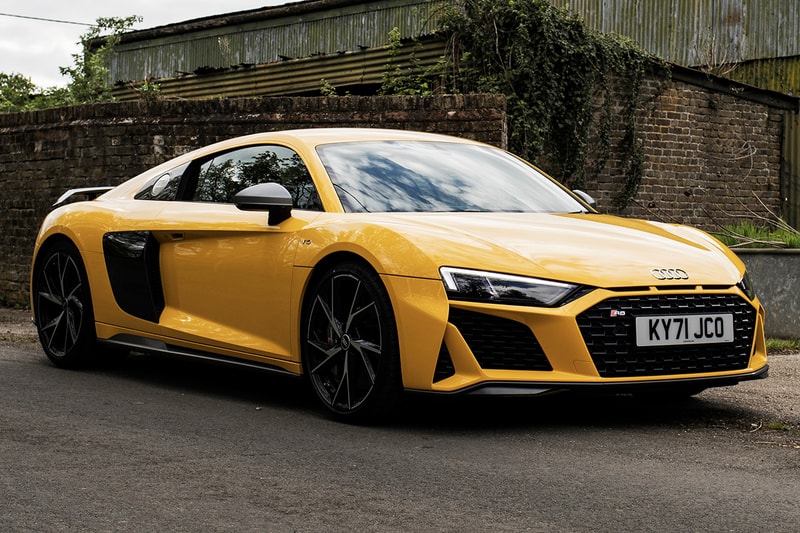 The Audi R8 holds its cards close to its chest. It's unlike many modern-day supercars, choosing to give nothing away rather than shouting its credentials. The R8 borrows its V10 engine from the Lamborghini Huracán, but this German machine is an all-rounder, and could arguably be described as subtle despite HYPEBEAST having a "Vegas Yellow" specification on hand. 
Open Road has enabled HYPEBEAST's petrolheads to test a number of supercars. The McLaren 720S Spider was loveable yet untamable, the Aston Martin DBS Superleggera was the perfect all-rounder for everyday use, and the Maserati MC20 was pure driving bliss. With this at the back of the mind, it's hard to not compare supercars with one another, especially when most are priced at around $200,000 USD. Couple that with the R8 now being over 16 years old and it sharing much of its mechanics with the Huracán, and it's easy to draw comparisons or look for differences in the R8 – for good or bad. 
On the other hand, the R8's "Vegas Yellow" paint job and screaming V10 engine also excites your inner kid. At first glance, the R8 is capable of stimulating the senses despite its lack of quintessential supercar extras – there are no showboating doors or overcompensating wings here. Instead, with it being a "sensible Audi," you get something closer to a Porsche 911 Turbo competitor, a car that doesn't scream nor shout simply. It doesn't need to do either, because it is undoubtedly a good car. 
The Audi R8 has one of the greatest engines, and subsequently one of the greatest soundtracks, ever featured in a car. It's music to any car lover's ears, unadulterated thanks to its lack of turbos or faux noise enhancers. Noise is made across the entirety of the rev range, and the soundtrack switches from a deep gargle to a high-pitched scream, encouraging you to always try and find its limit. 
This brings us on to the crux of this car. Somehow, there is no limit to what the Audi R8 is capable of. Thanks to Audi's class-leading proprietary Quattro all-wheel-drive system, grip is found in abundance. 
In fact, it was almost too much grip for a supercar, as the contrast between that V10 engine that wants to be pushed and a car that doesn't ever want to let go can be a bit conflicting. In many ways, this is a good thing, especially if you've never driven something as powerful as this before. Safety support systems are figuring out thousands of equations every second to keep you planted on the road and it's impressive that anyone could get into the R8 and drive it relatively hard and well. 
However, as autophiles know, grip should be something that can be teased, tested and played with. Jeremy Clarkson of Top Gear shouting "powerrr!" as he pulled off a smoke-pluming powerslide was the highlight of many a child's Sunday evening, and that nostalgic vision remains. While we can't do this on public roads, it does not mean that the car won't occasionally try to slide out of corners.
Because of this and the steering feel that made driving the R8 almost too easy, this car is ironically the antithesis of what a supercar should be. Just because it can hit 62 MPH in three seconds and go onto 206 MPH doesn't make the R8 a supercar. 
So what is it then? It takes further investigating, and it took HYPEBEAST another stab at the car to really understand what the car is and who it is for. 
Starting early in the morning to avoid traffic, we fired the car's heart into life and set off for the seaside via country roads. This tested the R8 in all settings, from the stress of city driving to opening it up on the long straights of the motorway, or chucking it around a corner without all those overbearing safety systems getting in the way of the fun. 
Here the car started to come alive. You had to have all of the systems turned off and the car in its most focused setting, typically reserved for track driving, to extract all of the R8's potential. And potential it has, as once this had been initiated the car became a different creature entirely. 
No longer did it feel like the car was doing all the work for you. Now, you had almost all control over the car's characteristics. Feeling it feed back authenticity to the driver through the handling as it responded to minuscule adjustments, thus making you want to drive it harder upon each surprising change of events.  
This is the Audi R8's peak, but definitely not its happy place. It's much more comfortable – literally and metaphorically – when it is in control. But by all means, don't think it's going to not work alongside you as an extension of your right foot and arms. 
To sum up the R8: it's not as simple as another cliché case of Jekyll and Hyde. 99% of the time the car is a great grand tourer, with a big enough front trunk to hold a weekend's worth of luggage and economy ratings that won't eat into your life savings (although, if you have a $200,000 USD car you're probably not concerned about the petrol crisis). It's comfortable and spacious inside with great amounts of visibility, and with it being an Audi, it comes with all of the latest and greatest mod-cons, each of which is optimized for the driver hence its lack of a core infotainment screen. 
But the Audi R8 is all about finding the 1%. That is when you don't just fall in love with the car for everything it can do, it's when you fully understand it and build a trusting, harmonious rapport with it.
Click here to view full gallery at HYPEBEAST