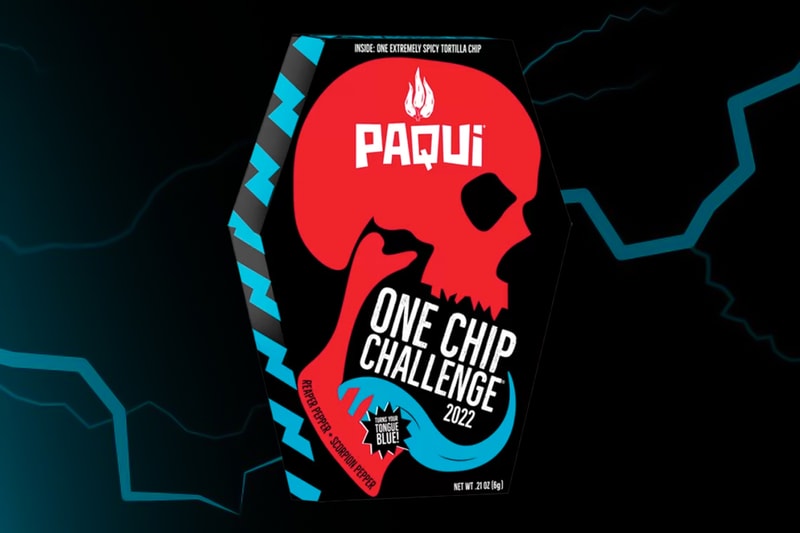 Returning for its sixth year, Paqui Tortilla Chips is bringing back its infamous #OneChipChallenge. This year's "high voltage chip" ramps up the level of shocking pleasure of intense heat and pain with two of the hottest peppers in the world.
For those that "dare to face The Reaper," the 2022 #OneChipChallenge is made with both the Carolina Reaper Pepper and Scorpion Pepper which both register at over 2 million Scoville heat units. Additionally, the chip will turn your tongue blue to prove you dared to take on this year's #OneChipChallenge.
"Each year, the team here at Paqui raises the bar and develops an intensely thrilling challenge that pushes the fearless to their limit," said Paqui Senior Brand Manager, Brandon Kieffer. "Fans be warned, this year's chip isn't for the faint of heart and there's no cheating the test. Only the bravest will be able to prove they faced the Reaper when they show off their blue tongue after completing the challenge."
Priced at $9 USD, the 2022 #OneChipChallenge is available now on Paqui Tortilla Chips' website, Amazon and at select retailers.]
For more food and beverage news, CURRY UP® by NIGO®︎ launches new weekly special menu.
Click here to view full gallery at HYPEBEAST