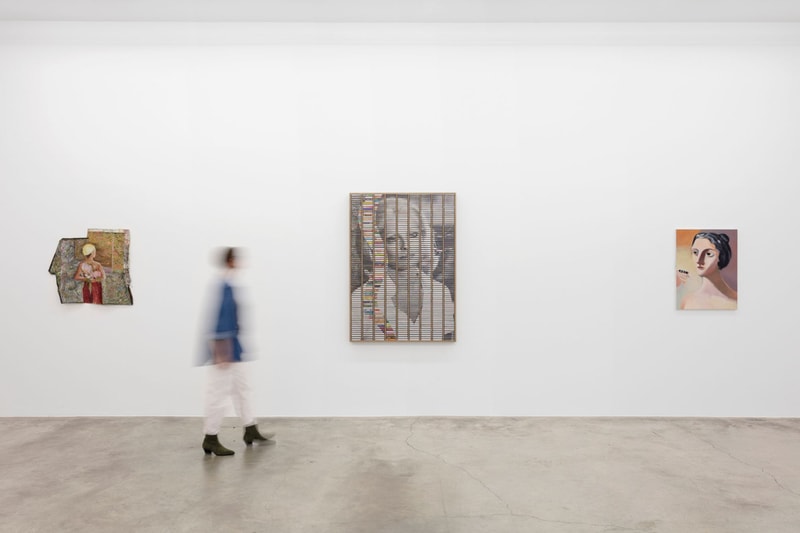 Portraiture has long been a way for humans to explore themselves and the world around them. From ancient cave paintings to elaborate frescos, the advent of photography to the age of selfies — "the portrait," according to artist, Jill Gasparina, "is a memorial narrative, destined, today as yesterday, to speak of intimacy and absence, to exalt the mystery of faces and bodies, and to lose itself in an interiority or a history, whose sources can never be openly avowed."
Regarde-moi (Look at Me) is a new group exhibition at Perrotin which seeks to spotlight the ways in which this artform has developed in the present day. Housed at the gallery's Rue de Turenne location, the exhibition showcases over 40 works from a list of leading contemporary artists, including Daniel Arsham, Sophie Calle, Gregor Hildebrandt, Izumi Kato and more.
Charles Hascoët, known for melancholic depictions of pop culture icons, presents a portrait of PSG midfielder Marco Verratti. Shown out of context of his usual football limelight, the star Italian player is depicted almost languish and contemplative — much like fresco portraits seen in the remnants of the Roman Empire.
The multi-room exhibition shifts from one mode of representation to another — with each portrait offering an added discourse on art history. For example, Chen Ke presents three paintings featuring her rendition of Marianne Brandt, a Bauhaus-trained artist and designer who has long been ignored in history. Each androgynous figure reminds the viewer that like Brandt, women have long fought to have an equal footing with men in both the art world and society at-large.
Not exclusive to just painting, portraiture extends to the field of sculpture as well. The exhibition floats from Klara Kristalova's ghostly ceramic objects, mythic faces by the Austrian art collective Gelitin, to Arsham's eroded Apollo.
Regarde-moi (Look at Me) is on view at Perrotin's Parisian flagship until July 30.
Elsewhere, Arlene Shechet unveiled a new solo exhibition at Pace Gallery in Hong Kong.
Perrotin
76 Rue de Turenne,
75003 Paris, France
Exhibiting Artists:
Daniel Arsham
Sophie Calle
Jiang Cheng
Johan Creten
Jean-Philippe Delhomme
Jens Fänge
Chen Fei
Gelitin
Laurent Grasso
Charles Hascoët
Gregor Hildebrandt
JR
Izumi Kato
Chen Ke
Klara Kristalova
Trevon Latin
Romeo Miekannin
Danielle Orchard
Zéh Palito
Christiane Pooley
Claude Rutault
Song Kun
Kathia St. Hilaire
Xavier Veilhan
Click here to view full gallery at HYPEBEAST