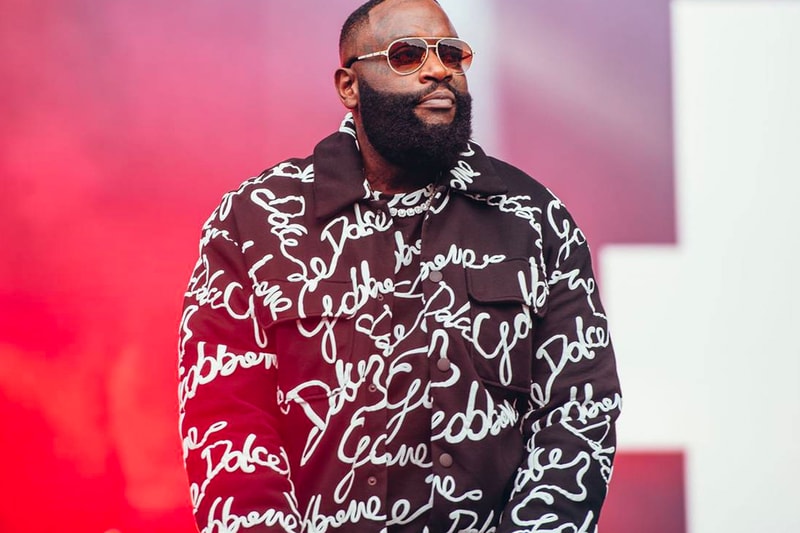 Rick Ross showed out with his inaugural Car and Bike Show hosted at his 235-acre Promise Land property in Fayetteville, Georgia.
In the past few months, the music mogul has taken to his social media platform to hype up the automotive show which happened this past weekend. Over the years, Rick Ross has shared with fans his own personal fleet of custom cars including a massive tank with Louis Vuitton Monogram print leather, despite recently revealing that he does not even have a driver's license. Exotic cars from a custom 1971 Chevrolet Impala to the Lamborghini Murcielago and even a firetruck were on display over the weekend at The Promise Land.
The spectacle saw major names including rappers 2Chainz and Curren$y come through and drive over in their old school rides, with others breaking out their monster trucks, motorcycles, luxury vehicles and more. In an interview with TMZ, Ross said that he expected over 4,000 people to attend the show, including celebrities across industries, "The stage is huge. I'm gonna leave it open for all the Atlanta big boys, all the superstars. I just expect to be huge."
Not only did the event spotlight some of the most exquisite and hard-to-find automotive in the country, but the car show had a fair element to it, featuring a DJ set, 20 food trucks as well as prizes for those who had the best in the show. Rick Ross posted to his Instagram stories that winners received an iced-out 24-karat diamond chain.
Take a look at what went down at the sold-out event on Rick Ross's Instagram.
View this post on Instagram
View this post on Instagram
View this post on Instagram
In case you missed it, Honda recently unveiled its first electric SUV, the Prologue.
Click here to view full gallery at HYPEBEAST