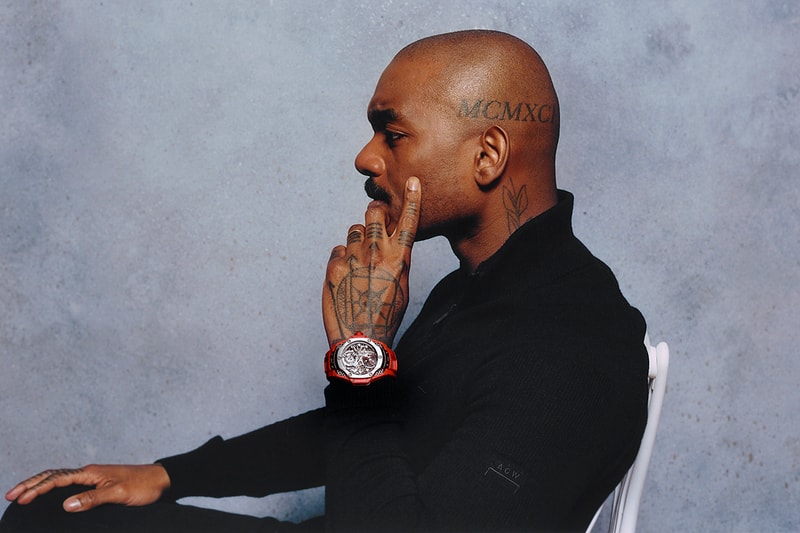 Back before the word 'pandemic' had entered everyday vernacular, A-COLD-WALL* founder Samuel Ross won the 2019 Hublot Design Prize for his multi-disciplinary work that covered everything from sculpture to filmmaking.
Shortly after he became a brand ambassador for the Swiss watchmaker, seemingly with neither party interested in the relationship following the traditional model.
"This relationship from the very beginning with Hublot was about redefining how designers and artists and creative directors work with the luxury sector beyond the traditional collaboration model," says Ross. "There are layers of this project and rapport that focus in on tooling and moulding and the end goal of having an incredible timepiece, but beyond that there's literature, installation, film and cinematography, there's this incentive to bring in advocacy and funding to different communities. There is of course a layer of ambassadorship there, but it's also a new model to a degree, it's closer to an end-to-end development model than it is, 'hey come in and give us a color flip,' it's definitely not that."
Given that Ross' first watch in collaboration, the $116,000 USD Big Bang Tourbillon 44mm, is barely recognisable as a Big Bang, that's something of an understatement. The result is unique, clearly the product of a fresh pair of eyes, something which Ross himself describes as his ability to "zoom out a little bit more."
"I've also tried not to come into this relationship with the mindset of a watchmaker because that would almost be contradictory. I look at this more as an encapsulation of a new sensibility that will sit well within the 22nd century of design that we live in."
"It wasn't about creating a perfect legacy watch because we already have those, what we need is new design sensibilities that are bleeding edge and high risk and a new aesthetic that summarises our generation, that being a generation of 20-year-olds up to those reaching their early 40s, we a generation of Millennials and what our virtue and sensibility and position and signal is within the history of design. Those were the thoughts behind this and why its so directional."
Ross' passionate clarion call is encouraging as the watch industry has for so long relied on what has come before, rather than considering what it should represent in the present. Hublot, in that regard, is a perfect fit for Ross. The brand, despite its detractors, has enjoyed tremendous commercial success in the 18 years since industry legend Jean-Claude Biver relaunched it with the introduction of Big Bang, creating one of the most high profile watch brands on the planet in the process and one that is only interested in what's new.
Ross' complete reworking of the Big Bang - its most transformative collaboration to date - also brings into focus how far the brand is prepared to go in search of fresh design.
"This is a completely new watch band, face and crown. Even the tourbillon itself has been deconstructed slightly, this has never been done prior. This just shows the depth of the relationship and level of trust that Hublot has in my direction, all of the tooling on this watch is completely new, under the titling it sits under the moniker Big Bang but this does not look like anything else in that portfolio."
Ross' concept brings functionality to the fore, reimagining the traditional bund strap in titanium and rubber instead of leather and adding a honeycomb lattice skeletonisation for ventilation and weight-saving.
"I love sporting watches within the luxury sector and there's so much opportunity to look at how functionality comes in to supporting the watch experience. Even on the band itself you've got a totally new preparation casting holes, so this idea of wearing a watch and having like a sweat trap or the amount of material we've removed from the movement - through cutting or perforating - means that the watch is incredibly light."
The rich orange hue used for the rubber strap is a regular feature in Ross' work and carries with it a deep personal and cultural significance.
"I've been using this exact same tone of orange for public sculpture and furniture as a signifier of the black body moving through western space within the 20th Century. And it's looking at [Josef] Albers' Western color theory and then looking at the diasporic experience from the mid-20th century onwards and how the color maybe reflects a behaviour or assertion or feeling and vigilance, which is shared across the Western diaspora. Colors need to scream, they need to be beautiful, people need be able to experience them."
Click here to view full gallery at HYPEBEAST