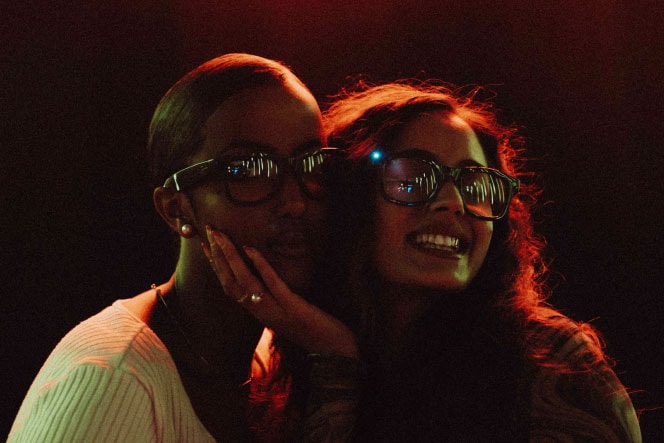 Ray-Ban announced The Summer Sessions - a more intimate event of music performances - leading up to London's All Points East festival weekend in August. The programming featured talents like Sherelle, LCY, Nia Archives, Kenny Beats and Self Esteem at notable venues in Camden and Hackney. During The Summer Sessions, up close and personal moments were effortlessly captured with Ray-Ban Stories.
After arriving at Earth, a popular venue in Hackney, the HYPEBEAST team navigated through neon-colored rooms to finally reach the main dance floor. They wore Ray-Ban Stories in the classic Wayfarer style to seamlessly document their light-filled entrance from a cool, first-person perspective. Easy to wear and even easier to control, our team was able to start and stop recordings with a simple tap of the button on Ray-Ban Stories frames. This feature was useful as crowds got busier and more groups of people flowed through the venue.
Apart from recording videos while on the go, the dual 5MP camera lens on the front of Ray-Ban Stories' frames can be used to take photographs. Promising photo opportunities were easily taken by the HYPEBEAST squad and everything was captured without the need of a smart phone on-hand. The crowded venue was surely rough to navigate and posed a bigger challenge for our team to grab quality content. Luckily, with Bluetooth connectivity and instant viewing on the Facebook View app, our users were able to select and examine the best photos and clips right away.
As everyone waited for Self Esteem to take the main stage, bright lights flashed to fuel the excitement that was building in the room. With the built-in light adjustment technology, our team members used Ray-Ban Stories to record videos of themselves and their friends around them with no problems. Instead of having blurry content, Ray-Ban Stories captured video that clearly showed the sharp styles of London's East End. A cool feature that our team also enjoyed was the LED light above the camera lens which signals the glasses' mode while recording.
During Self Esteem's exciting live set, there were back-up dancers whose movements synced with the band's instruments. Ray-Ban Stories captured all of the venue's more important sounds through its 3-microphone audio array. Moreover, our team members could still receive phone calls through the smart glasses' built-in audio, despite the crowd's yelling and incessant cheering. As for lasting connectivity, Ray-Ban Stories kept our users busy browsing through all videos and images on the way home all thanks to the smart glasses' six hours of battery life and specially-designed charging case.
Take a closer look at The Summer Sessions with Ray-ban Stories above. Fans will be in full preparation mode for the main festival weekends of All Points East, which occurs between August 19 to 28. For those interested in purchasing Ray-Ban Stories, the smart glasses are available for $299 USD at Ray-Ban stores, Ray-Ban.com, Ray-Ban's Instagram Shop and SunglassHut.com. There are 28 styles of Ray-Ban Stories to choose from which can be selected through Ray Ban's Instagram Shop. Here, customers can virtually try on each style before finding the right pair.