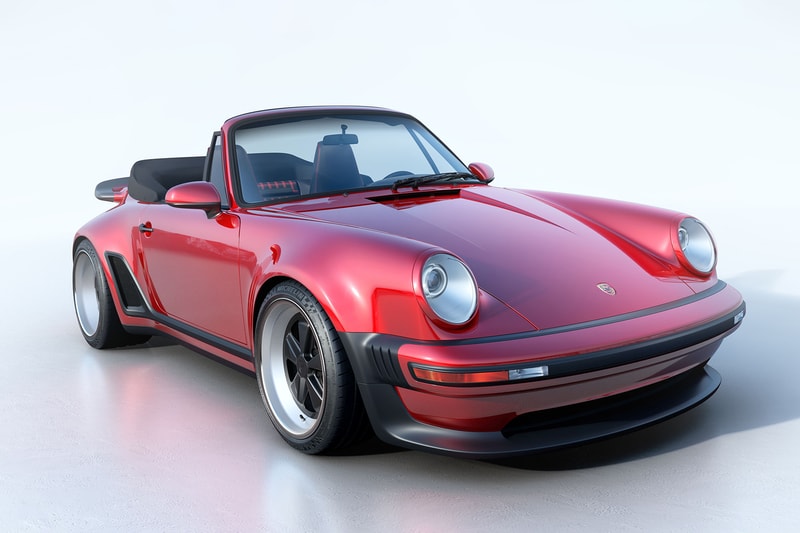 Singer has just unveiled a new reimaged Porsche 911. The 964 Cabriolet is the first convertible from Singer and comes just after its 930 "Turbo Study."
Arriving in a Cadiz Red paint job, the Cabriolet's wide body has been crafted out of carbon fiber and houses an upgraded turbocharged 3.8-liter flat six that produces 510 horsepower (70 hp up from the Turbo Study).
Rob Dickenson of Singer comments, "The first Porsche, the Sport 356/1 known as 'Number 1,' was a cabriolet, and high-performance, open-roof glamor has been part of the story ever since. I've long wanted to celebrate that part of Porsche heritage at Singer and doing so as part of our recently announced Turbo Study seems a perfect place to start. Our goal with the Turbo Study is to distill the awesome thrill of Porsche's first supercar while reimagining its performance and refinement. We're excited that owners can now choose to enjoy these traits with the roof down."
The Cabriolet is finished with an all-new custom interior, technological updates like USB charging and power seats, and carbon ceramic brakes. This build will most likely set you back $500,000 USD.
In other automotive news, the new 2023 Porsche 911 GT3 RS is made for the track.
Click here to view full gallery at HYPEBEAST