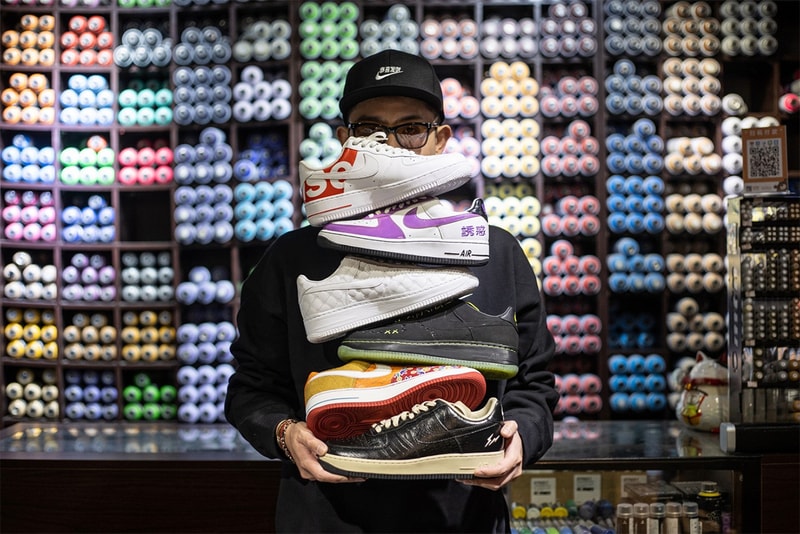 Sneakers and art are two very separate categories, but both canfit under the umbrella of streetwear and sneakers in some capacity. Overseas, there is a creative collective titled 400ml that is heavily tapped into the space that has made a name for itself for its graffiti art, design and consulting services for various sportswear brands such as Nike, Jordan Brand, Reebok and more, as well as its hip-hop themed street party "Neighborhood Gathering" in Beijing which has been held for eight consecutive years.
One of the founding members of this crew is ABS-NOISE, a China-based artist that focuses on various creative outlets including graffiti, illustration, sneakers and comics. He grew up in Dailan — a port city located on the Liaodong Peninsula in China — and started to develop a love for sneakers when he delved into the world of skateboarding. If there's one thing to know about ABS-NOISE, it's that he's a die-hard sneakerhead. Not only is he a fan of the products themselves, but he's fascinated by the way stories are told through kicks as well as their lasting cultural impact.
His closet is replete with various model and colorways, but the shoe that he holds closest to his heart is the ever-classic Nike Air Force 1, which is why he chose to highlight it for his Sole Mates installment. HYPEBEAST had the chance to catch up with ABS-NOISE to talk about the Swoosh model's profound influence, the parallels between art and sneakers and more.
HYPEBEAST: How did you fall in love with sneakers?
ABS-NOISE: Growing up in Dalian, I really loved skateboarding, and this is what started to really get me into sneakers. It's funny because at school, if someone was spotted rocking Nike sneakers they would usually be the center of attention, but I still gravitated towards DC shoes and thought they were way cooler. I didn't grow up playing or loving basketball, but I did recognize the impact of Michael Jordan, and how talented and important he was to sneaker culture.
In 2008, I established the illustration organization "RUNEArt's" and organized everyone to go to Beijing to attend a music festival. I ended up meeting the Israeli graffiti team "BROKENFINGAZ" at the event and one thing they asked me about was where to buy cool shoes in Beijing. I always knew about this sneaker store called DEAL, and after taking them there and seeing the impressive array of shoes on the way, I thought it was heaven. That experience will always be memorable for sparking my love for sneakers.
"The Air Force 1 helped me realize how many design possibilities you can convey and that sneakers can also be a bridge for connecting different cultures and creativity."
Why is the Nike Air Force 1 important to you?
I became fascinated by sneaker culture after I was exposed to graffiti. In my city, almost no one was doing graffiti, but I learned about this culture through some movies, music videos and magazines. And at the same time, I also slowly began to get in touch with hip-hop music, and found that a pair of pure white sneakers was appearing often and this is when I learned about the iconic Air Force 1. From the classic poster of "Original Six", to LeBron James' "Chamber of Fear" embroidery series, to the "Tibetan Mastiff" specially created for the Lunar Year of the Dog, the Air Force 1 helped me realize how many design possibilities you can convey and that sneakers can also be a bridge for connecting different cultures and creativity.
Can you recall how you got your first pair of Air Force 1s?
I actually bought my first pair of Air Force 1s with my own money which I'm very proud of. During my senior year of high school I worked painting walls for kindergarten classes and I used the money to buy things for my family as well as Air Force 1s. I remember buying the red and white color that Moses Malone wore when he led the 76ers to a championship in 1982-1983, but the shoes ended up getting stolen after I wore them twice. It was a sad moment.
What is your most coveted pair of Air Force 1s?
The most precious pair for me is a pair of hand-painted custom AF1s by my friend KIDDY who gifted them to me on my birthday. We first met through graffiti and given that he's also from Dalian, it made our relationship that much more stronger. It has nothing to do with the materials or the price, but the unique story behind the shoe, myself and my friend. Nike interviewed me for the 35th anniversary of AF1, and I mentioned that this pair expresses my hope to establish a Chinese graffiti embassy so that like-minded people can find a sense of belonging.
Do you see any parallels between the art of graffiti and sneakers?
As an inseparable part of street culture, both somewhat have a process from starting out not being recognized to gradually becoming recognized by the public. Take the AF1 as an example, this shoe was almost discontinued in 1984, but now it's regarded as one of the most classic sneaker designs in history; and in graffiti culture — which has been controversial since its birth — has maintained its underground style, but now finds itself prevalent in the fields of fashion, sneakers and art.
The strong personal style and story of each artist is the most powerful "visual language" of graffiti. In my opinion, sneakers and graffiti have changed the rules of street culture because they were both born out of nowhere.
You and the team were involved in the design of the Air Jordan 4 "Tattoo". How did this affect your future sneaker path?
Thinking about this experience still makes me excited. This kind of opportunity is rare in China, and it's also the result of our team's joint efforts. Although the final presentation has been adjusted, it still achieves the expected effect. It's also helped me understand rules of cooperating with international sports brands and stimulated our desire to create. Since we obtained the "first ticket" for admission, we just felt a need to keep creating.
In your opinion, what new possibilities do you think there is to gain there in sneakers and art?
In recent years, you can certainly feel that the influence of sneakers in various fields is increasing such as customization, illustration design and art installations. Being that we've also made custom sneakers before, we've learned a lot about the structure and material combination of sneakers. In the future I plan to apply these learnings to newer designs to try to make art toys that fuse traditional Chinese culture with sneakers.
Are there any other sneaker projects you are participating in that you can tell us?
During the Spring Festival this year, 400ml and Nike will present a signature basketball shoe with my favorite star, and the theme is "Gong Xi Fa Cai." In order to make this traditional New Year's blessing carry more youthful attitude and vitality, we also created a line of limited-edition accessories with the shoes this time.
There is also a story about "Gong Xi Fa Cai". From the transformation of custom works that were questioned without authorization to the opportunity to cooperate with Nike officials, the brand has given us a lot of help and encouragement, and we are proud to use our strength to break barriers.
"From the perspective of cultural development, when enthusiasm and pride reach a certain level, then the sneakers surpass the product and become legendary."
How do you feel about the rapid development of sneaker culture today?
Judging from the development in recent years, sneakers are indeed a phenomenal product. Some people like a pair of shoes because of the story behind them; some people like it because their idols wear them. This is a very subjective thing because shoes can be something cool to wear, something that helps you exercise better or anything in between. For example, my wife knows how to select the right shoes for different sports to ensure sports safety and performance. From the perspective of cultural development, when enthusiasm and pride reach a certain level, then the sneakers surpass the product and become legendary.
What would you like to say to readers interested in sneaker design?
First, don't be cowardly when you encounter opportunities. Be brave. If you just talk about it, nothing will change, and you won't gain any strength or fun from it. Secondly, I now believe in the saying that design comes from life, and I will always draw inspiration from the people and things around me. In the end, as long as you persevere and work hard enough, you will have the opportunity to break through doubts in the future and rely on strength to achieve success.
This issue of Sole Mates was originally posted on HYPEBEAST CN and has been adapted accordingly.
Click here to view full gallery at HYPEBEAST