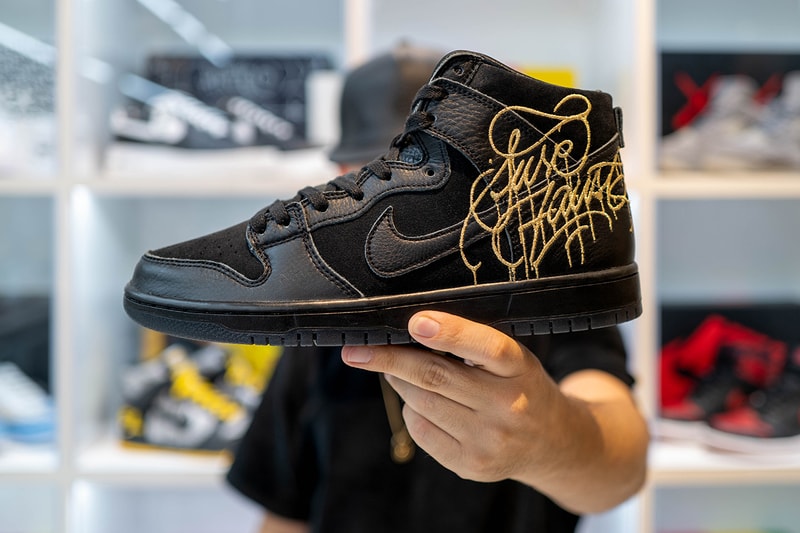 Growing up in the Big Apple, FAUST was always surrounded by graffiti. Whether it was MTA subway stations, street corners or brownstone apartment buildings, artistry was always within reach. The genesis of his creative journey started out in high school, when he'd pore over various artists' works to mimic their styles until he established his own. And after developing his signature design language, the city became his canvas. Today, he's become one of the most decorated graffiti artists in the space, earning himself several accolades like the prestigious Young Guns Award from the Art Directors Club and five Type Directors Club awards plus brand partnerships with the likes of Nike, Tiffany & Co. and more.
2022 marks the 20th anniversary of Nike SB, and to celebrate, it tapped FAUST to generate his own version of the sub-label's classic SB Dunk High. The kicks — which serve as the focal point for this Sole Mates installment — are fashioned with a regal black and gold palette and feature an assortment of Easter eggs that honor New York City's sneaker community, graffiti culture, his late best friend SURE and more.
Hypebeast caught up with the renowned graffiti savant to discuss his favorite footwear silhouettes growing up, how Tommy Rebel put him onto sneakers and more.
HYPEBEAST: Who or what inspired you to become a graffiti artist?
FAUST: Growing up in New York City, graffiti was everywhere. As a young aspiring artist it was seductive. I questioned what it meant and how artists got away with it. And being the last generation before social media, the only way to share my work and make a name for myself in a city of eight million people was to just get up and put it out there.
But it's not just an art, it's a culture, and I began to connect with other writers from all over the city, people that have been doing it since before I was born. I treated everyone with respect, and was anxious to hear their stories and learn their history. If you don't know where you come from then you'll never know where you're going. I was schooled by some of the greatest to ever do it, pioneers that invented the art form. After doing it for a decade, I found my own voice that stood out from what everyone else was doing — but was still rooted in the foundation of the culture.
"We were risking arrest without any incentive other than having a platform for creative expression, and perhaps the thrill of it all. I thought when I grew up I would need to find a "real job," but times changed and the art form has been embraced to the extent that many of us are able to thrive off of simply doing what we love."
Was it always in your plans to try and turn your calligraphy into a career?
That was never the plan. When I started writing, nobody got into graffiti to make a career out of it. It was something I was passionate about and did for myself. I think that's the beauty of graffiti culture. It's the most widespread artistic movement, but when we were kids, there were no aspirations of having a gallery show or brand collab. We were risking arrest without any incentive other than having a platform for creative expression, and perhaps the thrill of it all. I thought when I grew up I would need to find a "real job," but times changed and the art form has been embraced to the extent that many of us are able to thrive off of simply doing what we love.
How would you describe your design language and how long did it take for you to develop your signature style?
I was always attracted to tags. If you're a writer, you've gotta have a good signature. It's the core element of graffiti. As a teenager I would go through page after page literally copying the tags of the artists I admired to learn how to do different letters, or how to use a chisel tip marker properly. And then, throughout high school I would fill out thousands of stickers, writing my name over and over. This is where I really put in my 10,000 hours to master my craft. I would canvas the city by putting up stickers on every street corner.
I think everyone strives to have a signature style, but it's best when you arrive at it organically. Although I was also painting more elaborate pieces at the time and working on productions with multiple other writers, tags always appealed most to me and it's what I started to become recognized for.
When I first connected with my graffiti partner SURE, we both had a similar approach where we were practicing a variety of tag styles. Some were more of a classic New York chisel-tip hand style, and others were script or blackletter-inspired. We naturally gravitated towards each other, hitting the streets together so much that our names became synonymous. For a while nearly every newspaper box in New York had our stickers on them, and every doorway and mailbox had a our tags.
Around 2008, I began to look at blank walls around the city as my canvas and started exploring what it would look like to take my tag and blow it up to an architectural scale. I had never seen anything like it. For a culture that's all about breaking rules, there certainly are a lot of rules to follow, and typically tags are around the same size, as are throw-ups, or pieces. However, I envisioned taking my tag and blowing it up to fill the whole wall, and that's when I really found my own voice.
For a number of years I would only use my name, enlarging it and cropping it to see how big I can go or how little I could show and still have it be recognizable. And when I felt like I got to that point of recognition, I went beyond my name and started to write words that were clever, poignant and site-specific. I typically didn't sign them, because I felt like when people saw that signature style, they instantly knew it was me.
What do you want people to take away from your art?
So much of my work is centered around public art. I knew the names that I grew up seeing and always aspired to be that for the next generation. Also, when I was a kid growing up there was a concept of "going all city" which meant having your name up in all five boroughs. But now, in the age of globalization, I see "going all city" as being a cultural ambassador for your city. I've been fortunate enough to paint murals around the world, but I always feel like my style is very distinct to New York.
Whether I'm painting in New York or across the globe, I try to find the right word or phrase that will resonate with the people that live there. Sometimes that takes a lot of research, like getting to know the community intimately to have their sentiment reflected on the wall, and other times it comes instantly. I hope when people see the work, they take pride in it and feel like it speaks for them.
Who or what got you into sneakers?
I was into sneakers as long as I could remember. It's just part of growing up in New York and every kid wanting to be fly. The person that really put me onto game was Tommy Rebel. He was a graffiti writer from Brooklyn, and when I was a teenager he had his name on trucks all over the city. He was equally known for collecting Nike, Polo, and North Face. That was part of graffiti culture in the 90's and he was one of the most vocal participants in the arena.
I would go to his house, the Brooklyn Basement and get schooled looking at old graffiti photos and showing me his collection of kicks. In fact, there's a documentary on sneaker culture called Just For Kicks which features him throughout the film. I remember once he took me sneaker digging. The same way DJs used to go digging for records, Rebel drove me out to the most dangerous neighborhoods at the time, Newark, New Jersey and West Philadelphia to go to mom and pop sneaker shops. He was boisterous, friendly and would talk his way into their basements and storage closets mining for gold. He'd walk  from back to the front with a stack of sneakers as high as he could carry and be like, "I found these in the back collecting dust and taking up space, I'll give you $20 a pair?" The shop clerks would be happy just to be getting rid of the back stock.
Mind you, that was long before the culture changed into what it is today where most people that go after the high heat releases are looking for an easy flip. That was never his motive. He was a true connoisseur and bought them because he loved them, and to me that's how I feel like sneaker culture should still be.
What were some of your favorite silhouettes when you were growing up?
I was a big Air Jordan 1 fan. I remember when they released four different colorways in 2001 and I tracked down all four and still have them in my collection today. And then when I first got put onto Dunk Highs, I was blown away because the model was similar to the Jordan 1 but in colorways you would never find. So I had the 1999 "Goldenrods" and obsidian and white pair from 2000. I also became a big Air Max-head and had a lot of classic grails like the original Air Max 1 "Crepe", atmos x Nike Air Max 1s, Air Max 97 "Kashima Antlers", all of which I dogged until the soles were worn through.
NYC is widely associated with certain footwear models like Timberland boots and Nike Air Force 1s, were these city staples in your rotation?
True, there's nothing more New York than Timbs and "uptowns," but that wasn't my style. I definitely had multiple pairs of Timbs growing up, don't get me wrong, but I don't think either were staples in my rotation quite like the other pairs that I mentioned above. You need to understand that when you're going back 20 years, before social media, Hypebeast even, when you could spot someone on the street from a block away, you could tell if you knew them or not just from what they were wearing. Sneaker culture wasn't like it is today where the latest release has millions of people scrambling to get it. It was very niche. One of my favorite pairs was the Parra x Air Max 1s I had picked up after it was sitting on a shelf for months after the release.
Are there any parallels that you can draw between designing a mural and designing a sneaker?
I suppose one major parallel is being conscious that it's for a public audience, as opposed to painting a canvas or something that's more intimate. Both the mural and the sneakers are for public consumption by design, and also have very rich, largely underground, recent history from the 70s through today.
"For me the greatest honor is following in the footsteps of Futura, Stash, and Haze. Growing up and seeing their collaborations with Nike gave me something to aspire to be. The sneakers they designed became grails and to me, that was the pantheon."
I know that you've worked with Nike before on a mural for its HQ in Beaverton, but how did the idea of working on a sneaker collaboration get ideated and eventually brought to life?
When I was invited to the Nike WHQ to paint a mural on campus, it was a huge honor. It had always been my dream to collaborate on a sneaker with Nike, so while I was out there I asked to be connected with anyone that can help make that dream a reality. I was fortunate enough that they facilitated a sit down with Sandy Bodecker. For those who don't know, Sandy was a legend in the industry that was largely responsible for many of Nike's original artist collaborations. He was so instrumental in Nike SB that people joke SB stands for Sandy Bodecker.
When we met, he had already had throat surgery after a bout with cancer and spoke in a faint whisper. I really had to lean in to listen to each word and he emphasized how the strength of a good collaboration is not the product, but the story. This is something that stuck with me, and that I was very intentional about while designing my collaboration with Nike SB.
In addition to that, I had met someone at Nike back in 2011 that had who became a close personal friend. The first time we met, we said it would be a dream project to work together on a sneaker collaboration someday. At that time I was not at the place in my career where I was ready, and he was not at the place in the company to push anything like that through, but 10 years later it finally came to fruition and I couldn't be more grateful. Some people say the definition of luck is persistence and timing, and I'm feeling lucky.
The Nike SB Dunk High is a key piece of the brand's history, how did you manage to maintain its classic-ness while adding your own flair?
Absolutely. For me the greatest honor is following in the footsteps of Futura, Stash, and Haze. Growing up and seeing their collaborations with Nike gave me something to aspire to be. The sneakers they designed became grails and to me, that was the pantheon. It cannot be overstated how influential those guys have been and all the doors they have opened for the culture to be what it is today.
It was the perfect canvas for my collaboration, to celebrate the 20th Anniversary of Nike SB. So when the opportunity finally came about, I was faced with the challenge of building upon that storied tradition while making it uniquely my own. I took a retrospective look at my body of work and tried to do justice to my childhood dream of carrying on this legacy.
I wanted to create a sneaker that reflected my own personal style. It's pretty typical of New Yorkers to subscribe to a wardrobe of all-black everything. Although there have been countless murdered-out releases, I wanted to differentiate my design through attention to detail and elevated materials.
Without the use of color, rich textures became paramount to the design. I worked with the Nike SB design team to use the most premium, buttery and soft tumbled leather and nubuck available. Satin lining compliments the luxurious build. No detail was overlooked, from custom designing the aglets to the four sets of laces that come with each pair.
Black and gold is a common motif in my work, so it was natural to use gold as the secondary color in the design. It feels regal and street at the same time. I wanted to create a pair of Dunks that could just as easily be part of someone's everyday rotation or dressed up for a special occasion.
The artwork that's embroidered on the sneakers is very personal to me. The origins of the Nike Dunk had to do with representing your team and I took that to heart in my design. The "Sure Faust" gold embroidery is based on an actual tag done on the street over a decade ago. SURE was my graffiti partner and best friend, who passed away in 2010 serving the country in Afghanistan. This was a dream project for us since we were kids, so it felt meaningful to include both of our names as they used to appear all over the city to honor his memory.
The all-over embroidered artwork on the opposite shoe reads "All That Matters" which was our crew, as well as a prompt for each person to think about what matters to them. This actually started as a heel embroidery, and the Nike SB design team proposed the idea of blowing up the tag to cover the whole sneaker the same way I would position my tag to fill a whole wall when I paint a mural from floor-to-ceiling and end-to-end. Although it was not an easy task for production, it really translates my aesthetic onto the sneaker and the asymmetrical design of the pair felt unlike anything else I've ever seen before.
Why are sneakers and their stories important to you?
I grew up on sneakers and the stories that go with them. When I look back at my own collection, every pair has a story and vivid memories that make them so much more valuable than just a stylish fashion accessory or any monetary value. Collaborating with Nike SB on this Dunk High, I took Sandy Bodecker's words to heart to use this opportunity to not only share my work, but also pay homage to SURE, his sacrifice, his contributions to the culture and help keep his memory alive. I definitely want people to love the sneakers because of the design and materials and all of the attention to detail, but I hope that unpacking the thought and meaning that went into the project will make people have an even greater appreciation for them.
The FAUST x Nike SB Dunk High releases via select skate shops on August 27.
Click here to view full gallery at HYPEBEAST