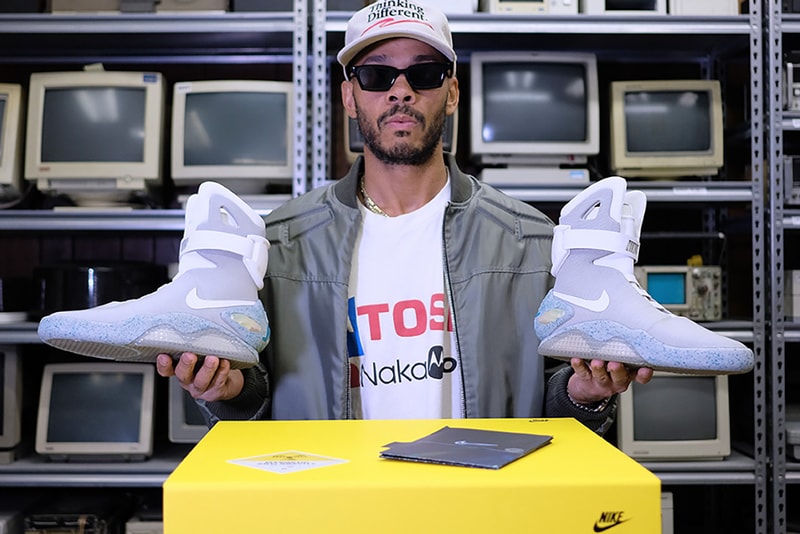 In the streetwear fashion space, it takes a high level of conviction to propose something new. Hundreds of so-called brands emerge on the daily, but it's the ones that offer a unique point of view, stay consistent in their releases and are authentic in their messaging that tend to see longevity. And one creative that has started to recognize this is George Roberston — the founder of burgeoning streetwear imprint Thinking Different.
The nerdy ethos of the LA-based designer's company is centered around his obsession with the evolution of technology as it pertains to Apple-designed products, and it's presented in a retro-futuristic way. Thinking Different offers apparel and footwear pieces that are designed to evoke feelings of nostalgia. "Back in the day, Apple actually had merch catalogs where you could buy a snapback, tees, crewnecks, etc. and I wanted to bring that tech energy into streetwear", Roberston tells HYPEBEAST. And this passion for tech and fashion is widely evident throughout the brand as he effectively markets his products through throwback Apple ad-inspired posts and his playful website which is designed with an old-school computer feel and requires a password before entering.
As the latest guest of our Sole Mates series, Robertson chose to highlight the one sneaker that perfectly encapsulates his fondness for forward-thinking innovations — the Nike Mag. In this conversation, he touches on how he was introduced to sneakers, the meaning behind his obscure white rabbit logo, how he obtained his super rare Back to the Future kicks and more.
HYPEBEAST: How did you get into sneakers?
GR: As a kid it was Jordans. My cousins definitely put me on as I would always watch Jordan the dunk contests with them. Back then you just couldn't get away from Jordan with all of the marketing from the ads to the Spike Lee commercials. I remember growing up if you didn't have Jordans going to school you just weren't cool. I used to beg my parents for them and it wasn't an easy sell because Jordans always like over $100 USD and that was expensive for us at the time. I definitely had to do some extra chores and things of that nature to convince them to buy me pairs.
Do you recall what some of your favorite sneaker silhouettes were growing up?
Definitely the Air Jordan 1. The first colorway I ever picked up was the black and red pair, and see back then they were much more accessible. It was crazy because you could literally walk into a store like JCPenney and they would have all of the colorways in stock. And it was definitely interesting to see how sneaker culture evolved in that sense as it changed to having to camp out for shoes to now where you essentially have to cop off the resell market.
Is there any part of you that misses that era of sneakers?
It's kind of like when dudes ask you if you like new school hip hop or old school hip hop you know? If you didn't come from that era you just don't understand how you can't go buy a pair of shoes that you want. Now you have to either hit StockX or Grailed and you're paying double, sometimes triple the price. It's tough for me to adapt to resell culture but I'll tap in if I really need to. You won't find me going through all the work to enter raffles though.
You've spent your life living in various parts of Southern California and Nashville. How would you describe the differences in sneaker culture between those two parts of the country?
The way I see it is that folks in Nashville more so gravitated towards the newer releases. Since there are no boutiques or consignment stores such as RIF or Flight Club, you just don't have as much access to as many sneakers out there. I feel like in LA, people want to be a little bit more diverse. You'll see that they'll dive into it a little deeper and rock older, more nostalgic kicks like "Jedi" SB Dunks, and shoes that you may have not seen in years. Again, they have more access to these kicks as opposed to Nashville which mainly has mall stores.
As I was going through your social channels, it seems as though that you pull much of your inspiration from Apple. What is it about this company that resonates with you so much?
It comes from me just being a huge tech nerd. I've always been such a fan of Apple's forward thinking, and of Steve Jobs. I've always designed on Apple computers and never really messed with PCs. And during the pandemic, I was just lounging around the house and I realized that I wanted to create like some type of brand that acknowledges who I am as a person. The first thing I made was an Air Jordan 1 with an Apple logo and after that, it kinda gave way to me creating Thinking Different as a brand. In short, I love Apple computers, they've been a big part of my life. Technology's a big part of my life and I wish Apple would let me license the logo so I could use it without getting in trouble.
I have to ask, do you have the Apple sneakers in your collection?
About a year ago, a friend of mine sent me a picture of the shoes because they were being auctioned off through one of the art houses. It was the apple sneaker, brand new, size 10 In the box, which is my size. The starting bid was $9K, which I thought was steep, but I just needed to own these. When the auction was about to end, I bid up to like 11k, maybe 12k and it shot up to maybe 15k right before it ended and I missed out on them. I was bummed because they're just such a big part of my ethos.
"Sometimes you kind of hold yourself back because of insecurity or the people around you don't really embrace you. And Thinking Different was my realization that I needed to change my patterns and how I view myself. That's what's so powerful about the company because it's not just for me, it's for everybody."
I was sifting through your IG and saw you recently met with Andre 3000 which is insane by the way, talk to me about that relationship and how he's inspired your life.
Andre 3000 been the ultimate inspiration. He's been the forward thinker and the guy that always took a chance with being different and unique from his costuming and performances to his lyrics. This most recent time that we met was the first time he got to come into my world and see how my brain worked and it was such a cool experience.
Talk to me about your brand Thinking Different, can you reflect on its growth up until this point?
The growth has been great, man. It started as an unofficial Apple sneaker and with some unofficial merch with the Apple logo, but now I'm kind of moving away from using that and just putting Thinking Different and heading in this direction of focusing on tech nostalgia. The fan base has grown so big that I have a Discord now and I've built a community. I'm really trying to empower people because Thinking Different started because I was in a place in my life where I just wanted to create things. Sometimes you kind of hold yourself back because of insecurity or the people around you don't really embrace you. And Thinking Different was my realization that I needed to change my patterns and how I view myself. That's what's so powerful about the company because it's not just for me, it's for everybody. It's to encourage everybody to accomplish their goals.
What's the significance behind the name as well as the white rabbit?
It ties back to Alice in Wonderland and The Matrix. Alice chased this rabbit into this rabbit hole of her life trying to figure out who she was as a person. For Neo in The Matrix, he felt there was more for him than what he was dealing with on a daily basis and once he followed the white rabbit he was able to understand that he was living in a dream he was living a lie. It's symbolic for me.
This is the first time that we've had the elusive Nike Mag featured on Sole Mates. First off, how did you manage to snag a pair would you mind sharing how much you paid?
Let's rewind back to 2011. Nike had a pop-up event for the shoes and I somehow got an invite to attend. The DeLorean parked out front with the doors up and when you walked in, there were all of these Air Mags displayed in cases all lit up. I was so excited that Nike was finally giving the shoes a moment. That night they did an auction for the sneakers but I remember folks like Tinie Tempah were paying ridiculous amounts like $30K for the shoes. I ended up buying the ceramic toy version of the shoes that night because it was only $100 USD. Shortly after the event, it was announced that Nike was going to make around 1500 pairs and auction them off on eBay, so when they dropped there I was able to scoop a pair for $4K USD.
"It goes back to Tinker Hatfield and how he gave us a glimpse of what the future could be. It's crazy how that shoe debuted in the late 80s 20 years later it still feels futuristic."
Did they have any special type of delivery service when they arrived and have you ever worn your pair?
It's a bulky shoe, and I actually sized down because of that and because it's not necessarily easy to style. I've only rocked them around the house, never out in public. The delivery was pretty cool because they came via UPS and had a Hill Valley sticker on them where Back to the Future took place. The kicks also came in the yellow magnetic box with serial numbers and serial number cards.
Other than its association with Back to the Future, what about this shoe resonates with you?
It goes back to Tinker Hatfield and how he gave us a glimpse of what the future could be. It's crazy how that shoe debuted in the late 80s 20 years later it still feels futuristic. The technology is what I'm a fan of, just the fact that I could put my foot in a shoe and it laces itself and lights up, I love that. The clear bottom was almost a reference point to the Air Jordan 5. Nobody had seen a clear bottom on a shoe until the Jordans and that's what made it so unique.
Are you a fan of how Nike allowed self-lacing tech to trickle out into other categories like basketball with the BB and more so lifestyle with the Adapt Huarache?
I have both of those pairs you mentioned and it's funny because the Adapt Huarache is one of my most worn pairs of sneakers to-date. I love have you can control the lighting and the lacing right from the app. They're so comfortable and I get the experience of the Air Mag without even wearing them.
If Think Different were to collaborate on any silhouette, what would you choose and why?
I'd have to say the Nike Mac Attack. It's an iconic silhouette that for some reason died. John McEnroe was known for his bad temper but is a tennis legend. I think there's a story to tell there if Nike ever decides to retro the silhouette. It definitely fits in the era of the Air Jordan 1 '85s and I think it has a place in the modern world of sneakers.
Why are sneakers and the stories they hold important to you?
Sneakers represent moments in time for me. These Air Mags represent me seeing Back to the Future in the movie theater as a child and saying, "This is what the future is going to be." They represent when Michael Jordan did all of those dunks. They made me feel like I could dunk even though I couldn't even touch the rim you know? They represent time periods for me and what I was doing and accomplishing throughout my life.
Click here to view full gallery at HYPEBEAST