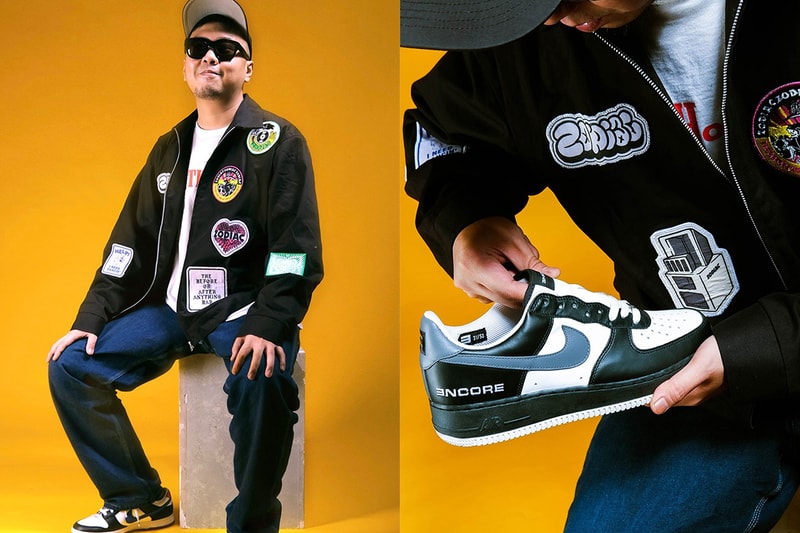 Asia's sneaker and streetwear scenes continue to flourish thanks to the slew of brands and creative minds that are contributing to its ever-evolving landscape. And one individual who is currently sitting on the frontlines is Isser Whitey James — a footwear connoisseur and content creator that's making his mark on the culture all the way from Indonesia.
James' specialties lie within the realm of digital content and merchandising. Throughout his career thus far, he's acted as a consultant for the Indonesian Basketball League, executed projects for the West Bandits Solo franchise, earned his own sneaker collaboration with emerging footwear imprint HRCN and more.
And on top of that, he's just a die-hard sneakerhead at heart. His impressive collection — which he claims amounts to over a staggering 500 pairs — is rife with ultra-rare Nike collaborations, retro Jordans and more. For his Sole Mates feature, James elected to highlight the extremely rare Nike Air Force 1 "Encore" — world-renowned rapper Eminem's coveted Swoosh collaboration from 2004 that never saw a public release.
We caught up with the Indonesia-based creative to talk about his favorite kicks in his collection, the lessons he's learned from collaborating with local brands and more.
HYPEBEAST: What got you into sneakers in the first place?
IJ: I definitely got into sneakers because I grew up playing basketball. I'd say that for basketball players, sneakers can certainly be a "special weapon."
What were some of the silhouettes that you were really into growing up?
There's definitely a ton that spring to mind immediately. One that I can definitely remember is the Air Jordan 17 because when it dropped, it launched with a special suitcase. I remember these launching in Indonesia when I was in junior high but they obviously sold out instantly and I couldn't afford them at the time.
What does Isser Whitey James look for in a sneaker before buying them?
It can be a few things, but one that I definitely think about is the history of them. If there's a sneaker that has any historical ties to my interests whether that be music, graffiti or basketball then there's a good chance that I'd be a fan of them.
Do you remember how many sneakers you've accumulated over the years?
It's crazy to say but I'd definitely say over 500 pairs.
"The rarity of these sneakers already makes them special in their own right, but they're even more special given that they were released via auction and the proceeds were donated to those in need in the city of Detroit."
If you could list out the top sneakers in your collection what would they be?
Good question! I'd probably go with the Futura x UNKLE x Nike Dunk High Pro SB, the Nike Dunk Low "Paris," Air Jordan 3 "Black Cement," Air Jordan 1 "Chicago" and the Nike Dunk SB Low "Michael Lau" friends and family colorway.
And then what five sneakers are you still on the hunt for?
The Nike SB Dunk Low "Unkle", Air Jordan 4 "Encore" from 2018, the Eminem x Nike Air Max 1 "Big Proof," Nike Dunk High "Deftones" and the ​​Stones Throw x Nike SB Dunk High "Quasimoto."
For your Sole Mates selection you decided to go with the Nike Air Force 1 Low "Encore." Why is this pair special to you?
So the Air Force 1 Low "Encore" was made in 2004 for rapper Eminem, and Nike only made a mere 50 pairs. The rarity of these sneakers already makes them special in their own right, but they're even more special given that they were released via auction and the proceeds were donated to those in need in the city of Detroit. In general too, I just think that the Air Force 1 is one of Nike's most classic silhouettes.
You've become recognized in your community for collaborating with local sneaker brands. Talk about this journey and your biggest learnings from all your experiences.
It's funny because it sort of all happened by coincidence. At first I started out only wanting to work with this one brand called "League" and work on crafting basketball sneakers. However, after going through the process, it actually opened up the door to work with two more companies called Campess and Word Division.
All three of these entities allowed me to work on different projects and production scales which helped me dabble into different manufacturing processes. Additionally, I also got the opportunity to dabble into the more creative side of things and even start up an initiative titled "Alas Tempuh 1000 Shoes" — a program that aims to distribute footwear and textbooks for children in need.
This issue of Sole Mates was originally posted on HYPEBEAST ID and has been adapted accordingly.
Click here to view full gallery at HYPEBEAST