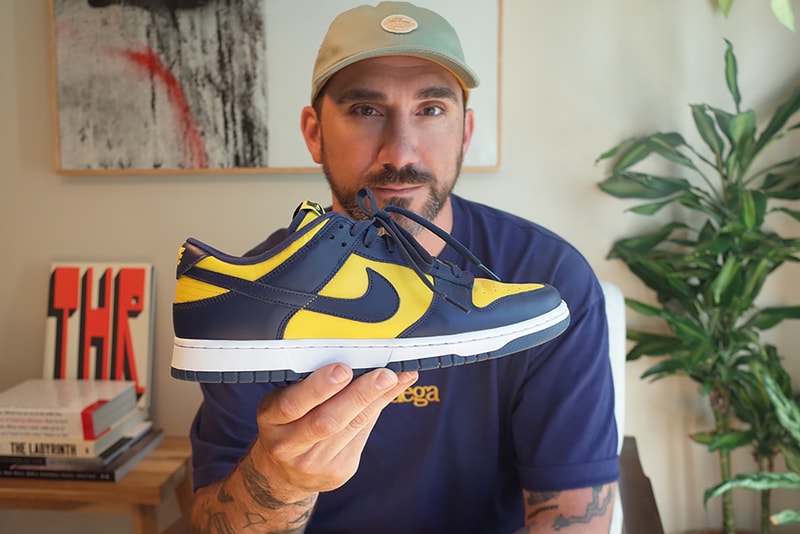 Matthew Zaremba has always had a knack for creative expression. He has amassed a considerable following for his unique artworks, most of which entail powerful graphics and messages that visually articulate various topics from politics to human emotions. But he's also a veteran of the streetwear industry as he's spent a majority of his career operating as the marketing director for Karmaloop — one of the pioneers of streetwear e-commerce — as well as Bodega where he is constantly cooking up new ways of storytelling through product and shining a light on communities and the newer generation of creatives.
Prior to all of his experiences working in the space, Zaremba was just a kid who grew up in Boston with obsessions over skateboarding, graffiti art, and hip hop. And gravitating towards all of these cultures eventually manifested into developing an affinity for sneakers, more specifically silhouettes that provided function first and style second. He's got an expansive array of sneakers in his repertoire, but when it comes to selecting a sneaker that's made the most profound impact on his life, it all boils down to one shoe — the Nike Dunk Low. As a loyal Swoosh head, the Dunk has always resonated with him for its functionality, undeniable cultural impact and its cyclical nature, and that's why he elected to spotlight the model for this latest Sole Mates installment.
HYPEBEAST had the chance to speak with Zaremba to talk about Bodega's retail experience and purposeful content, working on the brand's baseball-inspired Dunk collaboration and more.
Who or what introduced you to sneakers?
I'd probably say my brother had a big influence on me starting to get into a lot of things in general whether that be skateboarding, hip hop or graffiti, and sneakers got weaved into that along the way. Growing up I'd say streetwear and sneaker culture was born out of wanting to have something that was uniform to what we were always doing which was skating and graffiti art. For us, function came first over fashion and sneakers were rooted in anything that was counterculture at the time.
I know you grew up in Boston, how would you describe sneaker culture growing up in the city?
So I started out in the city but moved to the suburbs in middle school and it was interesting to notice the style differences. I'd say in general, folks in the city definitely gravitated towards what was popular on a national scale when it came to trends, so at the time people really loved Patrick Ewing's kicks. People in the suburbs had their own trends that they created based off of what was popular in that particular area. I think carving out an identity in the areas that I grew up in had an effect on me.
"We're more interested in highlighting people who are on the rise or doing interesting things in their community. We're always a little bit more like analog and hands-on with our creative initiatives and I think that's what really sets us apart."
Do you remember what brands you gravitated to most growing up?
It's funny because Boston has always been known to favor adidas and be loyal to the stripes and that was a very localized scene. We even did an article that touches on that for Bodega. However, I have always been a Nike head growing up and if it wasn't Nike it was definitely DC since I was always a fan of skating.
After a quick LinkedIn search, I noticed that you were also a director of marketing at Karmaloop. That's such a nostalgic piece of streetwear culture in my opinion, talk to me about your experience there and how you've seen the industry grow today?
In its heyday it really was the first major e-commerce company of streetwear. I'd say it was even ahead of the curve in terms of doing things like Karmaloop TV which came before streaming was ever a thing and other lifestyle activations and it was cool to be a part of those pivotal moments as the Marketing Director.
How do you feel that Bodega separates itself from the rest of the pack in terms of marketing and in-store experience?
In 2006, that experiential aspect was very different and almost felt like a living art installation, and since then we've definitely seen plenty of stores adopt that model. In more modern times, I feel that Bodega really focuses on community and creative spirit. We won't tap a big name and throw him/her in our lookbook just because we can, even though that's definitely worked for a lot of brands today. We're more interested in highlighting people who are on the rise or doing interesting things in their community. We're always a little bit more like analog and hands-on with our creative initiatives and I think that's what really sets us apart. Storytelling is a huge part of our DNA.
"I think about Virgil Abloh — may he rest in peace — he was such a creative force and always wanted to do things that his younger self always wanted to accomplish and I think that's really how I look at things now."
Outside of your streetwear resume, you've garnered a substantial following for your visual art which covers a range of topics from politics to human emotion etc. How/Why did you start this journey and can you reflect on its growth thus far?
I've always been an artist in some capacity. When I was younger, I did a lot of writing and photography. Producing music as well as graffiti and murals were always a really big part of my life. After my dad passed away super tragically, I came back from New York and this new style became a visual journal and I just started illustrating things that were on my mind. I realized that I was illustrating my version of the human experience. And I found that a lot of people resonate with my art because I implement universal themes of love, loss and communication and it's been fun. Creativity is like catharsis for me and that's another reason why I've loved my time at Bodega because it's a place that nurtures creativity.
I think about Virgil Abloh — may he rest in peace — he was such a creative force and always wanted to do things that his younger self always wanted to accomplish and I think that's really how I look at things now. I think a lot of kids have looked at him and have been really inspired to just try things and to see this resurgence of hands-on creative initiative definitely gives me a lot of hope for the future.
For your Sole Mates selection you chose the Nike Dunk, what is it about this model in particular that inspires or resonates with you?
Dunks have always had a presence in my life. As I started to understand sneaker culture and the business, it's been interesting to see how it has developed from having its moment, to fading out to the point where you could just find them at regular department stores. They fell in favor of skateboarders because of their form and functionality. Then from there you would see people you admired such as skaters or people in music that started to rock them and it became a shoe that was led by culture and this underground movement as opposed to hype. I've always been a fan of things that get a second life such as military surplus wear and the Dunk is a prime example of that.
Functionality and minimalism are huge for me style-wise so the Dunk definitely brings that. It's such a solid model and dress it up or down depending on the colorway. I've got a bunch of shoes that run the gamut from tech to tennis shoes to Clarks but Dunks are such a uniform model that I don't have to think about if they're going to look good or not because they go with everything. I once read that Albert Einstein essentially had seven of the same suits that all looked good and he didn't have to think about what he was wearing because he had a uniform and I feel the same way about the Dunk.
What are some of your favorite Dunks in your collection and are there any pairs out there that you're still hunting down?
I really love the "Michigan" colorway because it's so classic and just reminds me of the late 90s New York skate scene. The black and white colorway has always been a go-to for me. I've always had a pair in rotation for I'd say the past two decades. I do almost everything in Dunks whether it be play basketball, graffiti or run around the lawn with my kids, they're super functional.
It's no secret that the Dunk has reached an entire new peak in its lifespan. What're your thoughts on this new wave, are you a fan that it's having a big moment or have you had enough?
I'm definitely a fan of it. Brands are always going to have their core silhouettes and the Dunk is one of the best, whether that's high or low. Also, everything is always on a 20-25 year cycle. We just saw a new resurgence of that and it lines up chronologically. I'm seeing kids nowadays dressed with a mid-90s Pacific Northwest style in baggy cut-off pants and loose everything. And as far as I'm concerned, I hope the cycles that we do see with fashion can continue because it continues to expose itself to another generation. Whether they discover it because it's some nostalgic throwback they see it as very refreshing. I think it's healthy.
Bodega had the opportunity to collaborate with Nike on a Dunk High back in 2020, what did that mean to you?
Drew our designer, I think really knocked it out of the park with that one. It's such an interesting take on that silhouette and so organic. It was very very different and I think that really resonated with people. I rarely wear those just because to me they're almost like a piece of art. And I don't even say that lightly or in a cheesy way but they're so well put together. They're in rotation but I typically keep them in their container because they're just such an archival piece that I can appreciate.
I'm also just really proud of the way we brought so many facets of that shoe to life from the editorials to the campaigns that helped our audience really understand the inspiration behind that shoe.
If Matthew Zaremba got his own Dunk collaboration, what would it look like?
I am definitely more apt to go with earth tones and a hit of color. So I'd definitely incorporate earth tones with hits of camo and subtle hits of "Hunter Orange" for a late 90s approach. I'd also be interested in putting CORDURA or some sort of interesting material in the mix aside from nylon. It wouldn't be flashy.
Why are sneakers and the stories they hold important to you?
Sneakers can say a lot about people and say a lot about different people's interests and lifestyles. I'm definitely one to rock a simple tee, pants and a hat and let my sneakers do the talking. Just by looking at someone's sneakers you can totally tell what type of things they're into. You can tell what era they might be interested in, activities they're into. I look at them like accessories and sneakers are a focal point of flair for me to reflect my personality and general vibe.
Click here to view full gallery at HYPEBEAST