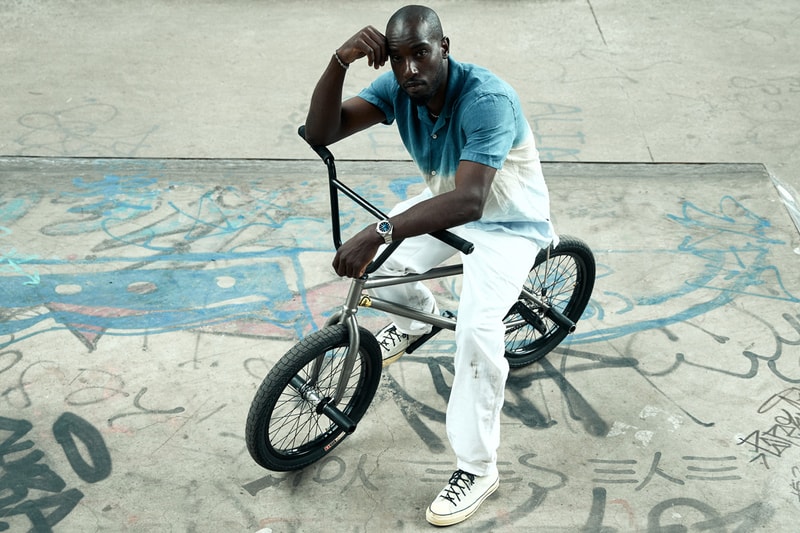 Across the range of new watches from TAG Heuer, the Aquaracer Professional 200 stands out for its luxury and terrain-ready elements. The serious steel watch features a bold, stylish face that delivers time-telling functionality for those with active lifestyles, like professional BMX biker Chad Douglas. While wearing the Aquaracer Professional 200 on a ride around New York City, the bike athlete reflects on the importance of time when taking on his daily routine or working on new tricks.
Douglas puts on the new outdoor watch from TAG Heuer at his home in Flatbush before getting ready to chart his course for the day. The first stop on his bike ride is Smokey Vale, a black-owned barbershop in Brooklyn. To make sure his daily look is fly from head to toe, Douglas stops for a fresh cut. He then talks about the watch on his wrist and explains how he's drawn to the unique deep blue dial of the Aquaracer because, "It doesn't take away from whatever [he's] got going on style-wise that day." Furthermore, he's also able to dress the timepiece up or down or take it out on a date, and the clasps never give him trouble while hitting ledges really quickly or more specifically, "making a right off of 8th Street and down 6th Avenue." Douglas makes it sound like a challenging turn even for seasoned bikers.
While pedaling across Williamsburg Bridge at morning or night, the creative rider can easily glimpse at his watch's hands that are illuminated with white Super-Luminova®. Rigorous cross-city bike rides fuel the pro BMXr's creative output by allowing him to focus on maneuverability while soaking in the colorful sights and pulsating sounds of his neighborhood. "Riding is sort of like… the medium for me," Douglas says. "It's how I channel what the city has to offer. And me pedaling through the streets is me trying to catch that creativity."
Next stop is the LES skatepark. "It's like a watering hole for skaters, bikers, or anybody in that life," says Douglas. "Everyone's in this center, feeding off the same energies." Like himself, the other riders are all calculating the perfect landings for their next trick. With determination, Douglas puts the durability of the Aquaracer's steel polished case to the test, pedaling through the different obstacles and fixtures like he's done so many times before. No matter his next move, the watch rests comfortably on his wrist that features an extension link for optimal ergonomics and performance. "Timing has a lot to do with my positioning and how I execute," says Douglas. "Like landing grinds at a certain angle, turning for this 180 at the right time, or speeding up before I clear a stair set. They're all based on my timing. I gotta get it right. It's the difference between executing and missing your moment."
View this post on Instagram
After following Chad's exciting ride through New York City, discover more information about the Aquaracer Professional 200 at TAG Heuer's website.
Click here to view full gallery at HYPEBEAST