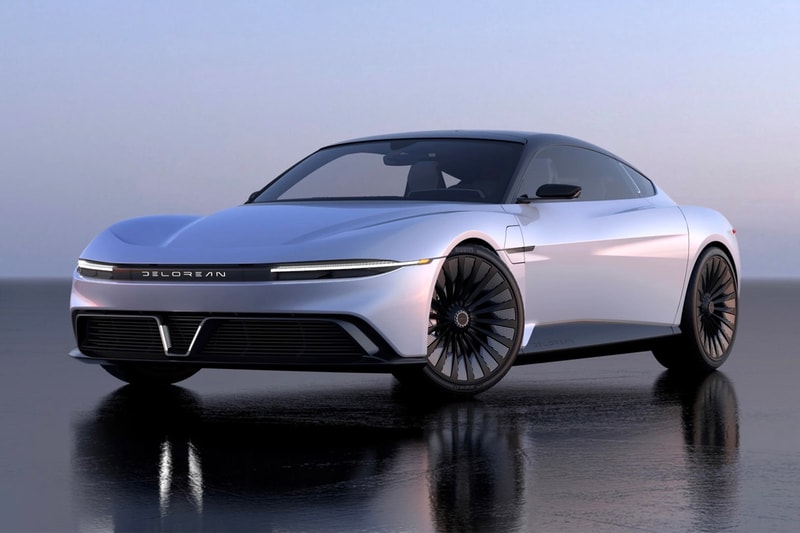 41 years after the DeLorean Motor Company released the iconic DMC-12 sportscar, DeLorean now introduces the Alpha5 electric concept. Staying true to the original silhouette seen in Back to the Future, the Alpha5 maintains the DMC-12's signature gull-wing doors, two-tone stainless steel trim, and rear window louver. The chiseled edges have been smoothed out in favor of more fluid lines while head and tail lights appear as thin LED rows.
Inside, the exclusion of flux capacitors makes room for rear seating, and the cockpit features a minimalist aesthetic with large screens on the dashboard and center console. In terms of performance metrics, the Alpha5 boasts an estimated range of 300 miles, top speed of 155 mph and zero to 60 time of 3.4 seconds.
It's important to note that the company behind the Alpha5 isn't the same one who developed the first DeLoreans, as the original company went defunct in 1982, and was bought up by a Texas-based company that provided replacement parts to DeLorean owners. That being said, the new DeLorean Motor Company enlists Italdesign, the same design firm behind the DMC-12, for the Alpha5 project. Production was outsourced to Italy and the powertrain is provided by a supplier from the UK.
CEO Joost de Vries reports that only 88 track-only models of the Alpha5 will be produced with an extended street-legal electric lineup to follow. A V8-powered coupe and a hydrogen-powered SUV are also reportedly in the works. Learn more about the Alpha5 at the DeLorean website and look for the new electric DeLorean to make an appearance in Pebble Beach, California on August 21.
In other news, Tesla is opening a 24-Hour diner in Hollywood.
Click here to view full gallery at HYPEBEAST