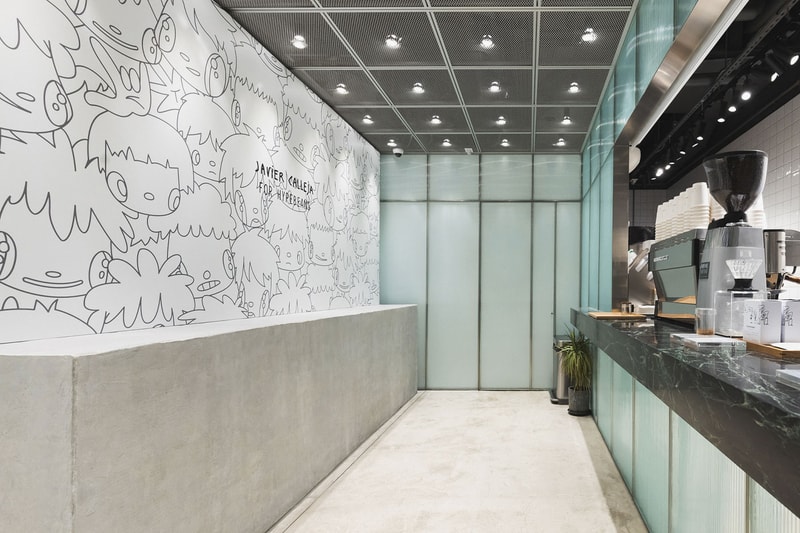 HYPEBEAST continues to globally connect its community with art through the work of world-renowned Spanish contemporary artist Javier Calleja at its Hypebeans flagship cafés in Hong Kong and Seoul.
The special edition Javier Calleja for Hypebeans has just been released, featuring a never-before-seen caricature called Cafeto, designed exclusively for the collection. Calleja has risen to prominence in the art world thanks to his unique and instantly recognizable figures, often featuring doe-eyes and exaggerated proportions.
Through the newly designed Hypebeans spaces in Hong Kong and Seoul, Javier Calleja's work invites art enthusiasts and fans alike to take a step into his world as depicted as an imaginative café hangout. Both flagship cafés pay homage to the outstanding characters Calleja has developed over the years, pinpointing the playful innocence brought forward by the collaboration. On display are the t-shirts featuring Calleja's new character Cafeto, along with the collaborative accessory key chain and posters that can be purchased in-store or at HBX. Both shops will be serving the limited-edition drink, Golden Black, which has citrus notes highlighted by a creamy frothed mixture of americano and yuzu puree. The foam is garnished with lemon zest, making it the perfect blend for a hot summer's day.
Visit Hypbeans Hong Kong at LANDMARK and Hypebeans Seoul in Centerfield to give the new drink a try.
HYPEBEANS Hong Kong
Shop B30, LANDMARK MEN, LANDMARK ATRIUM
15 Queen's Road Central
Central, Hong Kong
HYPEBEANS Seoul
Centerfield EAST B1 Floor,
231, Teheran-ro, Gangnam-gu,
Seoul, South Korea
Click here to view full gallery at HYPEBEAST