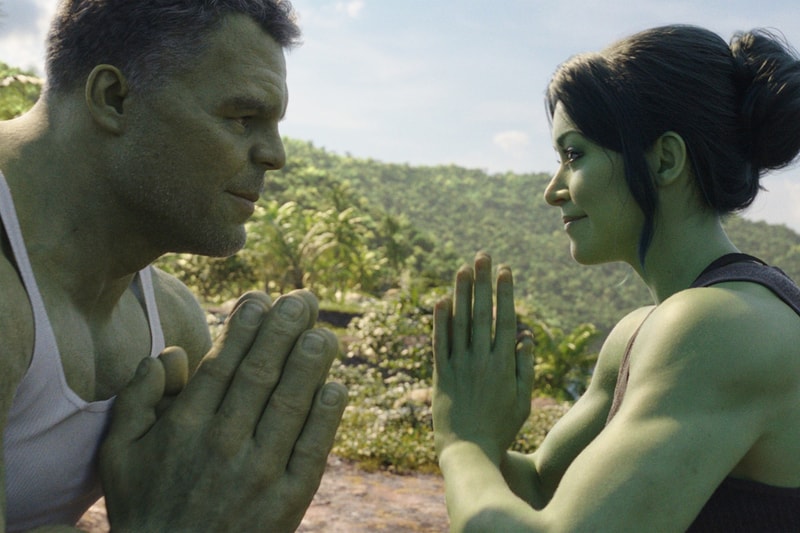 While Tatiana Maslany's She-Hulk isn't the first female superhero in the Marvel Cinematic Universe to receive her own Disney+ series, she definitely sets herself aside from all that have come before her. Aside from being a seven-foot giant with the superstrength to throw trucks around, Jennifer Walters is also an attorney at law by day, serving justice on either side of the fence.
The playful balance of the show between these two personas in her life makes for a perfect backdrop for tackling contemporary social issues, though without trying too hard to the point of preaching, thanks to the series' playful and comedic tone. With She-Hulk, you can have fun but also take a few lessons home with you.
Speaking to Hypebeast about her MCU debut, turning green and mean, and her time with fantastic cameo co-stars like Mark Ruffalo, Benedict Wong and Charlie Cox, Tatiana Maslany walks us through her journey with She-Hulk: Attorney at Law.
How does it feel to join the Marvel Cinematic Universe and see yourself transform into a superhero?
It's very cool, it's exciting because She-Hulk has existed in the comics since the '80s but has never really been seen. Her story hasn't be told yet so I'm very excited for people to see her and how that irreverent humor in her comics exists in this TV show. It's wild to be a superhero but I feel very similar to Jennifer Walters, where I can't totally wrap my head around the idea. It's a cool conflict.
The show takes on quite a playful and comedic tone but at the same time, it tackles some pretty concrete social issues. How do you think the series balances the two seemingly contrasting aspects?
I think because it does deal with some very real experiences of women being in a position of power or visibility or simply just existing in the workplace but with a superhero backdrop, it's innately funny. There are these really relatable, human emotions and issues but on top of that you've got Wong portaling in from another dimension and Smart Hulk trying to give She-Hulk advice on how to live, so the show does it in a way that I think people can laugh but also they're laughing because they'll be thinking "I get it."
There's quite a few cameos in the series, like Mark Ruffalo's Hulk, Benedict Wong's Sorcerer Supreme Wong and the much anticipated Charlie Cox as Daredevil. Which character was the most fun to work with in terms of their dynamic with Jennifer Walters?
They're all so very different, and they all come from their movies and storylines. My favorite aspect of playing with those guys who came in from the larger MCU is seeing how adaptable they were to this entire tone entirely, taking on this sitcom energy that allowed them to be goofier and flip the characters on their heads. They're all such skilled actors too, and they are all open to adapting their characters and evolving them, like watching the Abomination taking on yoga, and that zen mentality was something Tim [Roth] was very up for playing.
Marvel has been expanding on the MCU with quite a few Disney+ series now but the studio hasn't revealed too much yet about how these new characters will play into the greater Avengers lineup. Anything you can share with us regarding the future plans with She-Hulk?
If I knew, I would tell you, but I truly don't! Like Kevin Feige said in Hall H, some of the shows will exist in their own pocket, and others are part of the wider universe. I don't know, but we got a lot of cameos though so I could be portaling to another movie, who knows!
She-Hulk: Attorney at Law premiers today on Disney+.
Click here to view full gallery at HYPEBEAST