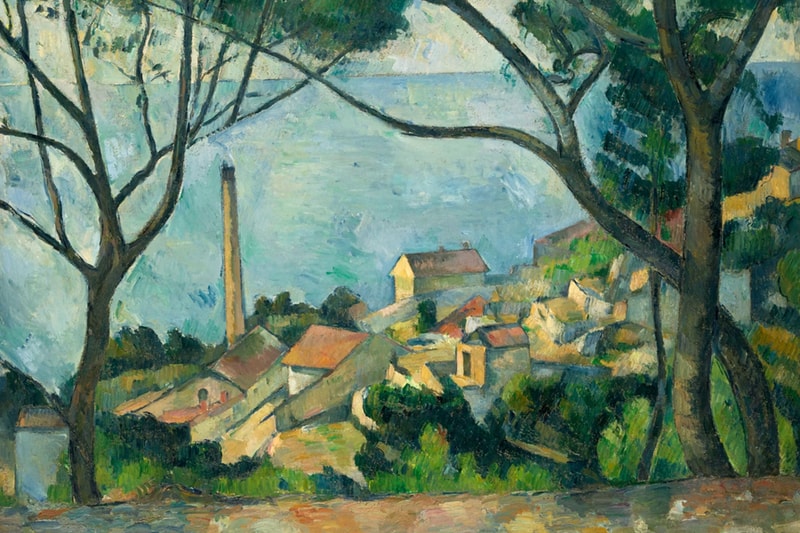 As digital art continues to redefine our perceptions of the real world, creatives of all kinds can still learn a thing or two from the legendary imprint of Paul Cézanne. Revered by some as the "Father of Modern Art," curator and art historian Rosalind McKever encapsulated Cézanne's work to capturing sensations — "both the physical sensations of the world and how we perceive it and how they combine with our internal sensations."
The Art Institute of Chicago just lifted the veil on a groundbreaking retrospective showcasing how the artist created his work and why it takes on new relevance today. Curated by Gloria Groom and Caitlin Haskell, "Cezanne" comprises of 80 oil paintings, 40 watercolors, a series of drawings and two full sketchbooks. The curators went through great lengths to present the work in the way the artist would have wanted, including x-ray infrared analysis, along with removing synthetic varnishes from eight of the oil paintings, leaving the surface of the canvases bare to emphasize the brush marks.
"When you do that and you start thinking about painting really on the level of the mark, what you begin to have is a type of painting that is pretty honest about the way it's constructed—and gets you thinking about the way it's constructed," Haskell said in a statement.
Having inspired the Avant Garde of the 20th Century, Cézanne was once collected by the likes of Pablo Picasso and Henri Matisse, who revered Cézanne as "the greatest of us all." Several of the artworks formerly owned by Matisse and Picasso are on view in this exhibition — the first major retrospective of the artist's work in the United States in more than 25 years.
"What you start to see over the course of the exhibition is an artist who is trying to figure how to make a painting for himself and who is doing that by constructing his work sensation by sensation," Haskell added.
"Cezanne" will be on view at The Art Institute of Chicago until September 5, 2022.
In related news, SFMOMA will present one of the largest exhibitions on Diego Rivera to date.
The Art Institute of Chicago
111 S Michigan Ave,
Chicago, IL 60603
Click here to view full gallery at HYPEBEAST