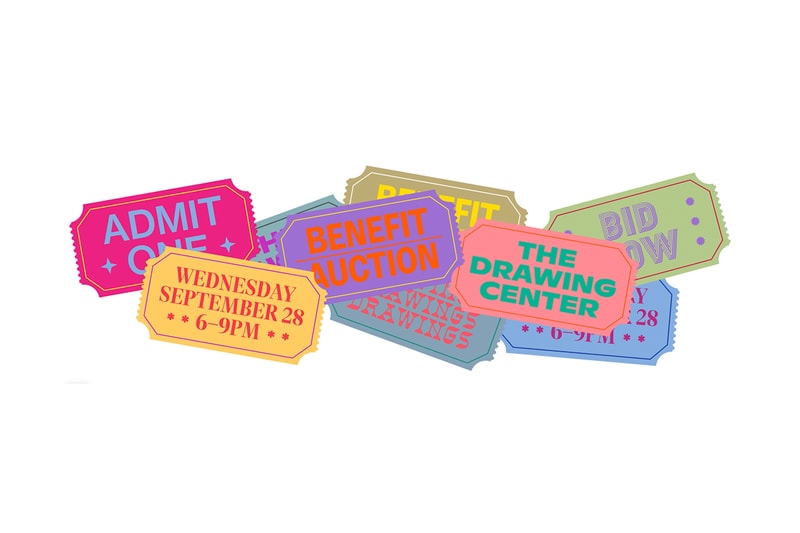 Despite the rise in digital tools, the tactile medium of drawing will always be an essential way for artists to explore their creativity. Since 1977, Martha Beck has championed contemporary drawing through her eponymously titled Drawing Center — located in Manhattan's bustling SoHo neighborhood.
Next month, The Drawing Center is set to unveil its annual Benefit auction featuring 70 works made by an extraordinary list of prominent and emerging artists. From KAWS to Jonas Wood, Brook Hsu to Takashi Murakami — this year's event is shaping up to be the biggest in TDC's history.
The auction will take place on September 28 from 6:00 to 9:00pm ET with tickets costing $175 USD per entry. Those who purchase tickets before September 1 will be the first to receive the auction catalog. Proceeds from the event will go directly in supporting TDC's ambitious roster of exhibitions, publications, educational initiatives, and public programs.
For more on art, Haroshi is set to take over Jeffrey Deitch New York.
The Drawing Center
35 Wooster St.
New York, NY 10013
2022 Benefit Auction:
Joeun Kim Aatchim
Carla Arocha
Helène Aylon
Javier Barrios
Ericka Beckman
Miriam Beerman
Nayland Blake
Dike Blair
Sascha Braunig
Zach Bruder
Anne Buckwalter
Nancy Baker Cahill
Catherine Chalmers
Leidy Churchman
Bruce Conner
Ann Craven
Christopher Culver
Timothy Curtis
Martha Diamond
Lois Dodd
Trisha Donnelly
Austin Eddy
Michaela Eichwald
Clara Esborraz
Amy Feldman
Keltie Ferris
Maureen Gallace
General Idea
Roberto Gil de Montes
Jameson Green
Bruno Gruppalli
Daniel Guzmán
Camille Henrot
Naotaka Hiro
Thomas Hirschhorn
Karl Holmqvist
Jonathan Horowitz
Brook Hsu
Ray Johnson
Karlo Kacharava
Brad Kahlhamer
Maren Karlson
Amanda Kauftheil
KAWS
Toba Khedoori
Matthew Krishanu
Guillermo Kuitca
Doron Langberg
José Lerma
Andrew Lord
Jackson Mac Low
Mark Manders
Lauren McArthur
Joel Mesler
Marta Minujín
David Muenzer
Takashi Murakami
Chris Nankoo
Eduardo Navarro
LeRoy Neiman
Julien Nguyen
Tammy Nguyen
Everlyn Nicodemus
Paulina Olowska
Adam Pendleton
Mai-Thu Perret
Joshua Petker
Liliana Porter
Rob Pruitt
Nick Relph
Gamaliel Rodríguez
Alan Saret
Nora Schultz
Marcus Leslie Singleton
Kiki Smith
Pat Steir
Reginald Sylvester II
Shmuel Taurog
Hannah Tishkoff
Luc Tuymans
Frederick Weston
Jonas Wood
Xiyadie
Click here to view full gallery at HYPEBEAST