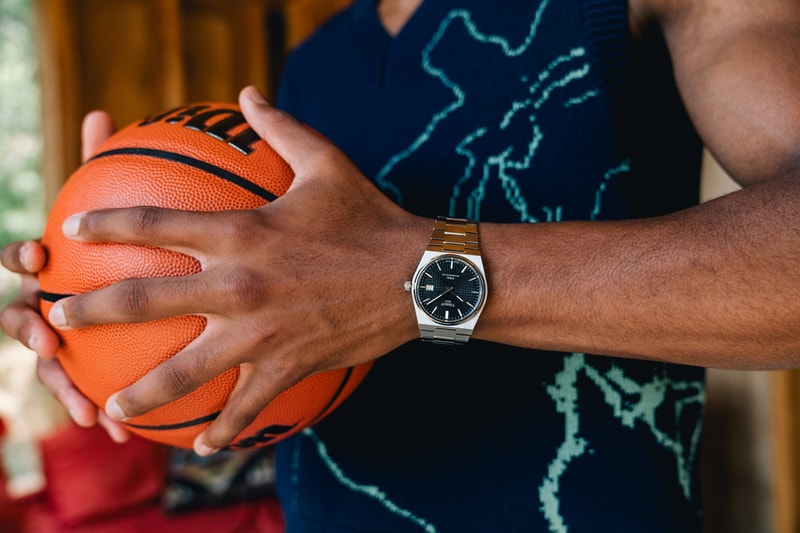 Tissot has designed a timepiece for the next generation of fashion trailblazers with the PRX Powermatic 80. The watch's polished steel case is both sleek and structured, ideal for complementing laid back looks but also for formal attires to events such as the upcoming 2022 NBA Draft. One of the Draft's top prospects is rising basketball player Jaden Ivey who got the chance to explore how Tissot's PRX Powermatic 80 can be styled for high performance lifestyles.
Upon wearing the timepiece, Ivey notices how the large links sit on his wrist without compromising his mobility and flexibility. "I really like how it sits comfortably on my wrist. I never really wore watches while growing up," says Ivey. "The biggest thing to me is being comfy, having clothes on that's comfortable to wear for games and obviously, I want to look stylish." With a satin finish on the watch's external faces and meticulously polished internal surface, the PRX Powermatic 80 feels soft and effortlessly moves with every motion the body makes.
The textural checkered pattern on the dials of the watch creates an eye-catching effect that's repeated in a bold black color. This is the design's focal point and the pattern makes the watch a bit more dynamic, yet sophisticated enough for elevating looks into more sophisticated territories. As a basketball player, Ivey's approach to fashion is mostly about comfort especially with his pre-game outfits. He looks to basketball players like LeBron James and Shai Gilgeous-Alexander as style inspirations, but admits he got his fashion sense from his mom, a former WNBA player.
Time is essential to Ivey's performance as his schedule is busier than that of the average 20 year-old. "My days consist of working out because that's what I do for a living. When I'm not working out, I'm making sure that I'm doing something that's making myself improve, not just on the basketball court, but off the court," says Ivey. By keeping track of his time with the PRX Powermatic 80's mechanical self-winding movement, he's able to maximize his downtime from basketball. The PRX Powermatic 80 watch is also optimized to include a power reserve of up to 80 hours for those extra long days spent training.
As Ivey gets ready for his debut at the 2022 NBA Draft on June 23, he is preparing a stunning outfit that will "sparkle on the stage." He humbly points out that it won't be too extravagant. And while he occasionally likes to "pop off" with his fashion, he prefers clothing pieces and accessories that best suit his active, everyday lifestyle. Wearing the PRX Powermatic 80, Ivey believes that "it's a lifestyle and it just fits [him]" because he can see himself "going to a game or wearing the Tissot watch and going to get food." Ultimately, Ivey is a determined young athlete full of potential who will bring his goal-oriented mindset to the Draft's big stage. The PRX Powermatic 80 watch from Tissot reflects his expressive style and sophisticated outlook on life now that he'll become a professional basketball player.
Watch the video above to see how Jaden Ivey is making an impact on the next generation of basketball player style. For more information about the Tissot PRX Powermatic 80, head to the brand's website.
Click here to view full gallery at HYPEBEAST