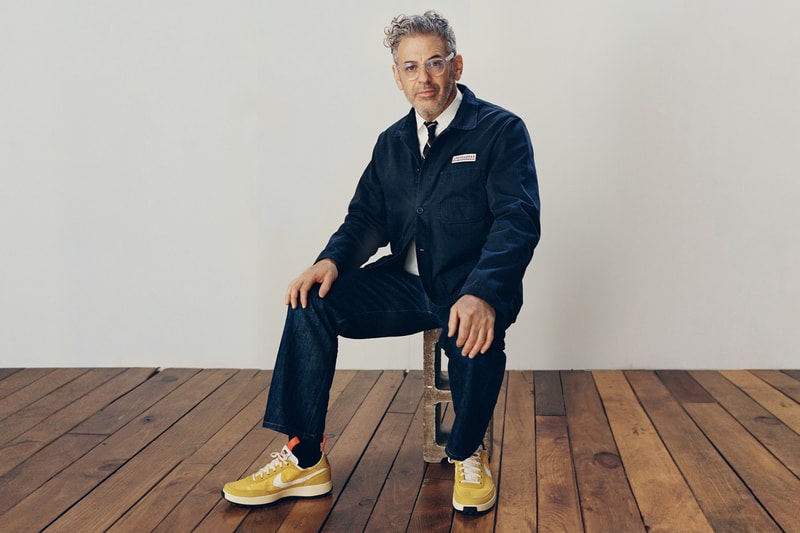 When Tom Sachs and Nike first unveiled their General Purpose Shoe, they took a subtle dig at the sneaker industry more widely. The poster described the shoe as "Boring," going on to add that "your sneakers shouldn't be the most exciting thing about you." What followed was a mission statement for the latest NikeCraft evolution, that honed in on simplicity and footwear being used as a functional tool, so that you can "focus on getting a little bit faster, a little bit sharper, on finding the signal in the noise."
So that it can better serve its wearer, the General Purpose Shoe has been stripped back to basics. "The idea was to make a perennial," Sachs tells Hypebeast. "To make something that would last, a universal uniform that would work with every look." This ambition began in 2009 when Sachs and Nike started working together. The footwear that would follow — most notably the two Mars Yard releases — became immediate classics and are now incredibly sought-after.
"I remember when the Mars Yard started, the challenge was always to make a sneaker that solved a lot of problems and was the best value for everyone," Sachs explains. This was the same challenge for designing the General Purpose Shoe, although Sachs hopes that the accessibility of the silhouette — it will regularly restock, comes in various colors and is priced at $110 USD — will help it avoid the soaring resell prices and status symbols of its predecessor, something Sachs describes as an "elitist experience."
"I make no distinction between a cathedral, a sculpture, a painting, a performance, or a pair of sneakers
"I'm honored and flattered that people care enough about my shoes to not wear them and put them on a pedestal," he says. "But when I got involved with making sneakers over a decade ago it was because I wanted people to wear them. I make no distinction between a cathedral, a sculpture, a painting, a performance, or a pair of sneakers. It's not what you do, it's how you do it. So when I saw people putting these sneakers wrapped in plastic on a pedestal and not wearing them, I became a little frustrated. When someone puts a shoe on a shelf, they're not really engaging in the rich human experience. I would want people to take more advantage of the fact that they're alive. When they're dead they can't use the money, they can't use the sneaker that's on a shelf."
Sachs' plans for the General Purpose Shoe couldn't be more different from that reality. As the mission statement released on the "Boring" poster exclaimed, this is footwear designed to help you in your daily life, not to become the focal point. Included within that is Sachs' belief that these shoes should be worn regularly, with signs of wear improving the design. "They're meant to be worn, they're meant to rock a stain and be worn with pride," Sachs says, likening them to a pair of jeans that "you wore to death, cleaned and repaired them." This functionality is important to Sachs, and he's keen for all his releases to be worn and used as often as possible. "They tell the stories of your life, it's a reminder to us all that beauty is not limited to youth. There is beauty in scars and wrinkles and showing your journey."
The General Purpose Shoe differs from the Mars Yard in other ways, too, including the different colorways that are due to follow the original "Studio" design. "With the Mars Yard, I had notebooks filled with different colorways – we even sampled some of them – and not a single one worked," Sachs explains. "With the General Purpose Shoe I have a notebook with dozens of colorways and there are dozens of ways in which it works because it's simple. I wanted something that would work as a foundation for different stories. I think that's a testament to how simple it is. The simpler it is, the more opportunities you have to show it in different colors."
Releasing the shoe in different color options also helps to extend Sachs' commitment to a wider release. When announcing the first restock of the "Studio" colorway, Sachs described it as "designed to be a perennial," adding that it will be restocked and released regularly. By giving more and more people the opportunity to own his shoes, Sachs is hoping to spread the values of his studio, which he often brings back to the phrase "it's not what you do, it's how you do it." This line, a mission statement for NikeCraft and Sachs work more widely, has also appeared across the marketing for the General Purpose Shoe.
"The shoe is just there to support you in your activity of pursuing your life"
"I think NikeCraft is a state of mind, and there are growing numbers of people who want to participate in these values, more and more people who are focusing on doing things," he says, pointing to the Wear Tester program that was launched in late 2020 and informed the design of the General Purpose Shoe. "We learned about how much people love to make and experience things, and the shoe is just there to support you in your activity of pursuing your life. These shoes represent those values. I don't think you need to wear these shoes to embody those values, but they're a symbol of it."
For Sachs, the General Purpose Shoe is a chance to continue the mission that began 13 years ago. While the Mars Yard made his footwear designs instantly desirable, with this release he wants to make them democratic. The shoe's materials, prices, and sizing have all been considered with this in mind, and Sachs is keen for it to be a shoe that anyone can wear to make and experience things, whatever they might be. As he always says, "it's not what you do, it's how you do it."
Click here to view full gallery at HYPEBEAST