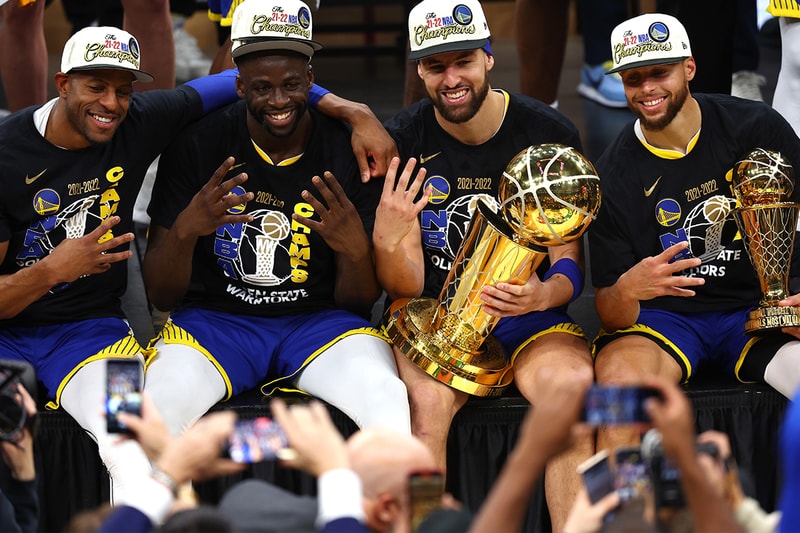 In Game 6 of the NBA 2021-22 Championships, the Golden State Warriors have defeated the Boston Celtics to win yet another season. With a final score of 103-90, Steph Curry came away from the game with his first Finals MVP award, scoring a total of 34 points in the final game.
This is the Warriors' fourth NBA championship in eight years. Their last championship was in 2018 when they defeated LeBron James and the Cleveland Cavaliers in a 4-0 run in the finals. The Warriors are cementing themselves as one of the greatest NBA dynasties. Together, Klay Thompson, Steph Curry, Draymond Green and Andre Igoudala have won all four of the championships in the past eight years together.
Following the win, Curry was seen evidently emotional from the victory, breaking down in tears. His win this year cements him as an all-time great. This season saw Curry become the all-time NBA three-point leader, adding to his long list of accolades that now includes first-time NBA Finals MVP. Fans took to Twitter to express their thoughts on seeing the Warriors back on top and Curry finally crowned MVP online. Check out some tweets below.
I just know this man who got this Celtics tattoo punching the air #NBAFinals pic.twitter.com/MtkY9c1NDM

— life of pablo ❤️‍? (@TLOPab) June 17, 2022
Oh my god pic.twitter.com/7n2FtNsdoT

— Denver? (@doubledworth) June 17, 2022
Don't talk about Steph again unless it's in a convo with the time great PLAYERS!! And i mean a hand full of people to ever touch a basketball.

— Seth Curry (@sdotcurry) June 17, 2022
Steph Curry is officially sitting at the table with Jordan, Bron, Kobe, Shaq, Magic and Bird!!! Carry the hell on… #FinalsMVP

— Kendrick Perkins (@KendrickPerkins) June 17, 2022
Jayson Tatum is a really nice guy but he's obviously not That Guy.

— Skip Bayless (@RealSkipBayless) June 17, 2022
How the Celtics were in the Locker Room after losing to the Warriors in the NBA Finals ????‍♂️ pic.twitter.com/Fsp5oVFGUv

— Mark Phillips (@SupremeDreams_1) June 17, 2022
the sleep taunt and the ring taunt from Steph in the same game. pic.twitter.com/cqyFTG2Vc7

— Rob Perez (@WorldWideWob) June 17, 2022
This Warriors core won before KD joined, with KD and after KD left.

— Antonin (@antonin_org) June 17, 2022
they said Tatum love Kobe so much he couldn't let the Celtics pass Lakers in titles ?

— LakeShowYo (@LakeShowYo) June 17, 2022
Kevin Durant watching Steph Curry win Finals MVP on a Golden State Warriors championship team pic.twitter.com/OXYPnxTIYM

— Rich (@UptownDC_Rich) June 17, 2022
Steph a mf savage

— kuz (@kylekuzma) June 17, 2022
Steph Curry. That's it. That's the tweet

— Basic Commenter (@PFTCommenter) June 17, 2022
We Won't Never See Anything Like @StephenCurry30 EVER Again. Appreciate His GREATNESS Why We Can!!! #Top10EVER ?

— Dejounte Murray (@DejounteMurray) June 17, 2022
They said Steph Curry's wife couldn't cook and now he's deep frying them. Life can be harsh sometimes.

— Zito (@_Zeets) June 17, 2022
That's a whole lotta hardware, @StephenCurry30 ? pic.twitter.com/KZi1otM3gr

— NBA TV (@NBATV) June 17, 2022
Click here to view full gallery at HYPEBEAST