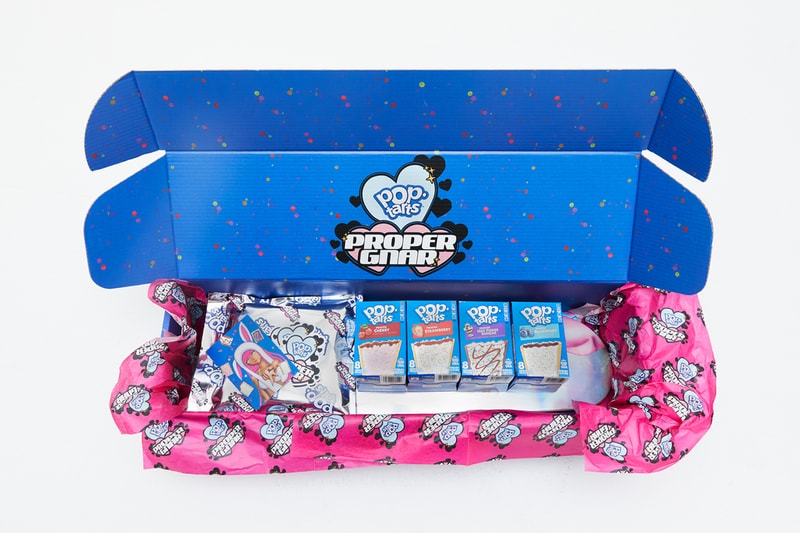 Popular pastry purveyor Pop-Tarts has partnered with colorful skate brand Proper Gnar to create a limited-edition capsule for skateboarders. Proper Gnar founder and artist Latosha Stone was tasked to design the entire merch package and referenced various Pop-Tarts flavors to deliver her kaleidoscopic vision. Consisting of skateboards, skate accessories, apparel and headwear, each piece features vibrant graphics and anime-inspired characters.
View this post on Instagram
At first glance, those who get their hands on this special release will notice the eye-catching box designed with co-branded logos, different Pop-Tarts pastries and a cute anime illustration. The bright-blue box echoes the design of the original Pop-Tarts packaging which makes for a fun unboxing experience. The back of the package also lists out the contents inside in the style of the ubiquitous nutritional facts info label. Inside, you'll find a Frosted Blueberry Skateboard, Frosted Strawberry Skateboard, Frosted Cherry Hat, Hot Fudge Sundae T-Shirt and Frosted Wild Berry Griptape, along with actual boxes of Pop-Tarts pastries in each of these flavors.
After unwrapping the eye-catching hot pink tissue paper that secures your merch, there's a unique Certificate of Crazy Goodness that's been hand-numbered for this limited edition capsule. Each of the skateboards include stylish textural finishes like the holographic background of the Frosted Strawberry Deck. The Frosted Blueberry deck introduces an original character wearing a blueberry-printed outfit that includes unique socks and blue-colored skate shoes -- the character floats in a galaxy of blueberries and butterflies. By placing the Wild Berry Griptape on a skateboard, it also transforms the deck's rectangular shape to look like the top of a frosted toaster pastry.
Across the merch capsule, Stone has created original characters who are accessorized in elements like sprinkle-covered pants and fruit-inspired hair styles. There are smaller details like frosting swirls, galaxy-like patterns and a unique Pop-Tarts logo that appears in a heart. While the Pop-Tarts flavors align with the original colors of Proper Gnar, this unique anime-inspired capsule re-imagines the pastries in Stone's futuristic aesthetic. In addition to the skateboards, griptape, apparel and headwear, the packaging also includes Pop-Tarts x Proper Gnar stickers.
Items in the Pop-Tarts x Proper Gnar collab will be available at the Crazy Good Skate Jam that's taking over The Berrics on September 1 from 7PM to 11PM. During the Crazy Good Skate Jam, guests can win pieces of merch, but participating in skate contests or a social media giveaway will allow guests to win the whole capsule collection.
Click here to view full gallery at HYPEBEAST