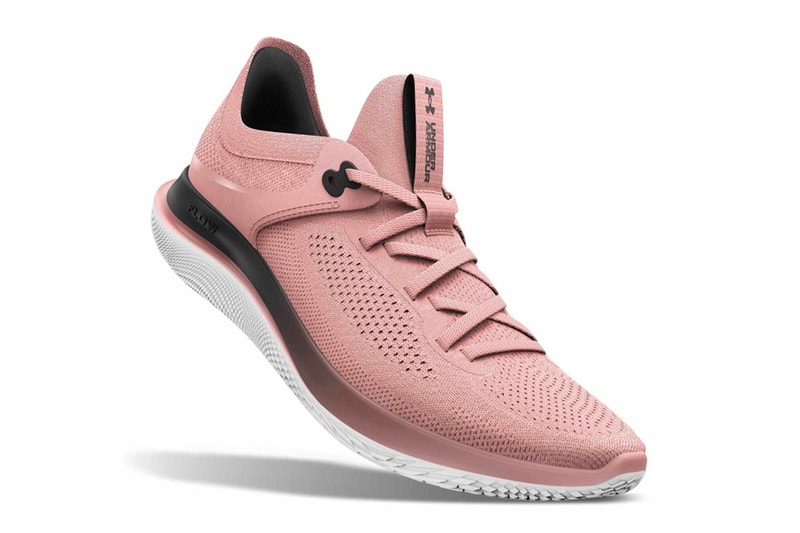 Following up from the Curry Brand's "Curry Flow 9" sneaker, Under Armour is now supplying its latest running shoe, this time curating a newly-introduced "Flow Synchronicity."
By creating a traditional women's shoe that is built to suit the needs of the female consumers, this shoe deviated away from the traditional regimes of designing running shoes that derive from a men's design. The Under Armour "Flow Synchronicity" has been designed to fit, support, and complement the natural shape of a woman's foot. Under Armour has ensured that this shoe focuses on securing the heel and supporting arch - this is where women's feet tend to differ most from men's.
The sneaker also comes with finer technical details: see the flexible micro-knot upper that is designed to move in motion with each running stride for the most updated Under Armour technology to date. "Flow Synchronicity" also features a heel-to-toe foot-conforming design that's tailored for the cushioning that women need while also providing immediate comfort and support to enhance the running experience. Keeping the shoe as lightweight as possible, it includes UA Flow technology that has been integrated to provide traction on running surfaces without a traditional heavy rubber outsole or adhesives.
You can have a closer look at the Under Armour "Flow Synchronicity" and it is available now for $140 USD on the official Under Armour website.
In other news, Matthew M. Williams talks about the Givenchy TK-360 in the latest edition of Sole Mates.
Click here to view full gallery at HYPEBEAST