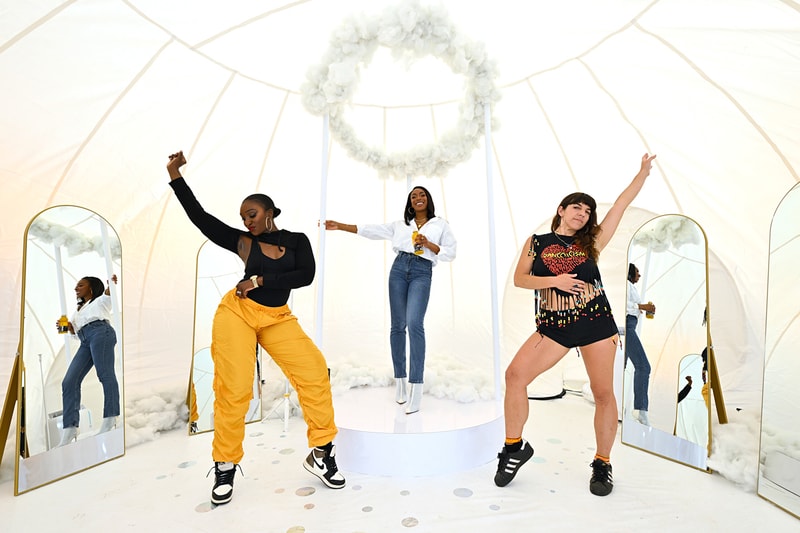 The time has come once more for the world to collectively brave the intangible forces of Mercury Retrograde in Gemini, a fabled phenomenon known to wreak havoc on personal matters of the heart, mind and soul. vitaminwater invited guests to reconcile with the stars at the immersive Mercury Retrograde Shelter, an interactive experience that opened on May 28 in Williamsburg, Brooklyn.
Open to the public, vitaminwater's haven introduced six rooms thematically curated to help attendees ward off an energy crisis during retrograde, harnessing the active ingredients of its offerings: "energy," "ice," "gutsy," "focus," "xxx zero" and "shine." Embodying the brand's campaign ethos, "Nourish Every You," the shelter guided guests through immersions in various self-care disciplines, led by celebrity talent and self-help gurus.
Entering the cotton-candy-inspired pop-up, guests kicked off their "energy" experience with a guided dance work session, hosted by choreographer Dnay B and founder of Dancorcism Debbie Attais. "Ice," a spa-inspired detox led by healer Mel Rio, treated guests to meditative breathwork, enveloping the room in essential oils and cool-toned lights. The pop-up housed mini art installations in "gutsy" and "focus," dominated by iridescent tapestry and decor. "XXX zero," hosted by sex expert Evguenia, presented a workshop on sexuality and intimacy, followed by "shine," a how-to styling session led by drag queen Brita Filter, where guests interacted with reflective surfaces displayed throughout the room.
Mercury retrograde will run its course until June 3, but vitaminwater's newest flavors will spare you from its celestial spiral. Visit vitaminwater's website to revitalize your spirits and learn more about its offerings.
Click here to view full gallery at HYPEBEAST